Photographer Builds Camera That Shows Inside of a Centrifuge in Action
The world's first 4K camera built into a centrifuge shows what foods and other substances look like as they are separated at 2,500 times the gravity of Earth.
Maurice Mikkers, a former lab technician and professional photographer, wanted to film foods such as peanut butter, hot sauce, and honey, as they are separated in a centrifuge, in a bid to show the wider world what this scientific process looks like.
Mikkers, though, had a problem: there aren't centrifuges with built-in high-definition cameras. So the intrepid scientist utilized 3D printing to custom-make parts for a Hettich Rotofix 32 that he had purchased. Mikkers used his Ultimaker 3D printer with PLA filmanet to make his designs with.
The results are a fascinating and unique view as we see the foods separated into different layers, each with its own densities.
The parts for Mikkers' custom centrifuge had to be gradually tested, making initial runs of 500 RPM, and then 1000 RPM. This process took Mikkers many months as designs were tweaked to solve tensile stress and compression that were affecting the 3D prints because of the high G forces.
"Also many ergonomic design changes had to be made so loading of the swing buckets, inserts, camera module, sample, etc, would be easy and consistent," writes Mikkers.
"Besides that, technical design changes had to be made to accommodate the camera and other electronics."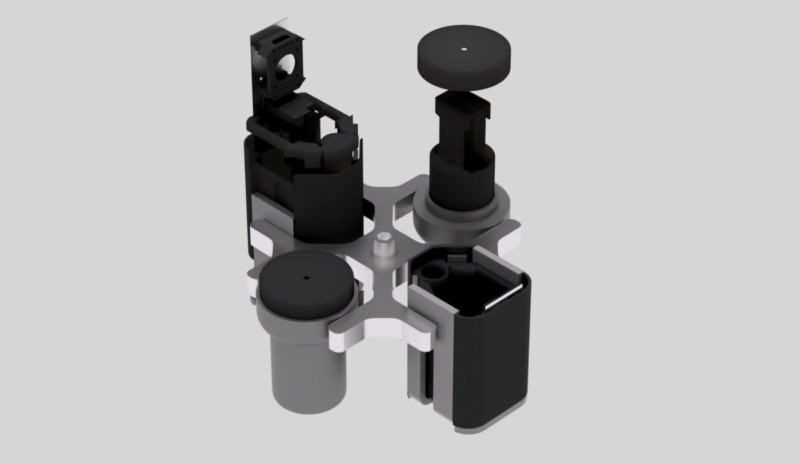 Eventually, Mikkers landed on a design he calls, The Centrifuge Camera, which can spin and record samples as they rotate at 2,500 G force.
To make the camera and sample bucket, Mikkers combined the 5mm thin aluminum bucket holder with his own 3D printed bucket. The amalgamation means the bucket holds together and doesn't succumb to the tensile stresses.
So that the camera can actually see the sample, Mikkers placed a NeoPixel LED light ring in the top lid of the centrifuge. To deliver power to the camera, Mikkers fitted two 18650 Li-ion batteries that provide 3500mAh at 5V which gives the battery a life of four to five hours.
Mikkers, based in the Hague, Netherlands, says his goal is to generate interesting content that can be used for educational purposes.
The power of a centrifuge was harnessed in May when small payloads were being launched into orbit at 1,000 mph while filming itself.
---
Image credits: All photos by Maurice Mikkers.