Macro Photography with a $20 3D Printed Microscope Lens
A photographer 3D printed a 4x telescopic macro adapter lens and sent it to a photographer for a field test who produced stunning results with the custom-made glass.
Nicholas Sherlock, sent his creation to YouTuber Michael Widell who took the 3D printed lens outdoors to track down tiny insects to practice the lens on.
The adapter, which Sherlock has put up on Thingiverse, is designed for the Sony E-mount and supports both APS-C and full-frame. He has also created variants for EF Mount, Nikon, and even Micro Four Thirds.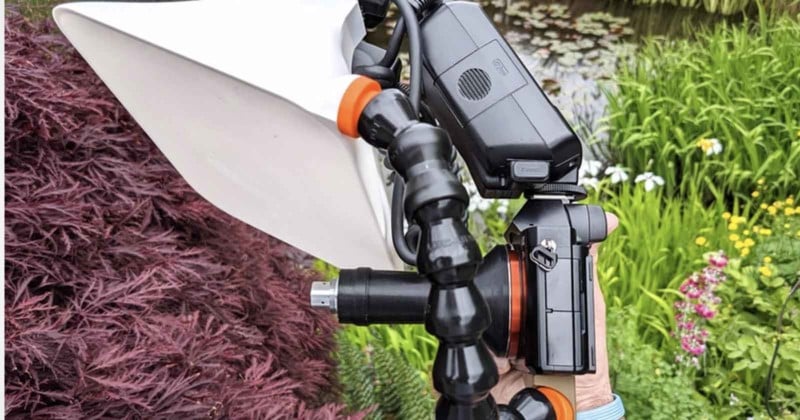 At the business end of the telescoping, conical adapter is a 4X achromatic microscope eyepiece, which he picked up for $20.
The slim conical design is meant to allow the camera to get closer to the subject without the body of the lens or the camera getting in the way of any fauna around it or disturbing the tiny subject in macro.
The adapter was created using 3D modeling software, and configured for use with Prusa Slicer, although just about any 3D printer slicer software will work.
Sherlock also made the design of the APS-C model so that the middle portion of the adapter could be removed for focusing at a greater distance. This is especially useful when the object eyepiece has a large enough image circle to accommodate the farther distance. Unfortunately, the full-frame design does not have this feature.
Sherlock also recommends using a more robust printer filament like ABS or PETG. These filaments are designed to be more rugged in use and are less likely to fail or warp in hot conditions or with heavy loads. PLA will also work, but the filament is more prone to wear out over time.
When assembled, the macro lens adapter has an extremely shallow depth of field of under 1mm. In order to get a proper image that's in focus, Widell had to shoot multiple shots, ever so slightly moving the camera lens to put another portion of a tiny bug he was trying to capture in focus.
This technique is called "focus stacking," and for best results, the lens needs to rest on the thumb of the hand that is holding the subject.
This provides an extra point of contact and makes moving the lens a bit easier without losing focus. But it also provides for what Widell calls "a fun challenge" to keep the photo stack aligned while moving so precisely.
There are hundreds of camera lens adapters on Thingiverse, and there are dozens of other portals for 3D models, like MyMiniFactory, Thangs, 3D Hubs, Cults, and CGTrader.
There are also link finder sites like Yeggi and STL Finder. Any of these sites will help a photographer looking to create and print their own photo accessories locate a model to print and try out, before investing in a "real" option.
---
Image credits: All photos by Nicholas Sherlock.