Camera+ App Adds AI-Driven Image Upscaler For Up To 48MP Photos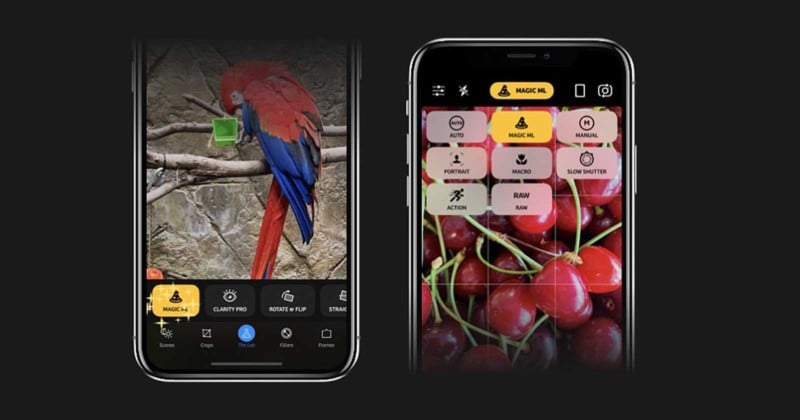 Camera+ app, which allows manual control of the iOS camera, is moving to a monthly subscription service and has announced new features such as a 48MP AI-driven image upscaler.
As one of the first third-party camera apps for the iPhone, Camera+ by LateNite Soft has been extremely influential in making the smartphone camera more capable in the field of photography.
The app brought more features beyond the basic iOS camera app including full manual control, RAW imaging, a monuments mode for removing unwanted clutter in the frame, photo editing tools, and even depth capture.
Eleven years after its introduction, the latest version of the app, Camera+2, is going to be available through a monthly subscription model, with more features including an AI-driven 48MP upscaling for adding more resolution to an image.
Camera+2 representative Noël Rosenthal writes on the company blog that the trend of buying new apps has been going down in recent years, prompting app developers to move beyond the simple one-time buy-in model that has sustained the app's development.
"This is absolutely not a decision we've taken lightly and our intention is to make Camera+2 available to everyone at a reasonable price for the work we do to maintain and add to it," writes Rosenthal.
"The simple and honest answer is that the number of people buying paid apps is shrinking faster and faster. Not knowing whether next month's sales will be enough is continuous stress on our company."
Rosenthal then states that moving to a subscription model will enable the app to develop more features in the long run and offer them more often. This has held true for Adobe Creative Cloud, which has managed to put out a steady stream of software improvements and new features several times a year.
The app has been rewritten to support existing technologies like depth capture and the app is adding what is called UltraRes, an upscaling tool that enables users to increase the resolution of the image to 48MP, four times the native resolution the image sensor puts out.
The upscaling is accomplished through machine learning, which has been trained by millions of photographs to learn how to upscale an image while keeping the overall sharpness constant, not blurry.
UltraRes can be deployed through a camera preset, or in the photo editor, which can even apply the upscale to images not taken with the Camera+2 app.
The feature is available for devices with a neural engine and enough RAM — that means it will work on the iPhone 11 or better, iPad Pro 3rd generation or better, iPad 9th generation or better, and iPad Mini 6th generation or better. The feature is also limited to images under 12mp.
The app has also been redesigned to make the interface easier to use, and even "pretty," by comparison. It enables users to now scroll through dozens of filter options, rather than move from page to page to see the various options.
The app is also adding a histogram, which has been one of its most popular requests by users.
In order to encourage users to move towards the subscription plan, Camera+2 will have an app price of $24.99. The subscription model will be $3.99 a month, or an annual rate of $17.99, a 60% savings over paying monthly.
Rosenthal assures existing Camera+2 users that they will be able to continue using the current version of the app should the monthly fee structure not be to their liking. But they will miss out on any new features.