The Insta360 Sphere Lets DJI Drones Capture 360-Degree Videos
Insta360 has announced the Sphere, what it calls an "invisible drone camera" that attaches to a DJI Mavic Air 2 or 2S and allows it to capture 360-degree video content.
As teased over the weekend, Insta360 is leaning more into the drone space and while there are some solutions already on the market that integrate its cameras onto drones, the company says the Sphere brings that capability to Mavic Air 2 or 2S owners without them needing to get a new drone or have professional-level flying or editing skills.
The Sphere is made up of two Insta360 cameras that attach to a Mavic Air 2 or 2S with an "ultra secure" locking mechanism. Insta360 says the Sphere system has no impact on the drone's structural integrity and does not impede the GPS signal or the remote control system.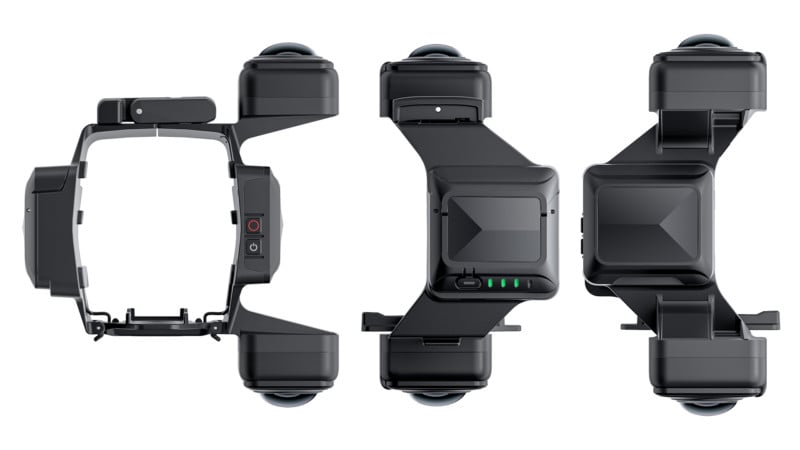 Insta360 says drones allow filmmakers to capture great footage, but are limited by the fact they can only capture in one direction at a time. A user's ability to get the best footage is dependent upon their flying abilities and the maneuvers they are capable of pulling off in real-time.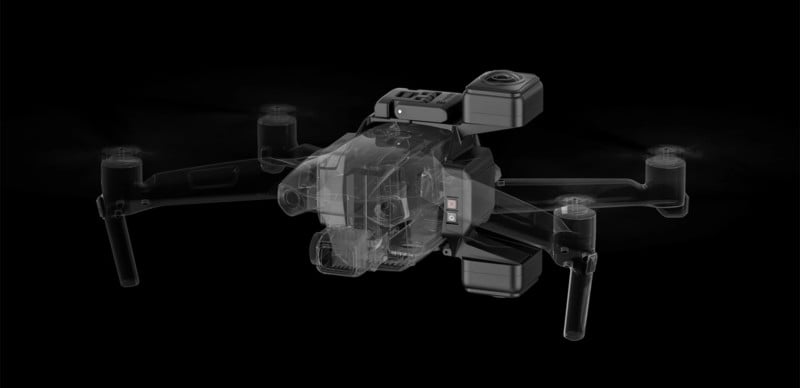 The company says the 5.7K 360-degree Sphere eliminates this issue.
In the air, the Sphere is able to completely crop out the drone so that it appears totally invisible to a video editor in post-production. The idea of "getting the shot in post" is kind of the backbone of the Sphere, as Insta360 says that the benefit of flying a 360-degree camera is that it captures everything in view so a pilot only has to worry about flying, not filmmaking. Later, in editing, is where the cinematography happens.
The camera can operate for 48 minutes in 5.7K resolution and can capture either photos or videos. It charges from empty to full in about 100 minutes via a USB-C connection.
The Sphere has a built-in stabilization system, which Insta360 calls FlowState. The company says it has been fine-tuned to ensure steady aerial footage regardless of the conditions; if the drone can fly, the camera can stabilize.
"Sphere represents a continuation of Insta360's mission to help people capture and share their lives better, making Insta360's industry-leading 360 reframing and editing software accessible to a wider range of creators," the company says. "Sphere users can edit their videos using the same AI-powered features as the Insta360 ONE Series in the Insta360 app. Creative effects like barrel rolls and dolly zooms are as easy as a tap."
The Insta360 Sphere is available in the U.S. and China starting today for $430.