Listen to a Symphony Created with Camera Shutter Clicks
Thanks to custom hardware and software, a talented sound artist strung multiple cameras from a range of manufacturers together to create not photos, but a symphonic composition.

The composition was created by
MIOPS
in coordination with a sound artist. MIOPS is a creative camera company that has been especially successful on Kickstarter with products like MIOPS Smart+, Mobile Remote,
Capsule360
, and FLEX, which cumulatively received almost $2 million in backing.
MIOPS CTO Erkan Yigiter says that the idea to make a composition using camera shutter clicks came up during an internal meeting where one employee said that the company's camera triggers are akin to a maestro since they can fire triggers with precision.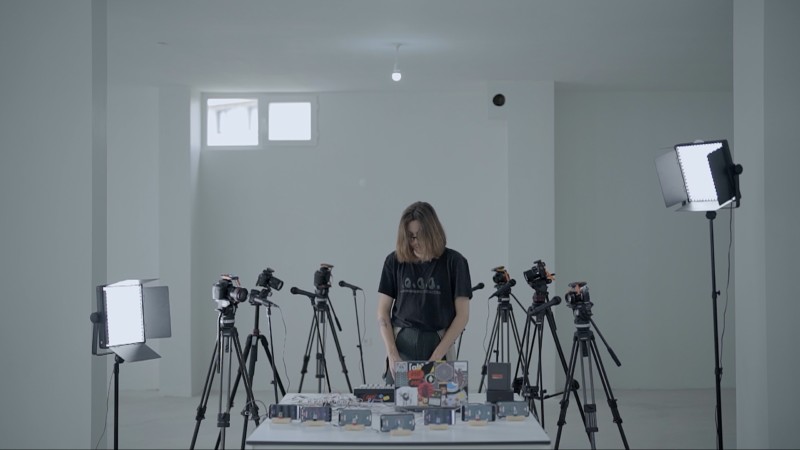 To turn that idea into reality, MIOPS collaborated with Berlin-based sound artist and designer Kuntay Seferoglu along with regional Canon, Nikon, and Sony offices in order to obtain a large number of cameras they needed to make a true shutter symphony.
Kuntay had realized remarkable musical projects in the past by using objects instead of musical instruments. But a composition to be sung with camera shutter sounds was a different experience for him as well.
"The idea of making music with the sounds of everyday life always excites me. The shutter sound of the cameras was one of the sounds that especially caught my attention," Kuntay says.
The artist has in the past used a variety of instruments to make complex compositions but had never tried anything like using an array of cameras and synchronizing their shutters to make music.
"There is a message that I always refer to in my own music and other works. Each object has its own unique sound and character, and when we approach them as instruments, there are special ways to play them. In fact, we encounter many of them every day, I believe that all of them can have a place in music."
MIOPS says that the project required 27 different camera models from four different companies. Kuntay first recorded the shutter sounds and then analyzed the recordings in detail. After a month of work, he narrowed his selection to nine cameras for the final composition: the Canon 1D-X, Canon 6D, Nikon D850, Nikon Z7, Nikon Z6 II, Sony Alpha 7R, Sony Alpha 9, Fuji X-S10, and Fuji XT3.
The company says that Kuntay then created a mechanism that was made from a variety of its products that would trigger each camera through the company's smartphone app. The software that was developed to make this happen was made entirely by Kuntay from scratch and allowed him to assure each solenoid valve was activated at the right time.
"This competition between brands not only enables better products to be released, but also allows photographers with different needs to reach the right equipment, thanks to the diversity that has emerged," Onur Celik, CEO and Co-founder of MIOPS says.
"This diversity acts as a complete orchestra. Instead of a piece of music played with a single instrument, it creates magnificent music that includes dozens of different instruments playing in harmony with each other."
---
Image credits: MIOPS