Bride Shocked to Find 'Crazy Eyes' Photoshopped Into Wedding Photos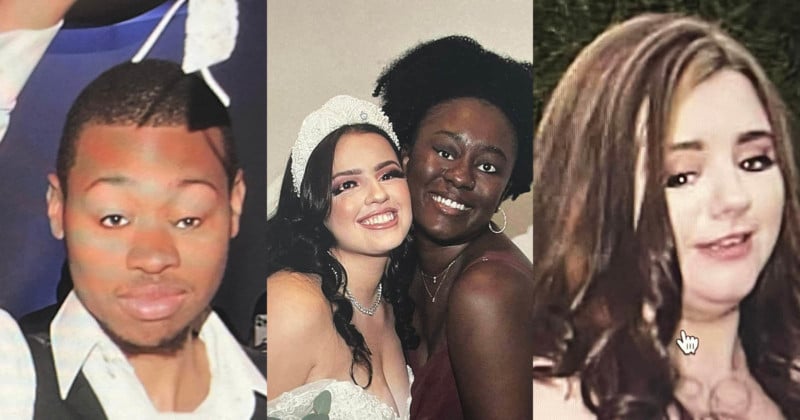 A bride recently got an eye-opening surprise when she reviewed her wedding photos and noticed that something was off — fake "crazy eyes" had been poorly Photoshopped onto attendees who had blinked.

Anaya Ramos-Bridgeford of Warminster, Pennsylvania, and her husband, Jaylen Bridgeford, had a wedding ceremony with family and friends on April 2nd, and they hired a professional photographer to document the happy day.
"Our photographer was with us all day," Ramos-Bridgeford tells PetaPixel. "Stuck with me, who was likely being a bridezilla, for 12 hours taking photos all day."
The weather conditions on that day were not ideal for outdoor portraits due to the low temperatures.
"After the reception, the bridal party and family of the bride and groom gathered outside to take photos in the cold," Ramos-Bridgeford says. "Everyone was cold and becoming impatient. Half of the party not looking. Our photographer struggled to get everyone's attention. We had a large bridal party so I'm sure many of them lost focus during the photos."
Thankfully, the photographer persevered and finished shooting a large number of portraits of the loved ones together. Ramos-Bridgeford was excited to see her wedding photos, which ended up having a turnaround time of a month.
"It took about 4 weeks for me to get the proofs back," she says. "He called me so that I was the first person to see the photos before he released them to my family and friends. I sat along going through all 458 photos, and noticed something was very off about some of the photos."
Only after enlarging one of the small portraits did Ramos-Bridgeford realize what was "very off" — fake eyes had been Photoshopped onto some of the faces.
"I then blew the first photo up of me and my bridesmaid and she had edited fake eyes [added] onto her face because she had accidentally blinked!" Ramos-Bridgeford says. "I burst out in laughter because I couldn't believe my eyes (literally)… my eyes were huge.
"I went on to find an additional 10-15 photos with what I called 'crazy eyes'."
Photoshopping fake eyes onto pictures of blinking subjects without permission is a no-no in wedding photography. Doing the job extremely poorly is an even greater transgression. It turns out the photographer was not responsible for the Photoshop fail as the photo editing had been outsourced to a third party.
"I messaged my photographer immediately and he responded as shocked as I was," Ramos-Bridgeford says. "He admitted that he sent our photos to another company to fix the eyes of those who blinked. He then called me to apologize and admit how terrible the photos look.
"We sat on the phone as I sent him each crazy-eyed photo. He sounded like he was holding back laughter as well."
The unnamed photographer is now working to get a refund from the photo-editing service he used.
Ramos-Bridgeford says that although she is certainly upset at how the badly-edited portraits turned out, they did bring her quite a bit of amusement and are images she will not soon forget.
"Wedding photos are meant to save forever and these are the ones I will cherish forever," she says. "I was upset upon first look but I couldn't help but laugh at this mistake. Something we can look back on and laugh at forever!"