Expert Says Apple's Self Repair Service is Designed to Be Unapproachable
The Apple Self Repair Store gives tech-savvy Apple fans the tools, manuals, and parts to repair their own devices, but it may not be as helpful nor as cost-saving of a resource Right to Repair fans were hoping for. One tech expert argues it may actually cost more to do the repair yourself — and that may be by design.
Luke Miani, a YouTuber and expert on personal computers and Apple products, says that after going through the experience himself, most users should avoid using the Self Repair Store. But he doesn't stop there, and goes a step further and alleges that the whole program is designed to fail thanks to a frustrating and intimidating set of tools that are needed for the simplest of repairs, as well as what felt like incomplete and poor instructions.
An Overwhelming Process
After the program became available, Miani was eager to give Apple's Self Repair Store a try. He ordered a replacement screen for an iPhone 12 Pro as well as rented the Apple tool kit for $50. What Miani didn't expect for a simple screen replacement were two Pelican cases filled with over $1,000 of industrial equipment designed to remove and replace the screen.
Miani says that based on his experiences with Apple in the past, he expected the step-by-step instructions for replacing the screen to be detailed an easy to follow. Instead, he says they are quite the opposite. In fact, Miani says the entire experience would be daunting even for even someone experienced in repairing Apple products.
"I genuinely thought because it was Apple, they would make it be easy," said Miani's teammate. "But it wasn't. It was intimidating. How is any normal person going to do this?"
Yeah they literally send you 75 pounds of stuff for one repair lmao https://t.co/Wqm4UNM5Ns

— Luke Miani (@LukeMiani) May 2, 2022
Miani says that what is provided by iFixit (a frequent channel sponsor of his) for the same task is less intimidating. For example, he says iFixit's tools that are designed to heat up and remove the adhesive secured screens are far easier to use and cost far less. He adds that the company's step-by-step guides are also well-written and easier to follow, with additional videos for reference.
Even though iFixit is a frequent sponsor of his channel which could be seen as a conflict of interest, his points about his experience with Apple's program shouldn't be wholesale disregarded.
To be clear, Miani was able to use the tools and supplies Apple sent him to properly repair the iPhone 12 Pro and make it look brand new. Miani says the issue isn't that it was possible, but that it took him four hours to complete. He argues the process should take no longer than 30 minutes.
Miani also did the math on the cost of the repair and discovered that with parts and the cost of renting the tool kit, an individual who set out to repair their own device wouldn't save any money doing so. He says that it actually costs $7 more than what Apple would charge for the same repair at the Genius Bar.
"It's like you're paying Apple for the labor, but you're doing the labor," Miani says.
Who is Apple's Self Repair For?
Miani says that after his experience, the Apple Self Repair Store really isn't for the average consumer, which isn't entirely surprising. But he doesn't stop there. He argues that because the process is so complicated, intimidating, and accompanied by incomplete instructions — as well as the fact that it also costs more than using Apple's services directly — it indicates that, to him, the service is not designed to be successful.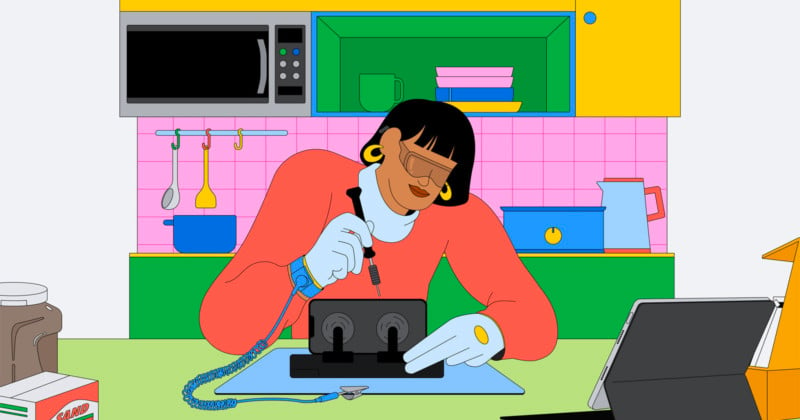 "Apple's Self Repair store is designed to prove that Apple is the only viable option to repair your device," Miani alleges.
It should be noted that Miani's experience would likely not be the same for a third-party independent repair shop. For those who carve out a living doing these kinds of repairs, the Apple Self Repair Store could be a valuable resource, even if only as a way to access verified parts.
It's also entirely possible that the problems Miani experienced weren't decisions Apple made out of malice but are the result of a lack of serious effort. Apple finally decided to start providing the ability to repair its products, but that doesn't mean the company had to go out of its way to make the practice approachable. The company has historically been against the right to repair movement, and its efforts here may constitute just the bare minimum to avoid coming into direct conflict with impending regulation.
I just looked like such a tool hauling 75lbs of tools down the street to the UPS store. After hearing what was in the wack looking boxes one of the employees asked 'why didn't you just go to the Apple Store?'

That pretty much says it all lmao

— Luke Miani (@LukeMiani) May 2, 2022
Whatever the case, for the average user looking to avoid going to a professional and fix a cracked screen themselves, Miani thinks that Apple has designed the Self Repair store to do just one thing: fail and drive repair traffic back to the Genius Bar.