Photographer Claims Police Threw Him onto an Exploding Gas Canister
A documentary photographer has filed a lawsuit against the United States Department of Homeland Security, alleging that during a protest in 2020, they threw him onto a gas canister that exploded beneath him, causing third-degree burns.
Rian Dundon, whose work has been published by major international media, attended a protest in Portland, Oregon in May, 2020 that took place after the murder of George Floyd in Minneapolis. Portland was one of many U.S. cities that saw civil unrest in the wake of Floyd's untimely death at the hands of police officer Derek Chauvin.
Dundon, who doesn't typically photograph breaking news says he "felt compelled to document the world events erupting in my hometown." He was wearing a press badge when he was thrown to the ground by a federal officer as he was documenting a fire that started outside Portland's downtown federal courthouse.
In court documents seen by PetaPixel, it's alleged that the "plaintiff was repeatedly attacked by federal agents while engaging in his constitutionally protected role as a journalist."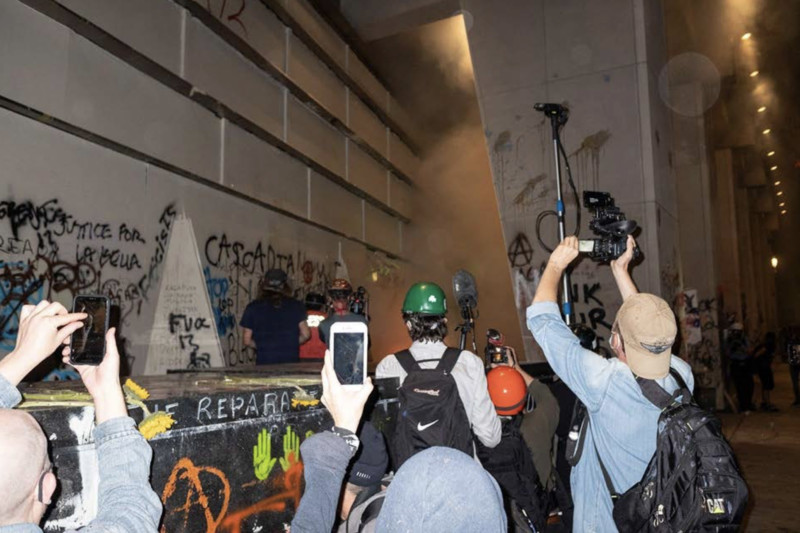 "Federal officers dressed in military fatigues and wearing gas masks approached Plaintiff and the other journalists from behind; Plaintiff turned to run, but federal officers grabbed him and threw him to the ground," the documents go on to describe.
The filing alleges that Dundon landed on a live, unexploded gas canister that then exploded underneath him. There are a set of pictures that have been submitted that are designed to support that story.
Dundon then says he tried once more to get up and run but the officers once more threw him to the ground.
Dundon is seeking unspecified non-economic, economic, and punitive damages in the suit which was filed Thursday, April 21. Dundon names the U.S. Department of Homeland Security, its Federal Protective Service, the U.S. Marshals Service, and U.S Customs and Border Protection as defendants.
Dundon is a contributor to the Washington Post and his photographs of the unrest in Portland in the summer of 2020 were published by them. He's also had work published in the Atlantic, The New Yorker, Al Jazeera, and the Nation.
---
Image credits: All photos via Rian Dundon v. Gabriel Russell, Regional Director with the Department of Homeland Security's Federal Protective Service; Allen Jones; Russel Burger; Andrew Smith; John Doe Defendants 1-100, agents of the U.S. Marshals Service, Federal Protective Service, U.S. Department of Homeland Security, and U.S. Customs and Border Protection, acting in concert and in their Individual capacities