Shooting Space Photos Aboard a Giant Balloon Will Soon Be a Thing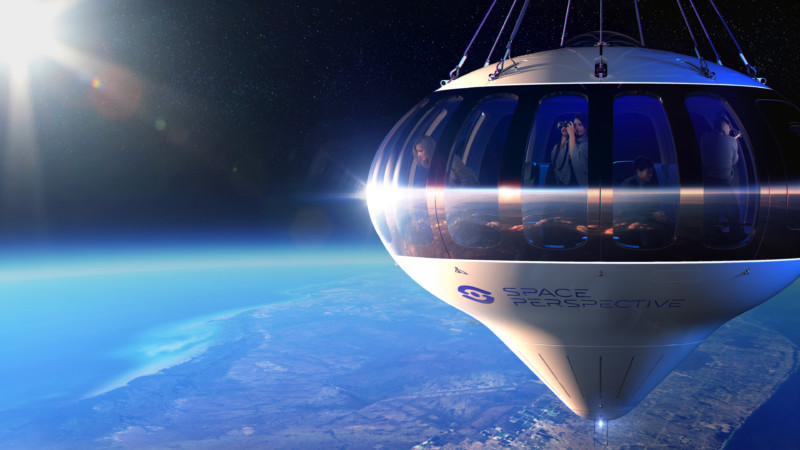 Space Perspective, which calls itself a luxury spaceflight experience company, plans to send tourists into Earth's stratosphere by attaching a floating lounge to its giant SpaceBalloon to provide 360-degree views of the edge of space.
The company says that with its plan, space travel can be more comfortable than ever before while also being more accessible. Space Perspective is billing its patented 360-degree panoramic window design as a way to put views of the upper atmosphere and space front and center for its customers.
"Our mission is to inspire Space Explorers to connect more closely with our planet and each other, and the environment in which they travel with us is central to this. Our Space Lounge is a world away from the white, utilitarian environments you find in other spacecraft," says Jane Poynter, Founder, Co-CEO, and Chief Experience Officer of Space Perspective.
Unlike other vessels that use rockets to fly to the edge of space, Space Perspective plans to send tourists into the stratosphere in a slow, two-hour ascent aboard a climate-controlled, pressurized capsule attached to the company's gigantic SpaceBalloon. Trips would start at dawn to allow those aboard to see the sun rise as the vessel climbs 20 miles into the sky.
The floating capsule glides at that height for two hours before descending two more hours and landing in the ocean, at which point a ship will retrieve the passengers, capsule, and SpaceBalloon.
The company is putting significant efforts into making the capsule as comfortable as possible. It plans to offer WiFi, food and beverage service, and an onboard bathroom that will also have a window so that there is never a point where tourists aren't able to take in the views.
SpacePerspective's initial renders show different ways to enjoy the experience, including that the capsule will give photographers a new perspective to enjoy capturing space imagery. In addition, the floating space lounge is equipped with both interior and exterior-facing cameras to document the journey.
The company says it plans to start offering its flights in late 2024 and has already sold 600 tickets, fully booking the first year of flights. As such, SpacePerspective is taking reservations for flights in 2025 and beyond, and tickets start at $125,000 per person. So while it is true that SpacePerspective's trips are less expensive than what Blue Origin is offering, it's still a hefty investment for a six-hour edge-of-space journey.