Set Photographer Describes Shooting a Film Inspired by a Reddit Thread
"SCARS" is a powerful short film about the role that lying can play and the effects it can have in our lives. My team and I had a wonderful — albeit fast — weekend working alongside the film crew to help create the visual content to help promote this story, from in-character social media profiles to microsites and, of course, the movie poster.
I've always been quite fascinated by the effort it takes to put together a film. Whether a full Hollywood production or a small art house short story, a remarkable number of talented people have to work together to completely transform a banal studio or patch of outdoor space into something completely new and amazing.
When I got the call from my acquaintances Tim Frazier and Jonny Zeller to join them on set for a few days, I jumped at the opportunity. They warned me that their futuristic sci-fi thriller called "SCARS" was going to be set, shot, and struck in only three days! If anyone could pull it off, I knew it would be this duo.
Tim and Jonny had the film crew put together, as well as a video production company to handle behind-the-scenes photography and video, but no one to produce the high-resolution creative still images they needed for a movie poster and other promotional content. Not knowing the full scope of the short film yet, I packed up my Nikon portrait kit and Elinchrom portable lighting and joined them for two of the three days on set.
A few scenes take place in a cadet training camp, and since the story is set sometime in the future, it was important to stage the shoot in a location that was completely devoid of any contemporary 21st-century markings. So they booked Fort MacArthur, a former coastal defense base in San Pedro, California that dates all the way back to the 1890s. It's known for its large concrete doors and walls that are sculpted right into the grassy hillsides around the facility. It's a great place to shoot since at any time of day there is moody soft light bouncing off the light gray concrete walls.


One of the most wonderful details I discovered is that photography itself plays a role in the story of the film. One of the characters (Prole) is a photographer, so a lot of the pictures we took of her on the set featured her with a prototype sci-fi camera and a camera bag with an easter-egg patch on it (The patch is a web address, and if you type that in, it takes you to the character's photo blog). Prole is one of the kinder, quieter characters. She doesn't immediately let the viewer know what brought her here, but she knows the importance of documenting her story through her camera.
We wanted to emulate the look of a film still, so we chose the 50mm f/1.4 lens to lend a cinematic depth of field and pull the characters forward. The two images of Aris, one on the bus and the other in the firing range, are both shot at 50mm at 2.2. Both images of Baker and Aris at the firing range were captured working off the DP's cinema lighting to preserve the mood. We used Capture One Pro to crush the black tones a bit and soften the colors.
I knew I would only have a short amount of time with each of the actors since the production schedule was packed. When on location at Fort MacArthur, I immediately scouted a small recessed concrete doorway leading into the base that was only a short walk from makeup.
The trick to being an on-set photographer is carving out the space you need, the time you need, and then shaping your flashes… all in a way that doesn't affect everyone else on the set. My lighting assistant and I wanted to shape the light into a "sliver" to light the actors' faces, hoping that thin slices of light could play on the film's theme of scars appearing on the body when a lie is told. We set up two lights on an Elinchrom 1200 pack, one bare bulb skimming across the lower rear wall as background lighting, and the other with a seven-inch reflector behind two black flags (with a one-inch gap between them). The over-spill from the main light filled in the actors' faces while the light peeking through the flags highlighted their eyes.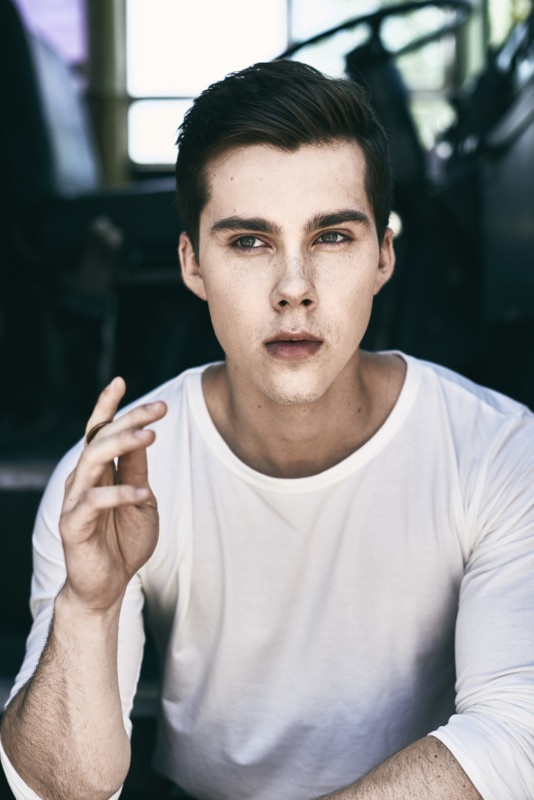 We were quite pleased with the results! It's always exciting to tackle a new challenge and learn about a different creative outlet, and getting to take a look behind the curtain of film production like this was something I won't soon forget.
You can watch Scars for yourself on the Omeleto YouTube Channel, and see some of my work on the project on the film's Instagram.
---
Image credits: All photos by Paul Sargeant and Julio Dueñas
---
Jonny Zeller describes the film: "Scars" was originally written as a response to a viral Reddit writing prompt, which was read by over one million people. The project is, first and foremost, a digital short film. However, my producing partner and I wanted to do more than say, "HeY, WaTcH My ShoRt FiLm." We're obsessed (not in a weird way) with 360 Storytelling/transmedia so we built a broad web of over 100 supplementary content deliverables designed to take the viewer on a story-driven journey across platforms and deeper down the rabbit hole of a cinematic universe. Fake ads based on fictional in-world products, Snapchat and Instagram filters to accompany festival screenings, and an easter egg blog site written as one of the main characters are just a few of the creative avenues utilized to garner attention for the piece.
We'd like to think that the film stands out in many ways, but we did fixate on the importance of varied cultures being seen and heard while creating a fictional one of our own. The bigger picture, though, was about the theme and message. In a film about lies and the marks they leave, the theme is fairly straightforward… at least on the surface. "Don't judge a book by its cover," or, "There are two sides to every story." In "Scars," society is split into three distinct castes based solely upon a person's visible scars. The real world is becoming more and more used to making snap judgments to the detriment of all. Our film tries to show its audience that a person's skill, worth, or motivations cannot be determined by their outward appearance. Instead, it's their actions and, perhaps, their own internal reasons for taking them, that should light the way for how we treat one another.
---
About the author: Paul Sargeant is a photographer based in Los Angeles and operates Sargeant Creative with his wife Leanne. With BFA degrees in Photography and Illustration and over 15 years of running a successful photography and art practice, the duo understands the importance of visual storytelling. More from Sargeant can be found on his website and Instagram.