The Polestar O2 Electric Car Can Deploy an Autonomous Camera Drone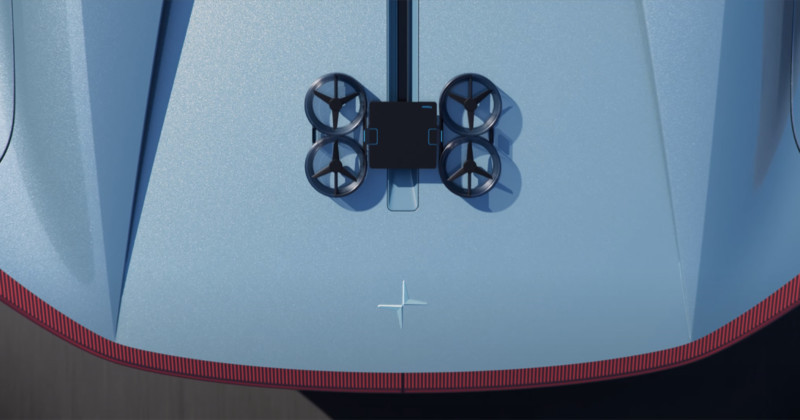 Swedish electric car maker Polestar has announced a new concept roadster called the Polestar O2 that it says will ship standard with an integrated cinematic camera drone that allows drivers to autonomously record their experience.
The Polestar O2 introduces several features that are unique for a vehicle, such as a bonded aluminum platform that the company says will allow for a bigger battery, a focus on sustainable materials, and of course the integrated autonomous drone.
The Cinematic Drone Comes Standard
Polestar says that it isn't just aiming to elevate the driving experience for an electric sports convertible, but give drivers the ability to record it. The drone is shown to be housed in the rear of the O2 in a specially designed compartment. When the driver is ready to deploy it, the compartment opens, the drone is slid out on a rail, and can take off after it clears its mini hanger.
Polestar says the drone would operate autonomously and allow the drive to select "atmospheric" or "action-filled" sequences. In a promotional video, the drone can be seen keeping speed with the car, though it's unclear how fast either is going. That said, the company expects the drone and the car to be able to keep up with each other up to 100 kilometers per hour (about 62 miles per hour). It is also shown to be able to fly around the O2 in any direction while performing cinematic camera moves, all on its own.
The company says that when the O2 is parked, videos captured by the drone can be reviewed, edited, and shared directly from the car's center display panel. Polestar is encouraging drivers to "document the drive" and "capture the fun of premium electric performance."
A Concept Design
It's worth again noting that the Polestar O2 is just a concept, and it's not the first one from the company. It showcased the Polestar Precept in February of 2020 and The Verge points out that there are design elements from that vehicle that are present in the new O2 concept.
Just as the car is a concept, the drone itself is, too. It was developed in collaboration with Aerofugia's consumer electronics company Hoco Flow. Aerofugia is the company that was formed after Geely, the Chinese company that owns Polestar along with Volvo, acquired vertical takeoff and landing startup Terrafugia in 2017.
"We challenged our team and said, 'Look, guys, how would the modern answer to that look?'" Polestar CEO Thomas Ingenlath tells The Verge. "The drone definitely is the vehicle to produce memories, to produce shareable moments, to capture that experience that you have, together with your partner in the car, and the drone can film you. It can make really exciting dynamic shots of the car or very calm ones."
Polestar still has not made its first concept into a finished vehicle but says it plans to in what will be called the Polestar 5. If that happens and the company puts the same effort into the O2, it very well could become a finished product… several years from now, and for a price that's not likely to be anything close to what the average driver would call "affordable."