How to Achieve Moody and Emotional Portrait Photography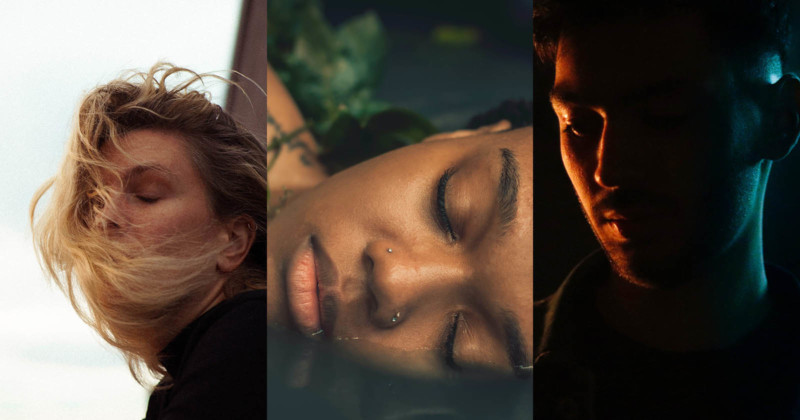 Some of the most enticing shots in portrait photography depict darker emotions, adding in elements of storytelling that include our shadow sides, and show the subject as a complex human. Portrait, documentary, and news photographers rely on emotions to draw viewers in.

This guide will teach you how you can intensify emotions, and tell more compelling stories with moody and emotional portrait photography. Discover tips and tricks of the trade, and lean into the dark side.
Full disclosure: This article was brought to you by MPB.
Use Composition as a Storytelling Device
As the rule of thirds is considered one of the most dynamic ways to photograph portraits, try using different approaches to draw the viewer in and see something different in the scene. Placing the subject in the lower half or upper half of the frame, and even directing their gaze out of the scene, sparks something in viewers that might keep them around to explore.
Also, having a dark background helps draw the subject forward, and keeps the overall look and feel somber and more serious. Classic portrait lens choices like Canon EF 50mm f/1.2 L USM and Nikon AF 85mm f/1.4D, or even a zoom like fashion photography-favorite 24-70mm would work perfectly well. But a focal length too far away might make the viewer feel detached from the subject unless it is a shot tight in on the face.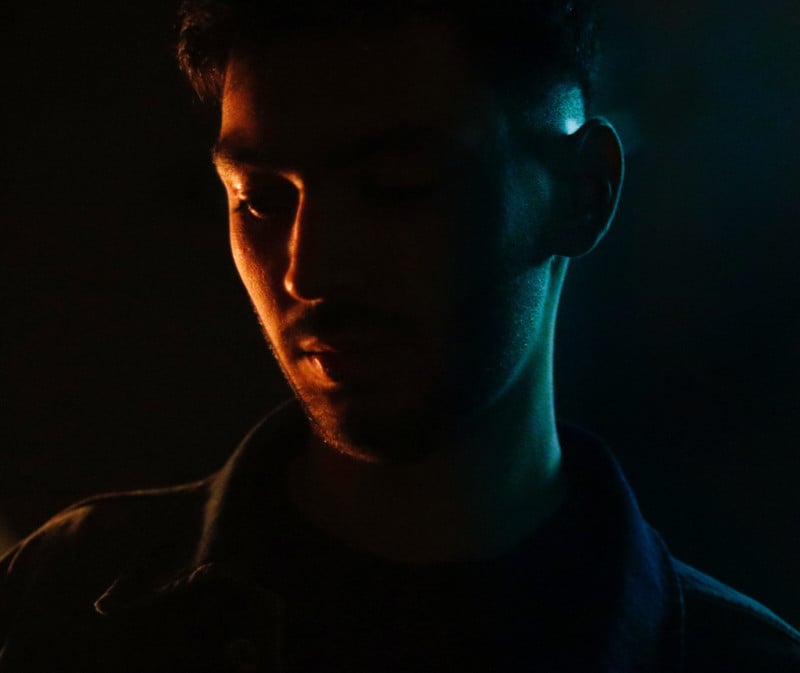 Simplify Your Lighting
Consider the light sources in order to achieve a deeper photographic aesthetic. Typically, lighting shows us what to focus on, and shadows live in the background. But for moodier imagery, consider underexposing by a full stop, or exposing for highlights to let the shadows take center stage. Also, keep the light sources to a minimum, unless intentional to the composition.
If you are dealing with emotions like contemplation or struggle, having two converging light sources of distinct colors helps tell that story. If there is a lot of commotion going on, you can perhaps slow the shutter speed to allow the lighting to take new shapes and surround your subject, while keeping the focus on their face. Always try to keep the details of the subject's face defined and in focus. Indoors, try keeping artificial lights off and place them in front of a window to light key portions of their face and emotion.
Be Patient
One of the virtues for photographers is patience—keeping our eyes open and waiting for the perfect moment. But when that moment comes, you have to be ready to take in the wide range of emotions present that may never be repeated. Be sure to set your camera on continuous mode, available on most contemporary digital systems. Allowing the subjects to get comfortable also might let them open up so that more candid moments will happen naturally. Emotion isn't always shared easily.
If you do like to shoot with telephoto lenses like the 70-200mm f/2.8, you can utilize the distance from a particular scene or subject with the zoom capabilities, producing a milky background to tell the story.
Observe First, Direct Second
When it's time to execute, make sure to be ready to slow down and observe. And, as always, don't be afraid to move around to get the compositions you are looking for. To take nods from documentarian photographers, getting closer in with a wider focal length allows for the audience to feel physically closer to the person, and therefore, closer to their feelings and story.
While directing, lean into what feels most familiar to the subject's mood, story, and space. Ask the model to move around as you photograph, use a fast shutter speed, and then let them know when to pause. So you can get in closer or farther away for other compositional options. This will yield more natural results, and more options to cull through later.
How do you photograph engaging, emotional photography? Let us know, and be sure to check out more guides on MPB's blog.
---
About the author: MPB is the world's best marketplace for used photo and video equipment. Founded in 2011 and headquartered in Brighton, Brooklyn, and Berlin, MPB recirculates more than 300,000 items of used camera gear every year, extending the life and creative potential of photo and video equipment for creators around the world. Buy, sell, and trade photo and video gear today on the MPB website. This article was also published here.