Fly a Drone in LA Within 34 Miles of the Super Bowl, Get Fined $30,000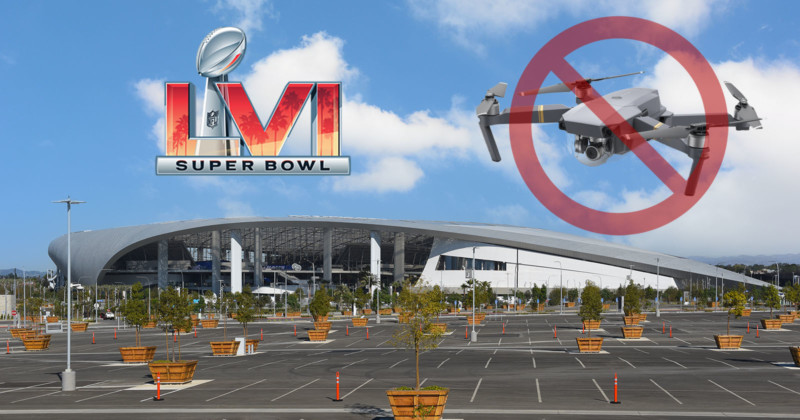 With Super Bowl LVI set to kick off in Los Angeles, the Federal Aviation Administration (FAA) is reminding drone owners that a huge part of the LA area will be a "no drone zone" during the NFL championship game. Fly a drone within 34 miles of the stadium and you could be slapped with a $30,000 fine and more.

"SoFi Stadium in Inglewood, California, is a "No Drone Zone" for Super Bowl LVI," the FAA writes in a notice on its website. "The Federal Aviation Administration (FAA) will prohibit drones within a 30-nautical-mile radius of the stadium up to 18,000 feet in altitude."
18,000 feet is about 3.4 miles above the surface of the ground and a little bit shorter than Mount Kilimanjaro, the world's highest single free-standing mountain above sea level. Popular DJI drones can fly up to 1,640 feet in altitude.
A 30-Nautical-Mile Radius Around SoFi Stadium
A nautical mile is defined as one angular minute on latitude while an international (or statute) mile is based on what Queen Elizabeth I decreed back in 1592. Each nautical mile is slightly longer than a "land" mile, measuring 1.1508 miles.
So the 30-nautical-mile radius imposed by the FAA is the equivalent of a 34.523383-land-mile radius. Here is what that area looks like around SoFi Stadium:
As you can see, a significant portion of the Los Angeles area is a no fly zone during the Super Bowl. Here is a closer look at what is covered:
So even drone pilots as far as Thousand Oaks to the northwest or Newport Beach to the southeast will be breaking the law if a drone takes flight during the Super Bowl.
Details on Times and Penalties
The FAA's Temporary Flight Restriction (TFR) will be from 2:30 pm to 8:30 pm PST on February 13th, 2022. There will also be a tighter ban within 1 nautical mile and 3,000 feet around the stadium starting from 10 am.
Anyone who is caught flying a drone within the banned airspace during the TFR could have their drone confiscated, be fined a minimum of $30,000, and potentially face criminal prosecution.
The minimum fine is significantly higher than it was back in 2016, when drone pilots breaking the law had to fork over $1,000 if shooting alone or $27,500 if shooting for a business.
More details of the FAA policies for drone pilots and general aviation can be found on the agency's Super Bowl LVI web page.
---
Image credits: SoFi Stadium photo licensed from Depositphotos