Photographer Captures the Plight of Flood Survivors in South Sudan
Peter Caton has photographed the devastating flooding in South Sudan in North Africa over three trips spanning more than a year. There, families are found walking through crocodile-infested waters to find plants such as wild water lilies to eat as their crops have been destroyed by three years of floods.

The humanitarian photographer was in a church in the United Kingdom when he asked in a prayer where his camera should best serve.
"The next minute, I opened my hymn book, and there was a small flag of South Sudan," Caton tells PetaPixel. "It was a huge shock."
A freelance assignment took Caton next to Kenya when COVID-19 suddenly hit Africa and the rest of the world. He ended up stuck in a house in Kenya for six months, and his freelance photography career screeched to a halt. Wondering where he would get his next job from, people suddenly, out of nowhere, began asking Caton to work in South Sudan.
He received an assignment to cover the country from Action Against Hunger, a France-based organization battling global hunger since 1979. It helps malnourished children and provides communities with access to safe water.
Covering the flooding in South Sudan had not originally been scheduled as part of the trip, but when the organization's country director returned from a trip to survey the floods, he urged the photographer to cover the subject immediately.
1.7 Million Displaced, 2.5 Million Severely Food Insecure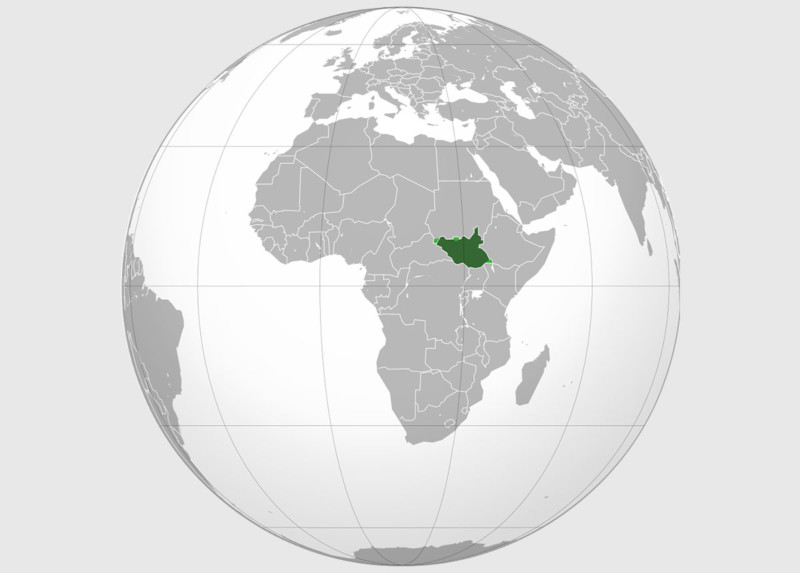 An estimated 1.7 million people have been forced to relocate to higher ground in South Sudan. Along with the lost crops of maize and sorghum, livestock has also died from waterborne diseases caught from grazing in flooded fields. This has depleted the already low quantities of milk and meat that would have been available.
The villagers spend most of the day collecting wild water lily bulbs. These are ground into powder to create a paste forming some semblance of a small, unsatisfying daily meal for survival. There are fish in the waters, but they are challenging to catch in the absence of fishing nets and canoes.
According to a UN World Food Program report in late 2021, 2.5 million people in South Sudan were "severely food insecure" and 7 million were "food insecure", and that in a nation with a total population of 11 million. COVID-19 has further added to the country's weather-related woes.
The Logistics of Photographing the Flood Havoc
"There is a local office [of Action Against Hunger] of sorts in Old Fangak [a town with no electricity because of the floods and limited drinking water], in northern South Sudan which is often flooded," says the British photographer. "I worked with Susan Martinez, an award-winning writer from Ecuador, and to add to this, we had a boat driver, plus a translator and an assistant we hired from the local community.
"I needed an assistant who knew his way around walking in deep water. All their support was vital. Several photographers have asked me how to get access into the South Sudan floods, but it is almost impossible without the logistical support we had."
The floods have affected 33 of South Sudan's 78 counties. The areas are notoriously difficult to gain access to, so your time in them is often limited. The photo group often had to walk through water all day long, which was extremely tiring — Caton says they "were working on adrenaline" for most of the time.
Besides the discomfort that humidity and 90 degrees of heat bring, photographing in floods has the added danger of quickly losing all your equipment in the water. Also, in the water, Caton had to keep "a sharp eye" out for crocodiles.
Caton's team used motorboats to travel when longer distances were involved, but some of the areas were too remote to reach, and for those areas, the crew had to travel by "canoe" (basically a tree trunk hollowed out by hand). These float "very uneasily" and never feel safe, Caton says. All the riders have to focus on their balance as one sudden or wrong move and it could capsize.
Falling in the water is not an option for Caton as it is not as easy as shaking off the dirty water and getting back in the canoe, and he always has a Hasselblad firmly clenched in his hand.
Photography Gear and the Challenges of Keeping it Going
"I shoot using a Hasselblad H5D-50C, a very impractical camera to take into the floods," says Caton. "It is heavy, temperamental, and certainly will not float! However, I think it is the Hasselblad that makes the series so powerful. I was gambling with my camera all the time, often shooting while holding the camera body in the palm of my hand. In this way, I knew that when the water touched the back of my hand, I was at my limit."
Keeping his camera and sensor clean was a challenge, as all sorts of dirt and debris were constantly getting into every crease and crevice.
"I clean [my camera] by hand at the beginning of every day and then leave it as I do not want to expose my sensor to any kind of dirt from the environment," Caton says.
The team bought a small generator for minor electrical needs, including recharging batteries, but it broke after a couple of hours on their first night.
"Fortunately, another aid organization worked a few miles down-river opposite us and were prepared to help," remembers Caton. "However, we worked until nightfall, and then we had a perilous journey in total darkness along the river to find the place to recharge my Hasselblad batteries and laptop. I never liked that part of the day."
The photographer, who shoots in RAW, says he loves capturing the beautiful skin tone of the South Sudanese, but he often found it challenging, especially in the middle of the day, due to intense sunlight "bleaching everything." When shooting people for most of the day outside, he is often "forced to use flash" to produce correctly exposed images.
Water and Mosquitos Everywhere
To quote the poet Coleridge, the situation Caton documented is a case of "Water, Water, Everywhere, Nor Any a Drop to Drink!"
The villagers walk through their flooded land to reach the White Nile, one of the two main tributaries of the Nile River where they can get cleaner water. "Cleaner" is a relative word as it is still undrinkable for outsiders like Caton, who lack the immunity developed by the locals. In some communities, there are boreholes, some contaminated with dirty water, that they use for potable water supply. But Caton and his team carried along packaged water.
On the previous expedition, the photographer wore waders, which made toilet breaks difficult, resulting in less water consumption. However, the end of a working day saw him gulping down a gallon of water in one sitting to rehydrate. Along with the water was almost a mandatory quarter gallon of electrolytes to keep the system in good health.
"The water was brought with us in the small aircraft that managed to take us there and landed on a small landing strip. It was a huge logistical undertaking."
An abundance of water pools is a paradise for the mosquitos to multiply and with it the scourge of malaria, which is there even in normal times but now much more.
"I spend ten months of my typical year in the tropics, so if I took malaria tablets every day, it would have a detrimental effect on my body," says the photographer. "However, we needed them for this as the mosquitoes were the worst I have seen in a 20+ year career."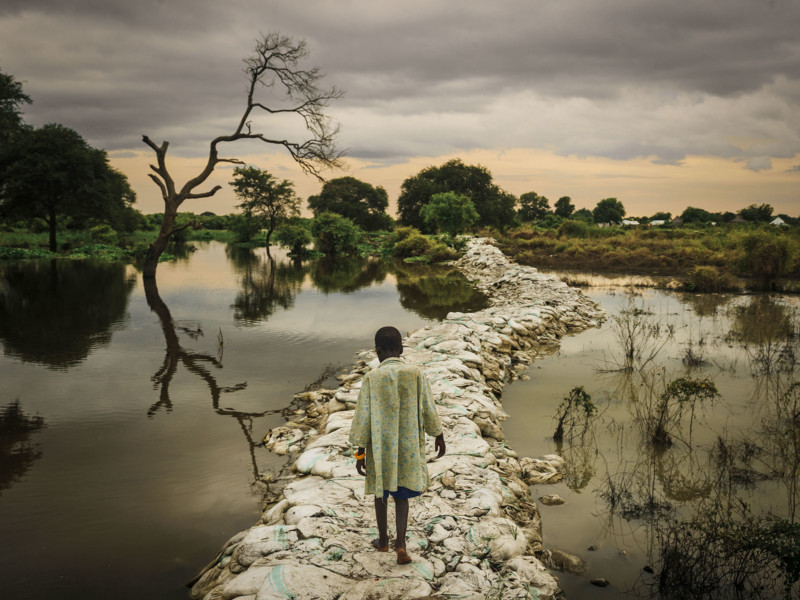 "I would be coughing all day as I would keep swallowing them," the photographer says. "They particularly enjoyed the blood in my eyelid, which was crazy; how can they even reach there? The journalist and I were struggling during the shoots and, to this day, continue to have mystery skin infections a year later.
"I would be getting bitten by water bugs while lying in the water, but I would be so focused on the image that nothing else mattered. On the last trip to the floods, we bought waders with us from Kenya, which helped. But you would sweat so much in the waders from the tropical heat that you were just as wet whether you wore them or not!"
Martinez (the journalist who was part of the photographer's team) and Caton himself were the only two who did not catch malaria. So, they were constantly thinking, "Is it me next?"
Standard mosquito repellent and even expensive products were not having any effect on the voracious insects, so a staff member came up with the ingenious idea of a suit made of mosquito netting for the two of them.
"We would all wear them in the field, and we looked like overweight ghosts walking through the floods," laughs the Englishman. "It must have been quite a sight for the locals. How the locals can live while being bitten by insects every few seconds is shocking."
Photographing for Humanity
Caton has seen and documented Africa extensively under floods and droughts, both of which cause crops to perish and communities to go hungry.
"In all the days of shooting this flood, not one individual ever declined their portrait; in fact, it was the opposite," explains Caton. "I feel like they see me as an outsider with a camera curious about what's happening, and they see it as an opportunity for the world to be informed of their plight.
"I never experienced any animosity from anyone. Our first trip to the floods raised a lot of money to help these people and raised the profile of the disaster so more people from other affected regions could also receive assistance. Villagers seemed to know this so that many would congratulate and thank us for our work. It made co-operation even easier and extremely rewarding."
Caton has spent the past 16 years traveling and living in hotels — his home is a suitcase and a camera bag. Last October, he made it home to Scarborough in northern England for his dad's surprise 80th birthday party after being stranded in East Africa for nearly 20 months as the coronavirus pandemic swept across the world.
When asked whether he thought this latest flooding tragedy was caused or exacerbated by human impact on our planet, Caton says he is unsure but that the response should be the same.
"It is hard to say what is a human consequence and what is just nature being nature," says Caton. "Scientists don't have enough data to say for certain if something [like this] is or isn't human-made, but what we can do to help others whatever the root-cause that is what matters…I think there is always hope when there is awareness, willingness to help, and people's strong resilience."
Caton graduated with a photography degree in England in the late 90s. He then worked in factories to save enough money to travel to India for six months. The photo essays he shot then on the Bhopal gas disaster were published in Marie Claire, UK. The other work he did on leprosy was exhibited at the National Portrait Gallery in London as part of the John Kobal Photographic Portrait Awards. This was over 20 years ago, and he has remained passionate about his work ever since.
"[My work] is mostly environmental portraiture with additional images to contextualize the situation," he says. "It makes a powerful combination."
"Regardless of what it is when I see injustice or inequality, I am impassioned and motivated to help," says Caton. "My particular skill is capturing images, but if I was not a photographer, I am sure I would be an aid worker in some capacity.
"The destruction of the environment has always been a driving force behind my images. I have always been fascinated by the wonder of nature, so the activism fusion makes sense. There is a sense of responsibility that I feel when I am uncovering an untold disaster."
Caton has edited a large number of photos down to 100 images on this assignment that he is proud of. This is the source pool that he uses for magazines and future projects. He plans to approach book publishers this year as he has quite a comprehensive variety of images.
The series was successful last year and was part of group shows in Hong Kong, Paris, New York, and London. There is also talk of a solo show on the flooding this year in New York.
You can find more of Peter Caton's work on his website and Instagram.
---
About the author: Phil Mistry is a photographer and teacher based in Atlanta, GA. He started one of the first digital camera classes in New York City at The International Center of Photography in the 90s. He was the director and teacher for Sony/Popular Photography magazine's Digital Days Workshops. You can reach him here.
---
Image credits: Header photo: "We make a sacrifice to bring our children to safety using a bucket". Nyalong Wal, 36, carries her daughter, Nyamal Tuoch, 2, to dry land. Nyalong is traveling all the way from Lakabang Village to Paguir Village. The journey takes two hours wading through the water with a sick baby inside a bucket that Nyalong is taking to the only Stabilization Centre in the area. Mothers all around Paguir Village carry their babies inside buckets to reach the health center. The ground underwater is unstable and some parts of the path are too deep. Carrying the babies on their heads these mothers make sure they can quicken the pace where the ground is more firm. Old Fangak, Jonglei State, South Sudan, November 2020. All photos by Peter Caton/Action Against Hunger