Fujifilm Cameras Have Serious macOS File Issue, Firmware Fix Incoming
Fujifilm has issued an "important notice" to photographers using Fujifilm cameras and macOS computers, warning that a firmware incompatibility found in several popular that may cause issues with accessing files and a risk of file loss in macOS. The company says a firmware fix is in development.

In a news article titled "
Important notice for consumers processing FUJIFILM digital camera files using macOS
," published on February 2nd, Fujifilm shares that it has managed to track down an issue to its camera firmware.
"FUJIFILM Corporation has identified a firmware incompatibility between specific X and GFX series cameras […]," the company writes. "This incompatibility can result in macOS users being unable to directly access files if they were initially saved to SDXC memory cards in-camera.
"To address this anomaly, Fujifilm is creating a firmware patch, which is expected to be available for free download by X Series and GFX System users soon."
The notice was also sent out to customers in an email.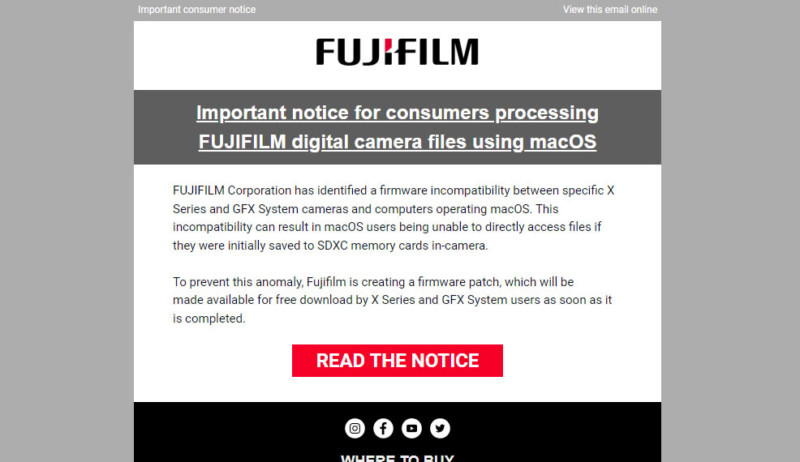 Fujifilm Cameras Affected by the Firmware Issue
Fujifilm says a number of its popular X Series and GFX System mirrorless camera models have been found to have the firmware incompatibility with macOS.
The following list of cameras is affected by the issue regardless of firmware version:
There are also a few older cameras that are affected only if they have been updated to newer firmware versions:
GFX50S if firmware is v4.00 or later
GFX50R if firmware is v2.00 or later
X-T3 if firmware is v3.20 or later
What the Issue is with Affected Cameras
Photographers have reported these alarming file access at least as early as May 2021, reports The Verge. In a number of forum discussions, photographers shared how they captured many thousands of photographs with their cameras but could only access 4,096 on their Mac while the camera continued to show the full count.
Fujifilm says the issue can arise when a photographer using an affected camera saves photos shot in-camera to an SDXC memory card and then tries to directly access those photo files using a Mac running macOS — Windows users are not affected by this issue.
"While the current firmware versions allow these X and GFX series cameras to internally write and store 9,999 frames to a single folder, it has been observed that if more than 4,000 files are written in-camera to a single folder on an SDXC card and directly accessed using macOS," two issues could occur.
First, the photographer could be unable to access the files they are looking for.
"Some files on the memory card may become inaccessible if the card has been connected to the computer through an internal or external memory card reader and directly accessed using macOS," Fujifilm says.
Second, and likely more worrying to photographers, there could be a chance of file loss if the memory card is not properly ejected. Do not remove the card without ejecting first and/or while your Mac is in sleep mode.
"If the memory card is not ejected correctly from a computer using macOS, there is a likelihood that data may be lost if the same card is directly connected and accessed a second time using macOS," Fujifilm says. "However, risk of data loss in this situation can be prevented by following proper ejection procedures for macOS operating systems.
"If the proper procedures are followed, no data will be lost. However, files will still remain inaccessible when attempting to directly access the data on the memory card using macOS.
"FUJIFILM is not responsible for any loss of use, images, files, data, or other information in connection with the use of FUJIFILM products caused by the above improper ejection procedures."
To eject an SD card in macOS, drag the card's icon to the Trash. You can safely remove the card once the card's icon disappears from your desktop.
Fujifilm is Working on a Firmware Fix
If your camera is affected by this issue, the bad news is that you will need to wait for Fujifilm to release a new firmware update for it to be fixed.
The problem appears to be some kind of limit macOS imposes on the number of files that can be in one folder on an SDXC card. To get around this issue, Fujifilm's upcoming firmware fix will simply limit this number (presumably to 4,096 or less).
"To address the incompatibility, Fujifilm is developing a firmware patch that will limit the number of files that can be written to a single folder," Fujifilm says. "This patch is expected to be available for free download by X Series and GFX System users soon."
Until the firmware is developed and released, Fujifilm is advising photographers to follow certain rules to ensure that all files are accessible and safe.
As noted earlier, do not remove an SDXC card from your Mac before ejecting it properly. Next, photographers should not shoot and save more than 1,000 photos in-camera to any folder on their SDXC memory card — once you reach 1,000 files, you should create a new folder in your memory card's file system and use the new empty folder.
Finally, if you are using an SDXC memory card that already has files on it, Fujifilm has put together a step-by-step guide in its FAQ section on how you can safely download the files from your camera to your Mac.
No word yet on when Fujifilm's free firmware fix will be rolled out to affected photographers.