Great Reads in Photography: December 12, 2021
Every Sunday, we bring together a collection of easy-reading articles from analytical to how-to to photo features in no particular order that did not make our regular daily coverage. Enjoy!
---
'Most People Don't Know How to Shoot or Edit Dark Skin' – Isaac West's Best Phone Shot – The Guardian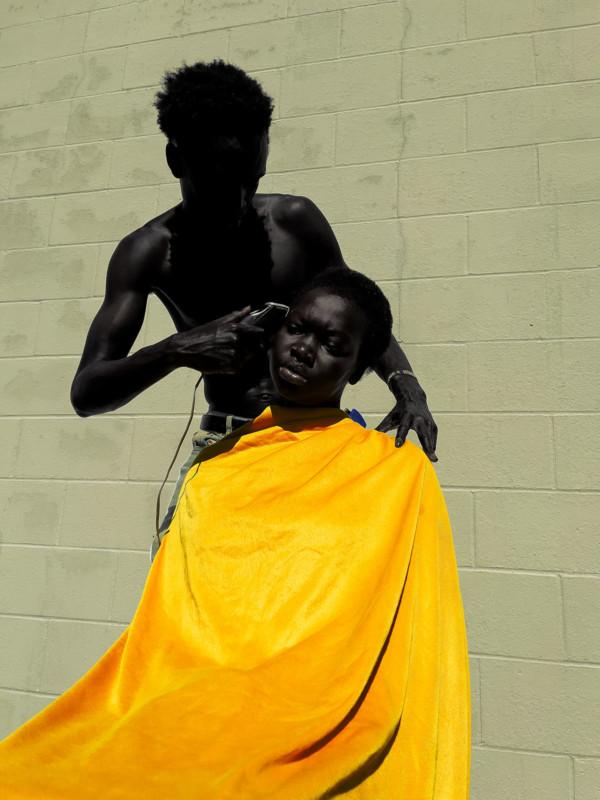 The above photo is from INWARD: Reflections on Interiority at the International Center of Photography (ICP) in New York City.
"I love shooting dark-skinned models," West says. "The secret is in the editing. Most people don't know how to shoot or edit dark skin – they don't get the tone right. I want to see contrast, rawness and richness. – The Guardian
"I chose the yellow cloth because I wanted the dark skin to bounce off it," adds West.
---
The iPhone 13 Pro Got a Big Camera Upgrade – But Users Didn't Like it – TechRadar
TechRadar writes:
When Apple designed the new iPhone 13 camera app, it hoped to improve on past handsets by learning from oil painting techniques – but did it really make things better?

Wallpaper* writes that "The iPhone 13's camera represents a substantial upgrade, with Pro models getting a triple-lens system with a macro mode and 6x optical zoom [from 0.5x ultra-wide to 3x telephoto zoom]…

Since the iPhone 13 has launched, a number of users have taken to forum threads to express their discontent with the photos taken by the iPhone 13 Pro and iPhone 13 Pro Max – largely around processing that smoothes out the picture and loses important detail.
---
Greenpeace: Half a Century on the Frontline of Environmental Photo Activism – The Guardian
The Guardian writes:
Fifty years ago, on 15 September 1971, a ship named the Greenpeace set out to confront and stop US nuclear weapons testing at Amchitka, one of the Aleutian Islands in south-west Alaska.

Two years later, a small boat called the Vega…sailed into the French nuclear test site area at Moruroa, French Polynesia in the southern Pacific Ocean. Photographers had been using their images for years to publicize situations worldwide. But Greenpeace was a young organization pioneering a new kind of activism: this was the moment they began to realize that capturing images of what they were doing and seeing would play a vital role in their work…

Greenpeace – the pioneer of photo activism – has remained committed to its core values of exposing environmental injustice through its imagery for the last 50 years.
---
98-Year-Old NYC Photographer Shows Life as Is – From WWII to Today — Voice of America (VOA)
Tony Vaccaro (b. 1922) photographed Europe during 1944 and 1945 and Germany immediately following World War II. After the war, he worked as a fashion, celebrity, and lifestyle photographer for Flair and Look before joining Life magazine.
Vaccaro wanted to work as a photographer at the Army Signal Corps, but he was rejected as he was deemed too young at age 21 when he was drafted just a few months after graduating high school. So, he worked just as an infantryman and surreptitiously captured over 8,000 photographs during the war on a smuggled Argus C3 camera.
Read also:
Tony Vaccaro Shares His Story and Images from D-Day and the Weeks that Followed
This Famous WWII Photographer Just Beat COVID-19 at 97 Years Old
---
How Many Bobcats Can You Spot in this Wisconsin Trail Camera Photo? – The Sacramento Bee
This trail camera photo taken by the Wisconsin Department of Natural Resources shows bobcats camouflage themselves in their environment to become skilled stalkers.
The image was posted on Dec. 4 on Facebook with a challenge. "There are two bobcats in this snapshot from Lincoln County! Can you find both?"
Hint: Look in the tree.
---
A Soviet Spy Camera for Shooting Through Walls – KosmoFoto
A rare Soviet camera, the C166 Nimfa-3, featuring a Zorki-4 rangefinder attached to a special lens assembly intended to take covert surveillance photos through walls or ceilings through drilled holes, is being offered for sale this week.
The Nimfa-3 was one of several modified rangefinder cameras adapted for this specialist role for use by Soviet-aligned security agencies such as the KGB. The KGB and sister agencies in the Warsaw Pact used an impressive array of specialist cameras, some of which were hidden in fake bags, umbrellas or even jackets. – Kosmo Foto
---
Jill Freedman's Street Cops Shows Seedy NYC in the '70s and '80s – DigitalPhotoPro
Photojournalist Jill Freedman's (1939–2019) pioneering photo book, Street Cops, published by Setanta Books, shows what it was like to police New York City during the rough-and-tumble 1970s and 80s. Freedman, who passed away two years ago at the age of 79, tagged along with the NYPD during this volatile period in the city's history, capturing murders, arrests, and the everyday life of being a cop on the beat.
Inevitably, the spirit of Weegee haunts Jill Freedman's photographs of New York street cops. Both worked in inky, matter-of-fact black and white. Both wanted to be at the scene of the crime while the blood was still wet. Both were unsentimental, tenacious, and tough. They didn't look away, and they won't let us ignore what they saw: New York at its rawest and scuzziest – The New Yorker.
I'm not even sure this kind of work would be possible today, given how our institutions, including the police, so tightly control access. But in Street Cops, Freedman takes us along as she photographs the NYPD responding to everything from crazy violent drunks to domestic disputes to crowd control during parades. It's a wild ride through a city that has always captured our imaginations. – The Washington Post

© Jill Freedman

In seven books and numerous gallery exhibitions and journalism assignments, she specialized in finding people on the rough margins of American life, rendering them as noble but not necessarily heroic. Even when her subjects were freakish or odd, Ms. Freedman never traded in oddity for its own sake; viewers might laugh with the characters, but not at them. – The New York Times in her obituary.
Also, Cop a Load of this: on the Beat with the NYPD – in Pictures – The Guardian
---
My Favorite Things I Learned About Photography in 2021 – Photography Life
1.) NPF Rule, which is a formula for what shutter speed to use to avoid motion blur in the stars at night.
2.) An unexpected benefit of image averaging
And three more at the link above.
---
6 Surprising Benefits of Shooting Street Photography – MakeUseOf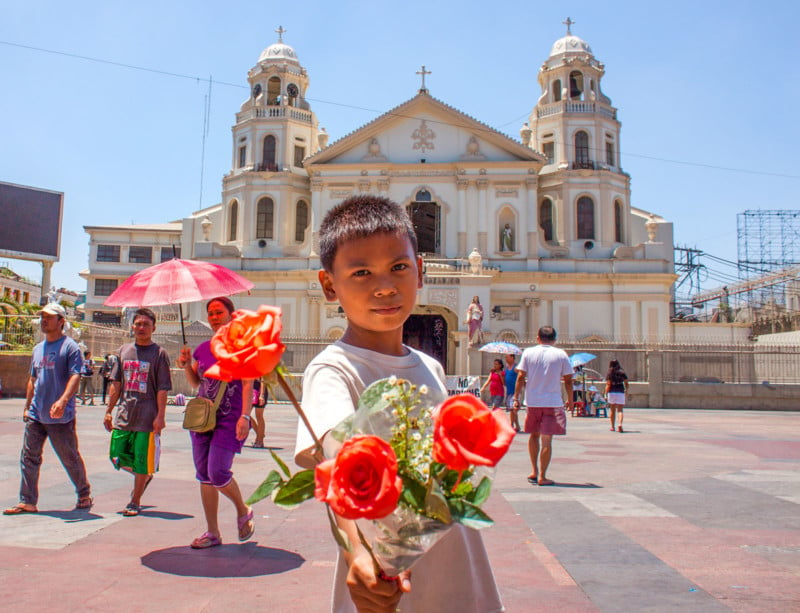 1.) You become a better and faster photographer
2.) Become an expert of your city and offer photography workshops
Check out four more benefits at the link above.
Read Also:
Things I've Learned Over 10 Years of Street Photography
Here's a Free 30-Minute Masterclass on Street Photography by Nick Turpin
---
Photoshop Fails on Iconic Movie Posters You Never Noticed Before – Buzzfeed
It takes a lot of hard work to make a movie happen, but that's why we have talented directors, actors, and writers. It's also difficult to spot minuscule mistakes in the posters for those movies, but that's why we have the internet!
In Street Kings, if you look carefully, Keanu Reeves' finger is not even on the trigger, but the gun is firing with muzzle flash visible.
Try to look at each poster and spot the Photoshop fail before you read the answers in the bold text at the link above.
---
Here Are 24 Photo Books That Brought Us Meaning and Joy In 2021 – Buzzfeed News
The above photo is from The Local by photographer Nick Meyer published by Mack.
The above photo is from LAPD 1994 by photographer Joseph Rodríguez published by The Artist Edition.
---
Marsel Van Oosten: Why Color Can be a Distraction in Wildlife Photography – Amateur Photographer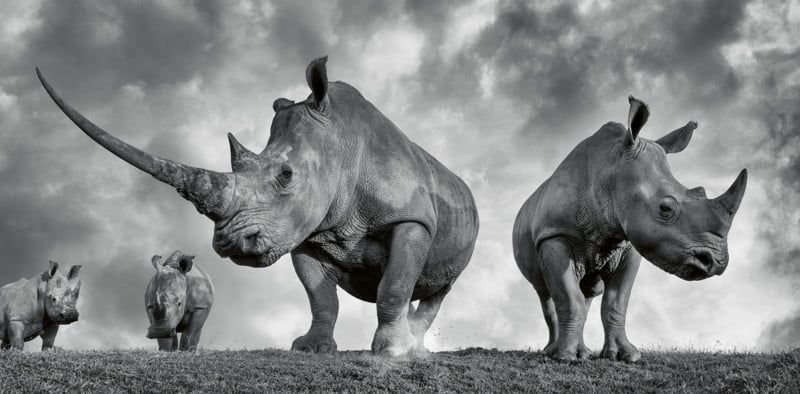 The above image is from Mother by Marsel van Oosten published by teNeues.
---
Photographer Edward Burtynsky on Creating Immersive Experiences and How to Find Your Aesthetic Voice in a World Flooded with Images – Artnet News
Artnet News writes:
Canadian artist Edward Burtynsky is sort of like a sleuth: He produces evidence of humans' impact on the planet. Gaining access to hard-to-reach places in our world—tar sands, nickel mines, sawmills, or shipyards—Burtynsky culls poignant imagery to show us how we have transformed the earth around us at a vast and debilitating scale. There is a cost to modern life, and its massive, if usually just out of view.

At a time when the climate is finally starting to rear from the effects of industry, his work has become even more urgent. It is no great surprise then the artist, who is based in Toronto, was recently awarded this year's Outstanding Contribution to Photography by the World Photography Organization [Sony World Photography Awards 2022.]
Read also: An Interview with Edward Burtynsky
---
6 Copyright Infringement Cases Photographers Should Know About — Rangefinder
You will need to sign up to read the article, but it is free.
---
William Klein's Photos Ignore 'The Rules' (Learn From Them) — The Photographic Eye
William Klein, 
age 93, is an American-born French photographer and filmmaker noted for his ironic approach to both media and his extensive use of unusual photographic techniques in
photojournalism
and fashion photography.
Read also: Documentary: The Life and Work of Iconic Photographer William Klein
---
Photo From the Past – Smog in Lahore, Pakistan
Embed from Getty Images
A Pakistani barber shaves a customer alongside a road amid heavy fog and smog conditions in Lahore on January 24, 2019.
Lahore, Pakistan, Beats Delhi, India, as World's Most Polluted City (Nov 2021) – FirstPost
---
Photo of the Week
Look Ma, No Hands?
Embed from Getty Images
---
Quiz of the Week
1.) Which World War II photographer developed his film in helmets while crouching in foxholes on moonless nights and hung the negatives to dry on tree branches?
2.) Which Magnum photographer did a photo story on the fake news industry in Macedonia and fooled the photographic community with fake computer-generated imagery? Hint: He did finally reveal the truth.
3.) Which phone has the same 1″ camera sensor as a point and shoot camera? Hint: It doesn't make full use of the sensor's actual size, of 20.1-megapixels but only 12-megapixels.
Answers:
1.) Tony Vaccaro (see the video above, 4th from top). His iconic—and unauthorized—representations led the BBC to describe Vaccaro as the war's greatest combat photographer.
2.) Jonas Bendiksen with his The Book of Veles.
3.) Sony Xperia Pro-I has the same 1-inch Type Exmor RS BSI CMOS sensor as the Sony RX100 VII camera. It also has a two-stop variable aperture of f/2.0 and f/4.0 that the user controls and a 6.5-inch 4K resolution (3840 x 1644) OLED screen with a 120Hz refresh rate.
---
Why I Like This Photo – Jack Crager
I like this photograph because it encapsulates a certain place and time: New York City in the spring of 2020, at the outset of the COVID -19 pandemic. The 6-feet arrows indicate the full length of proper social distance, even outdoors, and this sign is on a running trail around the Jacqueline Kennedy Onassis Reservoir in Central Park.
At the time, running represented freedom, as exercise was considered "essential." (Just ask my wife: My "runs" might last for hours.) With no other people, an iron fence, a stretch of water, and distant buildings—on a gorgeous day—the scene conveys desolation with a tinge of hope.
I shot this photograph on an old iPhone SE using automatic settings. I probably ran all the way around the reservoir, but I ended up shooting on the west side (nearest my home), looking toward the buildings on the east side (mostly hospitals and luxury high-risers). I remember searching for an angle that would include the vibrant colors—the blue sky, the aqua water, the green trees, the red sign backlit by the sun.
I also wanted a very horizontal shot to serve as my lead picture: This was made for a photo essay, During a Lockdown, What is "Essential?", published on the website Common Edge. The text was about being an essential worker at a popular grocery store as Covid was spreading like wildfire through the city. The essay hit a chord: It's the closest I've had to a creation going viral (at least in my little realm of the world).
Afterwards, a lot of old friends wrote to me, giving me a chance to reply and reconnect—a dose of kinship amid the quarantine. We shared memories and commiserated about living and coping with this wild, crazy virus. The one that won't go away.
Jack Crager is a freelance journalist and photographer for more than 20 years in New York City. His client list includes American Photo, Popular Photography, Time Out New York, Graphis, New York Road Runners, Metropolis, Voxnovus, PDN, Rangefinder, Emerging Photographer and others. He's a father, husband, songwriter and marathoner.
---
Quote of the Week – Jill Freedman
The above photo is from Street Cops, by Jill Freedman published by Setanta Books.
I hate cheap pictures. I hate pictures that make people look like they're not worth much, just to prove a photographer's point. I hate when they take a picture of someone pickin' their nose or yawning. It's so cheap. A lot of it is a big ego trip. You use people as props instead of as people.* — Jill Freedman
*Working, book 3, by Studs Terkel (1973)
Jill Freedman (1939–2019) was an American documentary and street photographer. At age seven, she found old Life magazines from the war that her parents had saved in the attic. Those photos deeply influenced her and probably led to her being a photographer. Freedman, a self-taught artist, only ever had one real photography teacher: Fang, the poodle. "When I was out walking in the street with Fang, I saw everything, felt everything. He had a great instinct. He taught me how to look because he never missed a thing," writes The Eye of Photography.
---
To see an archive of past issues of Great Reads in Photography, click here.
---
We welcome comments as well as suggestions. As we cannot possibly cover each and every source, if you see something interesting in your reading or local newspaper anywhere in the world, kindly forward the link to us here. ALL messages will be personally acknowledged.
---
About the author: Phil Mistry is a photographer and teacher based in Atlanta, GA. He started one of the first digital camera classes in New York City at The International Center of Photography in the 90s. He was the director and teacher for Sony/Popular Photography magazine's Digital Days Workshops. You can reach him here.
---
Image credits: All photographs as credited and used with permission from the photographers or agencies. Portions of header photo via Depositphotos. Middle horizontal (top) LAPD 1994 by photographer Joseph Rodríguez published by The Artist Edition, and middle horizontal (bottom) Greenpeace ship by Roberta F., CC BY-SA 3.0