Photographing the 2021 Navy Football Uniform on an Aircraft Carrier
Photographer James Quantz Jr. was commissioned by the United States Naval Academy to photograph its 2021 football team uniform on an active aircraft carrier ahead of the annual Army-Navy game.
Quantz Jr. previously worked with the Naval Academy in 2020 to help produce the images for last year's Army-Navy football game and also recently worked with the school on a special Marines-themed uniform that was worn against Air Force on the 20th anniversary of 9/11.
"Each year, [the Naval Academy has] a theme for the uniform that will represent a specific aspect of the U.S. Navy," Quantz tells PetaPixel.
"This year's theme was 'Fly Navy' spotlighting Naval Aviation and the F/A-18 Super Hornet that is known as the most utilized, multirole fighter jet in aircraft carrier aviation. With that being said, the grand plan was to spend several days on an active carrier with a F/A-18 fighter squadron and capture content with the uniform in that setting."
As can be imagined, coordinating a photoshoot on an active military aircraft carrier is a complicated matter.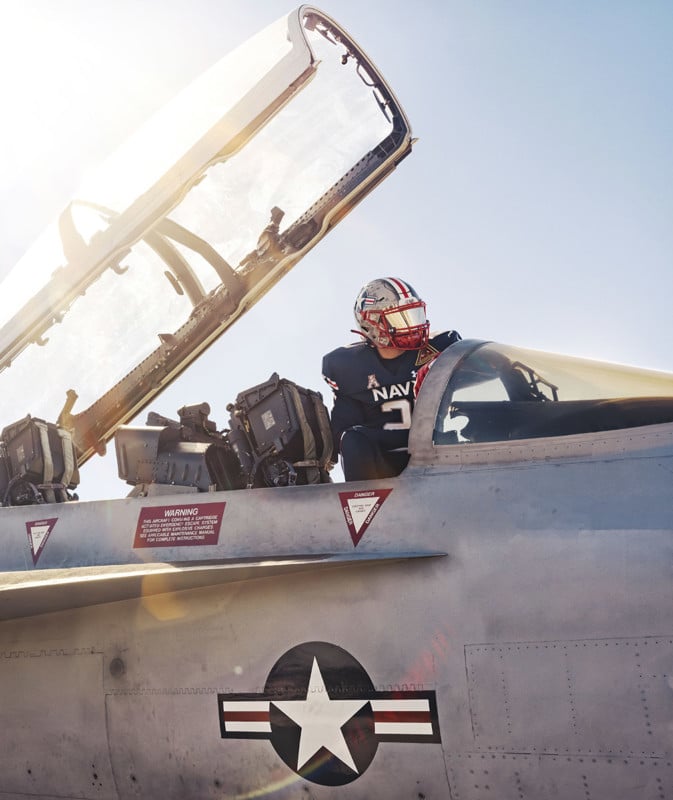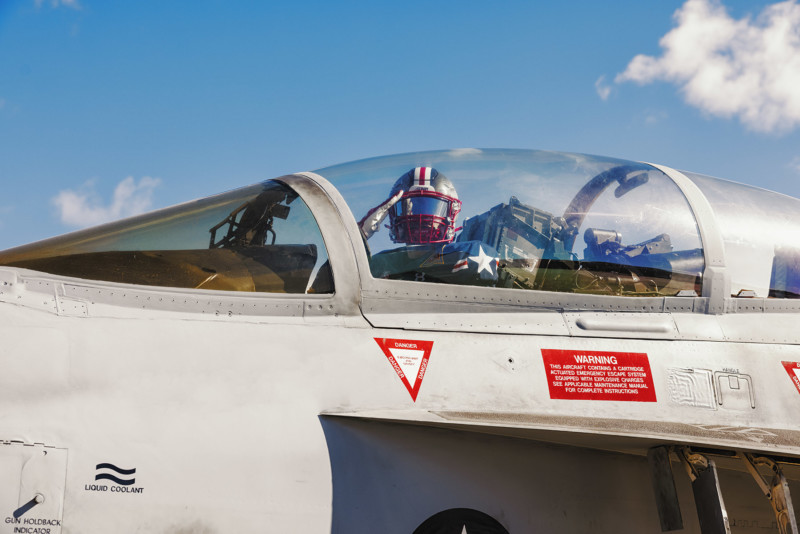 "Luckily the coordination aspect was handled by our fearless, creative lead, Molly McManus with the Naval Academy," Quantz Jr. explains. "I can only imagine the sleepless nights and nail-biting days that were spent trying to make this happen. I know there were all kinds of legal details, background checks, health screenings, etc. to overcome getting our crew on board for this project.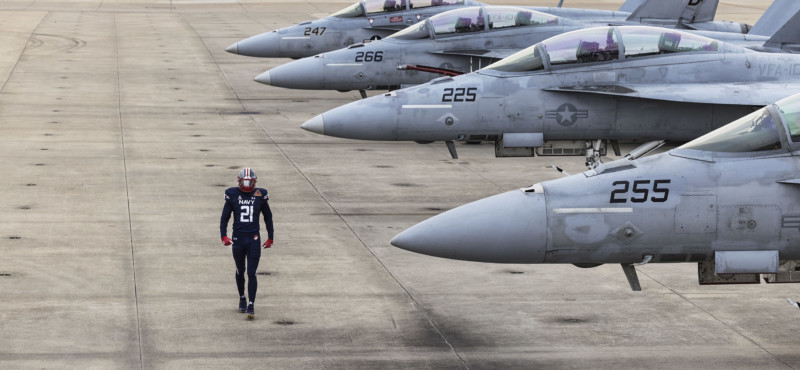 "One of the other major aspects you might not even think about is just being in that environment with everything going on and not allowing yourself to be swept away in the moment and instead actually focusing on what you are there to do. It's pretty easy to get awestruck in an environment with fighter jets taking off and landing right in front of you!"
Even though the set coordination was handled by the Naval Academy, Quantz Jr. was still responsible for how the photos were going to be captured.
"There are always the staple aspects of commercial photoshoots with gear, locations, and concepts but this one was definitely unique with many of those aspects," he says. "The plan was for a four-day shoot with approximately two days on the ship and two days at the Oceana Naval Air Station in Virginia. We were limited with the gear we could take on the ship since we only had a certain amount of cargo space on the plane that would be flying us back to Virginia."
The final timeline for the shoot wasn't nailed down until about two weeks beforehand, as the availability of the fighter jet squadron was a determining factor.
"That was a bit of a moving target," Quantz Jr. says. "Knowing this would be a special shoot, I just had to make sure I cleared my calendar with plenty of days so there wouldn't be a conflict with another job. Even after boarding the ship, we were pretty much at the mercy of the crew and ship's schedule when it came down to having access to capture our content. This was on a fully active carrier, so we had to dance around their flight operation times and stay ready with short notice — so it was pretty a 'much grab your camera and go' type of thing without having time to worry with lighting and other gear."
Speaking of lighting, due to the circumstances, Quantz Jr. did not have the ability to control it like he usually does. Instead, he relied on natural light while on the carrier.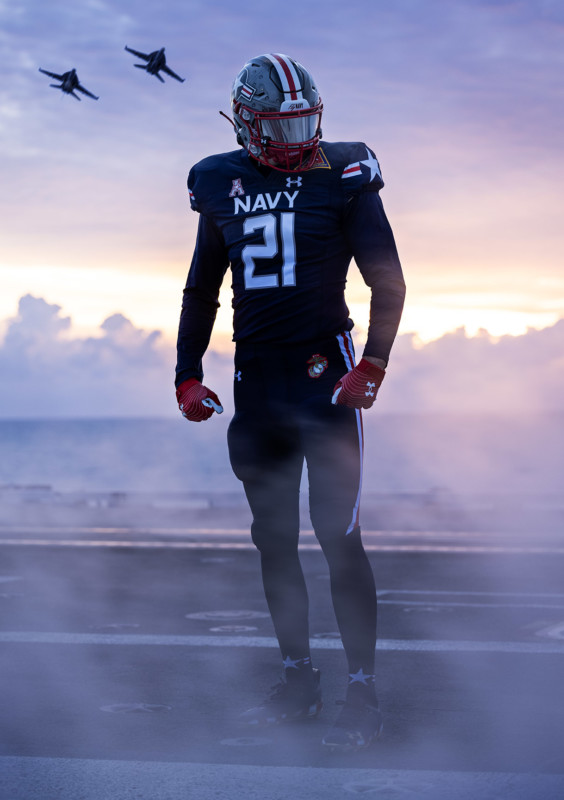 "We were really fortunate with the weather while on the ship so that also played a large part in the results," he says.
"Back at the Naval base, I once again used natural light for a portion of the shoot out on the tarmac since the setting was so vast for a lot of what we were capturing. We then moved into one of the aircraft hangers for a full lighted set up to catch the details of the uniform in a controlled environment. For that setup, I used a single light for a portion and then a seven-strobe setup you can see in the video to capture some of those images and portraits."
Quantz says that looking back on it, it's hard to put to words the experience.
"If you watch the video you can see I struggle with trying to actually put words together to describe this photo shoot. Really, at the end of the day, for me it is just amazing the places that a camera can take you. None of this would have been possible for me without that tool or key as I like to refer to it since it opens so many doors of opportunity. Having said that I want to encourage other photographers to get out there and make things happen for themselves because shoots like these are out there for the taking. With everything we've all been through over the past few years, I just think I'm taking more time to be thankful and reflective on these types of things."
For more from James Quantz Jr., make sure to check out his Instagram and website, or subscribe to his YouTube Channel.
---
Image credits: All photos by James Quantz Jr. and published with permission.