Pixelmator Pro Update Adds AI-Powered Automatic Background Removal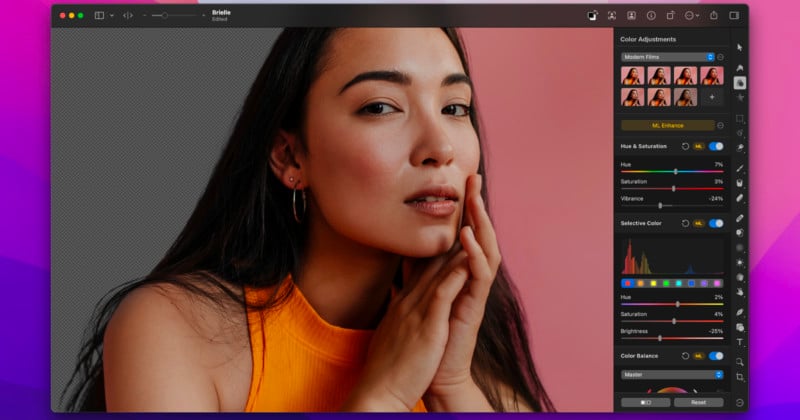 Pixelmator Pro has released a new update that adds several new features including an artificial intelligence-powered automatic background removal feature, automatic subject selection, and a new select and mask tool.
This update comes less than a month after the previous major update that added macOS Monterey support, M1 Max and Pro optimizaton, Split Comparison viewer, Bokeh Blur, and several other features.
Pixelmator says that these new features that are launching as part of its 2.3 update are the result of the last year of work, where the company has developed a set of machine learning algorithms that are capable of detecting, refining, and decontaminating the colors at the edges of objects.
The company is calling its background removal tool that is powered by artificial intelligence (AI) the "Magic Background Eraser." With it, editors can remove the background from nearly any image with a single click. The company says that it has trained its convolutional neural network (which is actually a combination of three different machine learning models) to find the subject in pretty much any image and automatically isolate it from the background.
Pixelmator doesn't just cut out a subject and leave it at that, though. When a subject is clipped from a surrounding image, it can often have traces of that previous background around its edges. Pixelmator's AI-powered "Decontaminate Colors" feature automatically removes those so the clipped subject can be blended more seamlessly into a new background. The company says the feature is usually done automatically when it senses the need for it, but editors can also manually apply it to any layer, even those that have been cut out in other applications.
The company also added a new Select and Mask tool, which it says allows editors to make accurate selections of any object and is specifically aimed at making difficult selections like hair and fur or anything with complex edges much easier to tackle. As part of this addition, Pixelmator Pro has the Smart Refine and Refine Edge Brush. The Smart Refine option automatically makes a rough outline into a more accurate selection and the Refine Edge Brush is made to be used on what the company calls "tricky edge areas," where it can create smart and accurate selections by brushing over the area.
Full patch notes for the 2.3 update can be found on Pixelmator's website.