Instagram Now Allows Anyone to Publicly Participate in Stories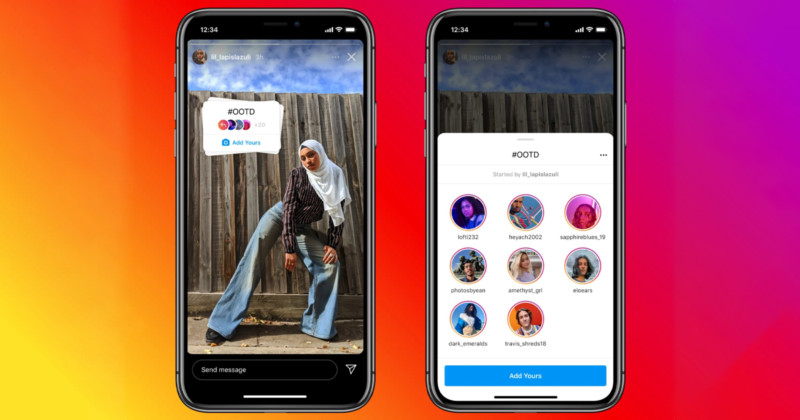 Instagram has introduced a new feature via a Stories sticker called "Add Yours," which allows users to create public threads in Stories that anyone can participate in.
During a contentious time where Instagram is facing backlash for its addictive format more than ever before, the company has announced a new feature to help further boost engagement on the app, particularly among young users.
The new "Add Yours" sticker has been designed to allow users to create public threads in Stories and acts as a prompt for other users to upload their own Stories in the thread or help discover new people who are also participating.
The sticker is available to use now and can be found alongside the Location and Mention sticker. Users who want to take part in the content chain can tap on the sticker and view everyone who has contributed to the public thread and view their Stories.
For example, users can create a thread by posting an "Outfit of the Day" sticker in their Story and prompt followers to add their own to the content chain.
Add Yours = a sticker that creates public threads in Stories 🤝

With custom prompts and public responses, you can share the sticker and see who responds to it in their own Stories. pic.twitter.com/C9AXiFEo92

— Instagram (@instagram) November 1, 2021
TechCrunch points out that the new feature is similar to TikTok's "duet" feature, which allows users to add their own content to an original video which is then shared on their profile. The difference is that Instagram's sticker allows users to view all Story responses in one place, while TikTok doesn't facilitate that.
Facebook has been focused on bolstering its use by young people as its user base continues to age. Insider reports that Gen Z isn't interested, and calls it a "boomer network." Adding features found in popular Gen Z apps appears to be the current strategy to try and turn that sentiment around.
The new Stories addition comes shortly after Instagram made Link Stickers available to all accounts, not just verified users or those with a certain number of followers. This has opened up opportunities for smaller creators to share external links and allow them to direct the audience to content outside of the app.
Instagram is also testing out a new set of tools, called "affiliate shops," that would enable content creators to connect with sponsors on the app, further facilitating financial opportunities for influencers and businesses on Instagram.
These changes are focused on social and video aspects of the app, which continues to follow a new goal that Instagram's head Adam Mosseri spoke of earlier this year: Instagram will no longer be about photo sharing as it pivots to compete more directly with TikTok.