Beware Scammers Impersonating Nat Geo Photographer Enric Sala
Enric Sala is a former university professor who quit academia to become a National Geographic photographer and Explorer in Residence to help save Earth's oceans. His name is strangely also at the center of a scam targeting photographers.

Frederik Trovatten
, a Danish street photographer based in Mexico City, recently experienced this scam first hand. It all started when he received an unexpected email from "Enric Sala".
"My name is Enric, I am a National Geographic explorer," the email read. "With all the bad news flying around I thought this might be a strategic time to give you good news. National Geographic is funding my personal research: 'Investigating The Scope And Effect Of Social Distancing On Global Warming'.
"I have my team for my field work but in need of a professional photographer/videographer to complete it, I thought you might be interested in being a part of my research team. The field work of this research starts September 11, 2021 for 7 days in Iceland.
"If interested, you will be the official freelance photographer/videographer of the team. Kindly let me know if you are interested so that I can send more details."
Trovatten was taken aback and flattered that a National Geographic photographer wanted to work with him, so he replied and asked for more information about the opportunity.
"Sala" then sent Trovatten an itinerary for the 7-day shoot with details down to the hourly time slots.
"Super detailed," Trovatten says of the email in an account of the story shared on Reddit. "It sounded amazing and I was thrilled and impressed by the plan!"
The two photographers then worked out the financial terms of the gig. Trovatten would be paid $3,500 for the 7 days and National Geographic would cover travel, accommodation, and other costs.
When Trovatten accepted the offer, "Sala" brought up one small, final wrinkle that needed to be ironed out.
"Your details are well received but the only challenging factor right now is your location," the follow-up email stated. "I am so sorry but I thought you are currently based in the United States. Professionals outside the United States are to pay a commitment/registration fee of $850 or its equivalent to be a part of the National Geographic research team.
"In previous times there have been several cases of freelancers receiving payment for their services and not finally showing up for expeditions leading to several unnecessary inconveniences and court cases. This called for a lasting solution that has so far curbed instances like this by the payment of commitment fee by interested freelancers which will be refunded upon completion of the project."
So Trovatten would have to fork over $850 as a deposit in case Trovatten left the Nat Geo team high and dry by being a no-show.
"By then, if I'm honest, I was still like.. 'Makes sense. It's expensive if I bail last minute – and asking for 600 Euro'," Trovatten writes. "Then I slept on it and was luckily clear-headed and started Googling."
It turns out that, for some strange reason, scammers have long impersonated Enric Sala in particular as part of this type of scam. It has become so pervasive that National Geographic added two prominent warnings to Sala's official bio page on its website.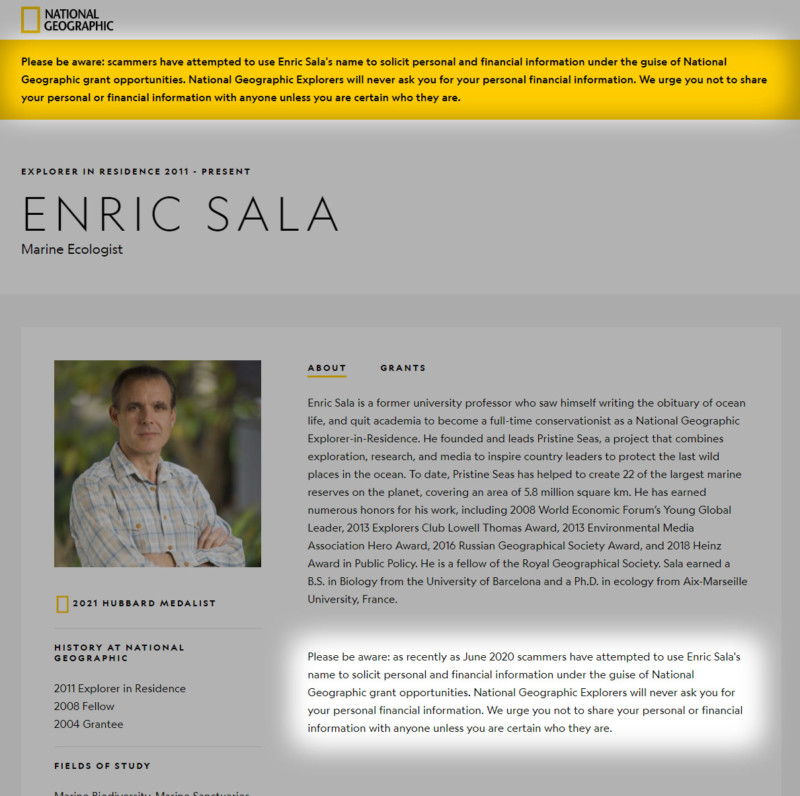 "Please be aware: scammers have attempted to use Enric Sala's name to solicit personal and financial information under the guise of National Geographic grant opportunities," National Geographic writes. "National Geographic Explorers will never ask you for your personal financial information. We urge you not to share your personal or financial information with anyone unless you are certain who they are."
Luckily for Trovatten, he became suspicious and realized he was being scammed before he sent the scammers any money. He's now trying to spread the word on this particular scam in case any other photographer is targeted.
"Use common sense and watch out you don't get blinded by the thrilled of a big gig," Trovatten tells PetaPixel.
National Geographic photographers have recently been on the receiving end of scams too. Earlier this year, a number of them were targeted by an elaborate $100,000 fake check scam that involved a fictitious charity.
---
Image credits: Header photo illustration licensed from Depositphotos