Modern Floral Still-Life Photos Influenced from 45,000 Year-Old History
Every photographer has a humble beginning. Somewhere in the awkwardness is a pivotal moment that sends their photographic trajectory barrelling forward. Mine began on the reefs of the Indo-Pacific with a pocket-sized DSLR and underwater housing. It became my invaluable fieldwork aid and took thousands of crooked pictures of coral polyps before succumbing to the sand and salt.
In a relatively short time, my preoccupation with photographs moved beyond recording coral and outshone my scientific aspirations. I know now that leaving fieldwork behind and swapping it for a camera didn't profoundly change the direction of my life. It merely changed the language I use to share ideas and observations about the ecosystems I care so deeply for.
Just four years ago an archaeologist, Basran Burhan, and his team discovered something extraordinary while carrying out a survey on the island of Sulawesi. In a remote valley accessible only in the dry season, enclosed by limestone cliffs, they happened upon a cave painting that's since been dated at 45,000 years old. The scene of three pigs enacting a narrative along with handprints above it is the oldest ever found and our earliest evidence of visual storytelling. These depictions are ancient insights into the creative minds of our ancestors and reveal how profoundly imagination goes hand in hand with being human.
Today in the studio I'm building sets and documenting them with my 8×10 camera. Drawing from personal experience and with the influence of 45,000 years of artists before me, I'm constructing my own narratives about the natural world. As an only child who spent her formative years in rural Canada mucking around in the woodland underbrush with all forms of life, it's only fitting that flora and their symbolic meanings would be what captured my attention.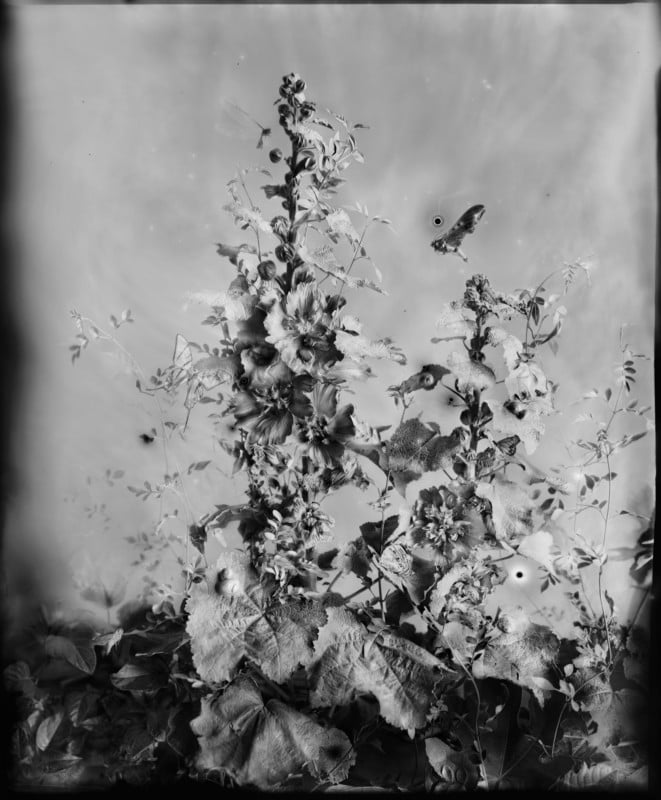 The earliest known portrayals of flowers showed up about 4,000 years ago in Mesopotamia and Ancient Egypt. The ever-popular lotus flower, still used today to represent rebirth and regeneration, was depicted on many objects of the time. They were found among the treasures of King Tut's tomb, wound into dyed linen necklace strands along with poppies, sunflowers, and other blossoms, each included for its significance in guiding him to the afterlife.
Subsequent eras were punctuated by their own representations of plants, flowers, and trees. Medieval art had its millefleur tapestries of grouped figures on a backdrop of repeating floral patterns. The Renaissance saw large-scale mythological paintings teeming with blossoms and fruit.
From my deep dive into the history of floral artwork, I found the most poignant images were the still-life tableaus of the Dutch Golden Age. This period of growth and trade in the Netherlands brought wealth throughout the classes and combined with the weakening influence of the Catholic church, made room for art that responded to everyday life. The floral still-life paintings of the time depicted blooms from far-off places, few of which the average person would have seen. These paintings were not examples of reality, but imaginary and constructed bouquets of flowers that blossomed in varying places and times throughout the year. With skillful arrangement and grouping, a vessel and its contents could be grand and beautiful while echoing the philosophical climate of the time.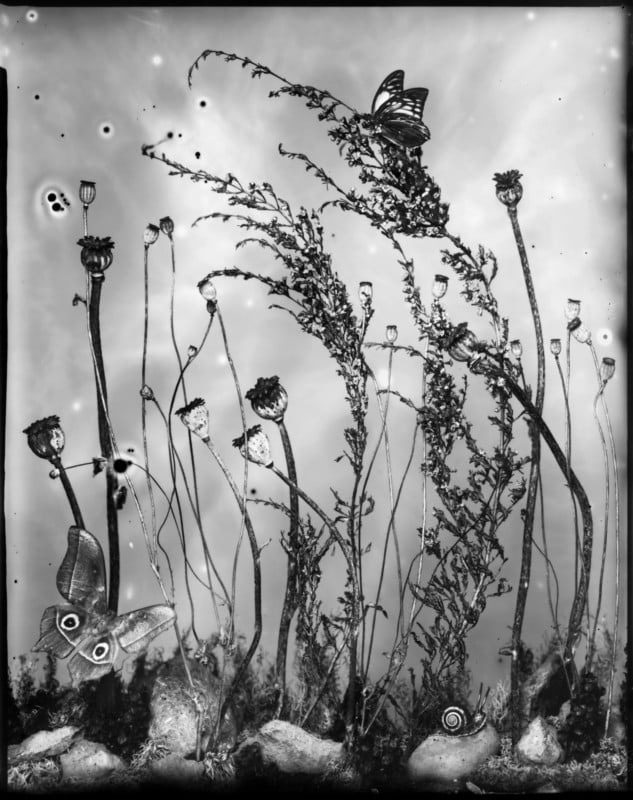 Sottoboscos, or "forest floor" still-life paintings, drew me in as if they were my very own non-verbal language. Otto Marseus van Schriek is touted as the grandfather of the sub-genre. He earned his nickname "Snuffelaer" or the snuffler, from spending a great deal of time searching for his beloved amphibian models under leaves and in dark corners of his overgrown country property which he called "The Land of Snakes." Relating profoundly with his meticulous scenes and obsessive process, I became acutely aware of how those painters depicting nature have become woven into our collective subconscious.
A few days ago, here in the coastal rainforest of British Colombia, my friend Irvin noticed an unusually round rock while carrying out his own work along the remote inlet beaches. It was over a foot in diameter, thick but disk-like, and had an area in the center that was worn down. Worthy of a closer look but not overly exciting, he set it aside and went about his day. It wasn't until leaving a while later that he (just barely) remembered to pick it up and he flipped it over. On the other side were what seemed to be two thumb indents to hold the object comfortably, and between them an unmistakable facial symbol gazing up. He's now into the lengthy process of deciphering and dating it.
The artifact spent lifetimes sitting on that beach, unnoticed and in the open, just waiting for the right person to pay attention and turn it over. That single carved image is likely older than photography itself, and possibly even the idea of it. Despite the medium of photography finding a very new seat at the table, those of us who use it as our tool are part of the deep history of visual storytellers. We all have subconscious minds filled with experiences we draw from to build our webs of symbolic items and imagery. I try to include opportunities in my photographs for the viewer to wander through their own. Judging by the buzzing conversation around the artifact Irvin found here last week, I'd argue that objects with forgotten or hidden symbolism carry a great deal more interest than something made obvious or spelled out for the viewer. Room for interpretation lets us run a little wild.
---
Header image caption: In most contexts people generally dislike insects, but I've found that with the right curation and narrative they can be swayed. Beyond being prized for its scent over millennia, lavender is described in multiple religious texts as representing devotion and serenity. Its color, a symbol of royalty, indicates elegance and refinement. In some serendipitous way, a field of lavender becomes a workplace for both person and insect, and a space to appreciate all life and its connectedness.
---
The article is courtesy of ELEMENTS Magazine. ELEMENTS is a monthly magazine dedicated to elegant landscape photography, insightful editorials and fluid, clean design. Inside you will find an exclusive and in-depth articles and imagery by the best landscape photographers in the world such as Bruce Barnbaum, Christopher Burkett, Chuck Kimmerle, Christian Fletcher, Charlie Waite, Rachael Talibart, Erin Babnik and Freeman Patterson, to name a few. Use the PETAPIXEL10 code for a 10% discount off the annual subscription.
---
About the author: Having previously spent time in scientific fieldwork, Whitney Lewis-Smith's scenes are created from a wealth of history and cultural chronicles amassed in the field with research teams from local healers and storytellers to sources from the Museum of Natural History in Mexico. 
Globalization, accessibility to commodities, and humanity's relationship with nature have been constant themes in her studio practice. Often juxtaposing ideas from the impossible bouquets of Dutch Golden Age paintings, Whitney uses photographs to document what can today be amassed by internet purchase or otherwise, showing how globalization affects the way we interact with the world. Her tableaux provide a glimpse into which parts of nature we assign value to – culturally, historically, or otherwise. By including objects in her scenes that will soon be lost due to habitat change and the climate crisis, she invites the viewer to contemplate the present day as a fleeting moment. Collectors include Global Affairs Canada, The Honourable Canadian Prime Minister Justin Trudeau's collection, SUMMA Art Fair Madrid, the Beaverbrook Art Gallery, Maison Simon's collection, and the Ottawa City's Public Art collection. Lewis-Smith studied Studio Arts at Concordia University specializing in painting, drawing and sculpture.