Great Reads in Photography: October 24, 2021
Every Sunday, we bring together a collection of easy-reading articles from analytical to how-to to photo features in no particular order that did not make our regular daily coverage. Enjoy!

---
Art Wolfe on his Approach to Night Photography – Amateur Photographer

Art Wolfe, who just turned 70, has been capturing wildlife, landscapes and people for nearly half a century. Earlier before the arrival of COVID-19, he was out of the house for more than nine months every year.
His latest book, Night on Earth, is a wide-ranging collection of travel images made in the hours between dusk and dawn and taken in various locations worldwide, including Alaska, Namibia, Malaysia, India and the Galapagos Islands.
"I love it," he tells Amateur Photographer. "The whole technology of the mirrorless camera permits much smaller lenses.
"For instance, when I was in Kenya earlier this year, I was handholding an RF 100-500mm f/4.5-7.1 lens and very easily capturing animals [on the Canon EOS R5.] Then I could add a 1.4x extender, and suddenly I have a 700mm lens that's very easy to hold. I'm not a gym queen, so handholding and shooting animals without a tripod really makes capturing the ephemeral moment so much easier.
"Historically, if I'd wanted to shoot a night-time shot that includes the stars, they would all be star trails…With film, you could never take a fast enough shutter speed to show the stars were just pinpoints of light…Today, with high ISOs, I have been able to shoot amazingly detailed images of the Milky Way as part of night-time landscapes."
Read also: Building a Photo Brand From the Ground Up: Tips from Art Wolfe
---
The Images That Tell the True Story of the War in Afghanistan – Columbia Journalism Review
Embed from Getty Images
From CJR
Images from Afghanistan have always revealed the truth behind the notion that the American war was on solid footing. We may have been told, since it first began shortly after September 11, 2001, that significant progress was just around the bend. But the pictures showed something else.

There are few pictures in this article from the second decade of the war. By October 2015, with the ground war largely replaced by airpower, the conflict barely registered in the US. The American accidental bombing of the Médecins Sans Frontières Trauma Center in Kunduz might have been overlooked too if photographer Andrew Quilty hadn't been there to document the horror and "the man on the operating table."
---
A Photographer Captured NYC's Most Glamorous Dogs Picnicking in Central Park and Sunbathing on Top of Skyscrapers — Insider
In his latest series, photographer Gray Malin took some of the city's cutest models and photographed them in some of its most famous locations. The result? An adorable, fun-loving collection of doggone glitz.
"Shooting in Manhattan can be notoriously difficult, but Malin was able to finagle permission to shoot at must-see locations like Rockefeller Center and The Plaza Hotel in addition to Bergdorf's and Central Park," writes Travel + Leisure.
You can see Malin's new series and his other work on his website. 
---
Trove of Unseen Photos Documents Indigenous Culture in 1920s Alaska — Smithsonian
Edward S. Curtis: Unpublished Alaska, the Lost Photographs, at the Muskegon Museum of Art in Michigan features recently discovered photos taken during the photographer's 1927 voyage to Alaska, displayed alongside notes from his personal journals.
Per a statement, Curtis was a photographer and ethnologist who documented the lives of Indigenous peoples in America's Southwest, West and Northwest during the early 20th century.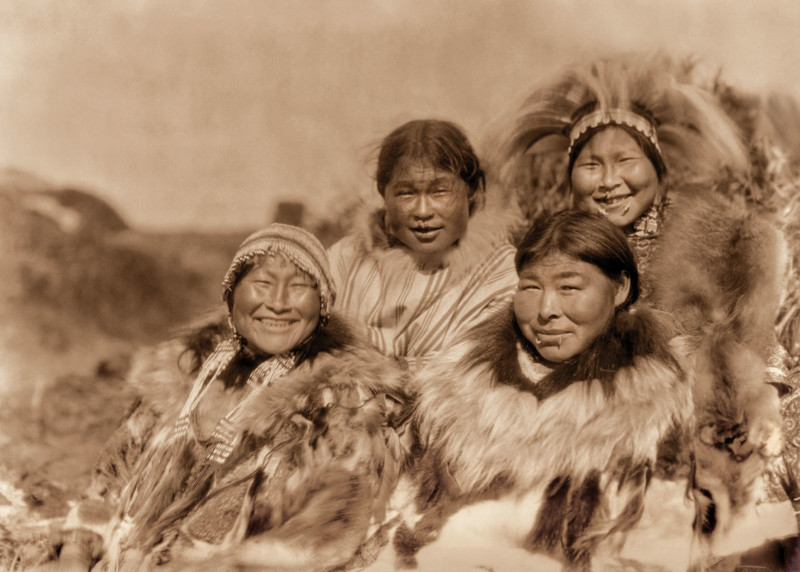 Native News Online points out that Curtis often tried to depict Indigenous people as they were 200 to 300 years before European colonization. He removed objects like clocks and modern vehicles from his snapshots, staged ceremonies and dances, and dressed his subjects in outfits they wouldn't typically wear.
All photos courtesy of Muskegon Museum of Art in Muskegon, Michigan.
---
How Can You be a Colorblind Photographer? – Photofocus
"Why does that dog look green?" asked a young man of his parents.
That comment led to his parents discovering that their child was red-green colorblind. Years later, Ken Lee is now a colorblind night photographer.
Lee has one book published with two more on the way. His images have appeared in National Geographic Books, Omni magazine, Los Angeles Times, Westways magazine and numerous other publications.
---
10 Lessons from the Masters of Portrait Photography
English portrait photographer Alex Kilbee shares ten lessons learnt from master portrait photographers:
Martin Schoeller
Yousuf Karsh
Robert Mapplethorpe
Richard Avedon
Dan Winters
Arnold Newman
Nadar
Andy Gotts
Bill Brandt
---
How to Make Your Own Photo Book – Amateur Photographer
Creating a photo book can feel like tackling a three-dimensional jigsaw puzzle in your head. To ease the strain, Tracy Calder asked three book-loving professionals to spill the beans about costs, collaboration, and content when making your own photo book.
---
USB-C Cables are Getting New, Confusing Logos for Faster 240W Charging Standard – The Verge
Also, Report Says MacBook Pro USB-C Ports Don't Support Fast Charging
---
Film on the Life of Model-Turned-WWII Photographer Lee Miller – Deadline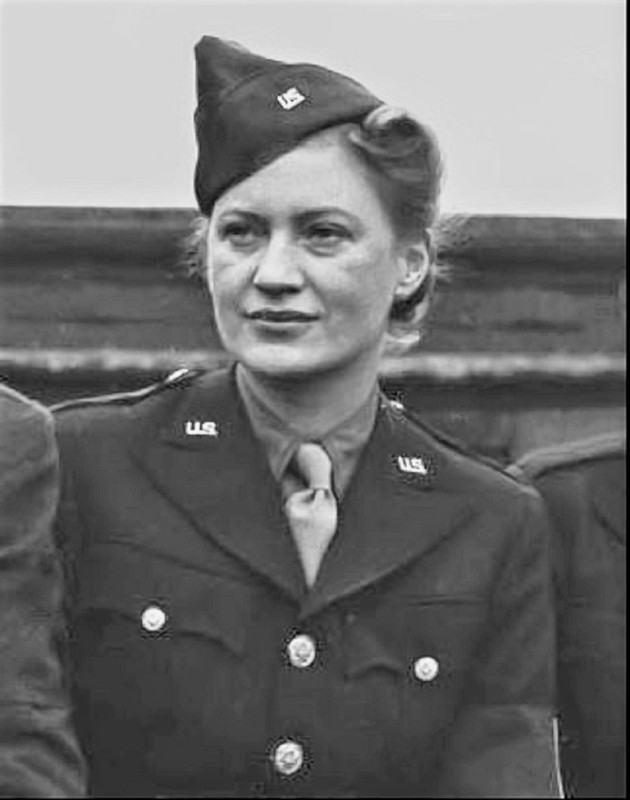 Lee Miller traded a glamorous career as a Vogue cover model and muse to artists like Man Ray for a dangerous career as an American WWII photographer. She chronicled the fighting on the allied front lines and exposed the atrocities that Hitler's Nazi Germany perpetrated on Jews in concentration camps.
"I'm surprised that a film has never been made about this incredible woman …," actor Kate Winslet who plays Miller in the film Lee, told Deadline. "She has been misunderstood and so often viewed through the lens of a man, through a male gaze, because she started her life as a model and was very beautiful.
"When you mention Lee Miller, you might first hear Man Ray…What she did, as a female photographer on the front lines during WWII, so much of what was documented was not just giving a voice to the voiceless, but it was educating people on what actually happened during the war…You have to remember, people were trying to cover it up…British Vogue would not print Lee's photos of the liberation of Dachau because … they were told that by the Ministry of Information that it was not what the country needed at that time…"
---
Bullfighting Is Still Happening. These Photos Show Why It Shouldn't Be – Feature Shoot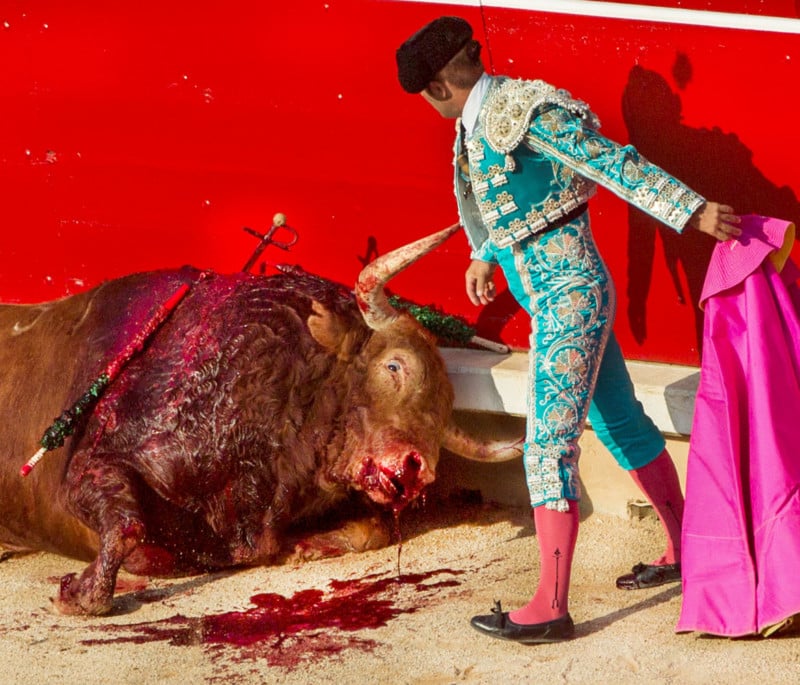 ---
The Week in 37 photos — CNN
Embed from Getty Images
96-year-old defendant
Irmgard F.,
a former secretary for the SS commander of the
Stutthof concentration camp
, sits in a wheelchair as she is led into the courtroom at the start of her trial in Itzehoe, northern Germany, on October 19, 2021. – The first woman to be prosecuted for Nazi-era crimes in decades, Irmgard F. is charged with complicity in the murder of more than 10,000 people at the Stutthof camp in occupied Poland. However, an arrest warrant was issued by the court in the northern town of Itzehoe after Furchner left the retirement home where she lives on September 30, 2021, as her trial was set to begin and headed to a metro station. (Photo by Christian Charisius / POOL / AFP) (Photo by CHRISTIAN CHARISIUS/POOL/AFP via Getty Images)
---
More Photographers Oppose MGM's Refusal to Release Minamata (Based on Photographer W. Eugene Smith) in North America — WSWS
Embed from Getty Images
Minamata
is a new movie focusing on the industrial poisoning of Japanese fishing communities in Minamata, Japan. It depicts the courageous work by acclaimed photo-essayist
W. Eugene Smith
(played by Johnny Depp) and his wife Aileen Mioko Smith to expose this crime before a global audience during the early 1970s.
MGM purchased the distribution rights to the film for North America but has not screened it in the US. Amazon, which has struck a deal to acquire MGM for $8.5 billion, has not given any indication when it will be released.
"In July, director Andrew Levitas issued an open letter revealing that he had been told by MGM's acquisitions head Sam Wollman that the company was 'burying' Minamata over concerns that 'the personal issues of Johnny Depp,' could reflect negatively on MGM," as reported by WSWS.
---
Photographer Jamel Shabazz on Life in 1980s NYC and Using His Camera to Connect With His Community – My Modern Met
Photographer Jamel Shabazz picked up his first camera at age fifteen and started to document his peers. He has been photographing New York and its hip-hop culture for decades. In 2018 he received the Gordon Parks Foundation Award for documentary photography.
---
 How Photos from the Battle of Antietam Revealed the American Civil War's Horrors — History
The Battle of Antietam was a battle of the American Civil War where American war dead were photographed for the first time. 22,700 Union and Confederate soldiers were killed, wounded, missing, or captured in the battle, which was fought outside the small, western Maryland town of Sharpsburg.
"Mr. [Mathew] Brady [photographer] has done something to bring home to us the terrible reality and earnestness of war," The New York Times of Oct 20, 1862, reported. "If he has not brought bodies and laid them in our dooryards and along the streets, he has done something very like it."
The photographer who captured The Dead of Antietam was Alexander Gardner, a Scottish immigrant who managed Brady's Washington gallery. Gardner has been reported to have rearranged bodies. Gardner's interest in photography started when in 1851 while visiting The Great Exhibition in Hyde Park, London, he saw Brady's photographs.
Gardner and Brady's main objective was to sell photos. Sales were good with civil war stereographs and Album Gallery Cards selling for 50 cents ($10.67 in 2020 dollars) each during the war. Scenic stereographs of Niagara Falls would sell for only 25 cents each.
---
Great Read From the Past – 2014 
How Photojournalism Killed Kevin Carter – All That's Interesting
Warning: Some photos in this article are graphic.
When this photograph capturing the suffering of the Sudanese famine was published in The New York Times on March 26, 1993, the reader reaction was intense and not all positive.
Some people said that Kevin Carter, the photojournalist who took this photo, was inhumane, that he should have dropped his camera to run to the little girl's aid. The controversy only grew when, a few months later, he won the Pulitzer Prize for the photo. By the end of July 1994, he was dead.
Read also: The Ethics of Photojournalism
---
Photo of the Week
Embed from Getty Images
---
Quiz of the Week
1.) Photographer Diane Arbus received an obituary in The New York Times
a.) 2 weeks after her death
b.) 46 years after her death
c.) 8 months after her death
d.) She has never received an obituary
2.) Sony unveiled a new flash HVL-F60RM2 capable of firing up to 10 frames per second for 200 consecutive flashes. Impressive! At what power setting is this possible?
3.) Eastman Kodak shipped more than 1.5 million Brownies in the first year of production. What did it cost in 1900 when it was released?
Answers
1.) (b.) 46 years after her death. Reason per NYT: "OVERLOOKED. Since 1851, obituaries in The New York Times have been dominated by white men. Now, we're adding the stories of other remarkable people."
2.) 1/32 flash output level, Ni-MH batteries using the mechanical shutter
3.) $1 (equivalent to $32.66 in today's dollars)
---
Why I Like This Photo — Amit Eshel
I like this image for the emotion it conveys in the bear's look, the seagull in the background, and the way the pastel colors blend beautifully and create an optimistic feeling despite the melancholy mood.
I shot it in Katmai National Park in Alaska in early October 2020 at the peak of the fall colors and was overwhelmed by the diversity and beauty of the remote environment.
Knowing the story of this bear cub connects me even more to emotion. She was born to an old mother estimated to be around 25 years old. This cub had no other brothers or sisters to play with. All this cub wanted was to play with other cubs, and with many salmon available in the river this year, many bear families have come in close contact near the river mouth. The cub expressed curiosity towards other bear families and sometimes was able to play with cubs from other litters. Mother bears are very protective about their own cubs and usually do not allow them to play with other females' cubs.
In early September, she encountered a porcupine and has since suffered from quills stuck in the bottom of a front paw. She was hobbled and avoided placing weight on the injured paw for a couple of weeks, and at times the future did not look very promising for her, but I'm happy to tell the cub is well-positioned to recover from the injury caused by the porcupine quills completely. As this cub has shown, the life of a spring cub contains risk as well as moments of joy.
I have taken this shot from the water level perspective using a floating hide. I love shooting from eye level of the subject to create an intimate feeling. The light was so soft, and the colors of the water and the trees in the far background came out so beautiful. I have used my widest aperture to lead the eye to the melancholy look of the bear, and the seagull was just in the right distance to be softly out of focus but still very present in the composition.
It was shot on Canon EOS-1D X Mark II, Canon EF 200-400mm f/4L IS USM Extender 1.4x at 560mm 1/1000, f5.6, ISO 800.
Amit Eshel is an award-winning wildlife photographer and photography tour leader from Israel. Since he was a young child, he has been drawing, and animals have always been a source of inspiration. With a BA in illustration, animation, and graphic design, he combined his love for art and nature to begin a career creating animal-inspired jewelry using photos of wildlife as a tool to capture special moments as models for his designs. Once Eshel fell in love with photography, his life was changed forever.
---
Quote of the Week — Cornell Capa
The above photo of Cornell Capa is from On The Horizon: The Magnum Square Print Sale, in Partnership with Aperture of over 80 signed or estate-stamped 6×6" prints available here.
I am not an artist, and I never intended to be one. I hope I have made some good photographs.* – Cornell Capa
*From: Cornell Capa: Photographs, Bulfinch Press, 1st ed, 1992.
Cornell Capa (1918–2008) was the founder of the International Center of Photography, NY., in 1974 to champion "concerned photography"—socially and politically minded images that can educate and change the world. In 1954 – after the death of his brother, photojournalist Robert Capa while covering the war in French Indochina – Cornell Capa resigned from the Life staff and joined Magnum, the international cooperative photo agency that Robert had helped to found.
---
To see an archive of past issues of Great Reads in Photography, click here.
---
We welcome comments as well as suggestions. As we cannot possibly cover each and every source, if you see something interesting in your reading or local newspaper anywhere in the world, kindly forward the link to us here. ALL messages will be personally acknowledged.
---
About the author: Phil Mistry is a photographer and teacher based in Atlanta, GA. He started one of the first digital camera classes in New York City at The International Center of Photography in the 90s. He was the director and teacher for Sony/Popular Photography magazine's Digital Days Workshops. You can reach him via email here.
---
Image credits: All photographs as credited and used with permission from the photographers or agencies. Portions of header photo via Depositphotos.