Building a Photo Brand From the Ground Up: Tips from Art Wolfe
Art Wolfe has been photographing the natural world for the past thirty years. His work has taken him all over the planet, and many of his adventures are now showcased in his television series, Art Wolfe's Travels to the Edge, which first aired in 2007.

Art's photographs range in subject matter: from snowy peaks to desert sands, and from thundering herds of big game to the quiet moments in people's lives. An estimated one million images make up his body of work, which have been featured in countless magazines, including National Geographic. Among many, he has received the Nature's Best Photography Windland Smith Rice International Award for Photographer of the Year, the Lifetime Achievement Award by the North American Nature Photography Association, the Photographic Society of America's Progress Medal, and was named Outstanding Nature Photographer of the Year by the North American Nature Photography Association. With such a far-reaching career, Art has a particularly keen sense of the nature photography market.
His passion for photography came by way of his first camera, a Brownie Fiesta, that he got in high school. He would take it on climbing trips in the mountains. "I started photography strictly as a way to document the mountain climbing I was doing with friends," Art says, who was originally interested in painting. "I wanted to share the experience of being in the mountains, up on the glaciers of Mount Rainier." Eventually his painting gave way to photography. "In my early twenties it went from being purely documentation to being art."
Because he was more familiar with the outdoor world than the fine art one, Art approached gear stores like REI, The North Face, and Eddie Bauer – lobbying in-store space rather than in galleries. "It didn't take much convincing to allow me a little space on the walls. So, behind a rack of jackets there would be an Art Wolfe photograph."
The visibility worked, and Art started pitching to editorial publications, too. "I cobbled this piecemeal work into a living, submitting photos to magazines such as National Geographic, Audubon, The Smithsonian; and got my work into stock agencies like WestStock, AllStock, and The Image Bank."
Art's photography business eventually morphed into what it is today: a body of work that has garnered him many accolades and become a television show, books, and more. "I have been extremely fortunate in that I have been able to pursue my own vision. I have done very little assignment work over the years, but my staff can attest to the fact that I work really, really hard. I still travel most of the year, shooting."
For Art, just as for a lot of professional nature photographers, stock sales have declined in recent years. But, he says, "it's still crucial for the wellbeing of my company." Art learned early on that he had to maximize his output, which means shooting many projects at once. It also means being able to produce multiple types of sales. "Any independent photographer has to diversify, and this I have done in spades. Gallery representation, book publishing, television, stock, and seminars both in the U.S. and abroad allow me to do the projects I want to do."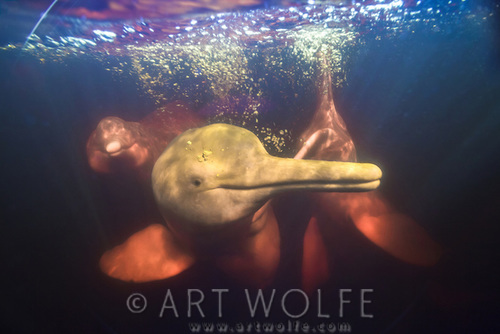 "Any independent photographer has to diversify, and this I have done in spades. Gallery representation, book publishing, television, stock, and seminars both in the US and abroad allow me to do the projects I want to do."
Even with such a successful and well-established business, Art actively works on self-promotion and marketing. The scope of Art's work means that he has a staff that he depends on to help him with various aspects of his business. Besides a blog, his Facebook, and Twitter, his television show Art Wolfe's Travels to the Edge helps keep his name in the public eye. "The power of TV is such that one episode could be seen by more people than any of my books have ever sold." He also maintains relationships with many sponsors and stock agencies. Though, he says, "My own stock site (www.artwolfestock.com) hosted by PhotoShelter has been an essential tool in the dissemination of my imagery. It's great being able to easily upload directly to the site while I am on location and generate embeddable galleries for my blog, or share galleries of images with photo editors."
Art believes that it's been his ability to "let go of certain aspects of projects" and delegate them to others that has helped him become successful. "I have the confidence that the people who work with me will honor my mission. I let them do a lot of the things that perhaps other photographers would want to keep close to the vest. For example, post-processing and final tweaking of an image is something that I've let go of, simply because I don't know the intricacies and subtleties as well as other people might."
Of course, Art knows that nature photography is a daunting market to get into. Regardless, he would offer words of encouragement to someone with a passion for it. "It is a tough industry to break into, much more so than when I started out. However, I wouldn't let that stop anyone who truly has the drive to work in this field."
Takeaways
Approaching outdoor-focused businesses to showcase photographs can be a substitute for placement in a gallery. It can't hurt to ask.
It's OK to let go of control over certain aspects of your business production. If editing isn't your strong suit and you have the means to hire someone who is better at it, do it.
Whatever it takes to keep your business sustainable or growing is probably a good thing.
Even a successful business needs consistent marketing.
Tips From the Field
Work on more than one project at once: if you're shooting a story on assignment about birds and a stellar sunrise catches your eye, it might be an amazing image for your stock library.Even if you have a staff, be prepared to work long days.
Bringing people with you into the field can help them get a sense of your vision, mission, and workflow. This can be useful if you'd like to delegate editing to them later on.
---
About the author: Deborah Block works for the photography website provider PhotoShelter. This article originally appeared here.