DJI Unveils the World's First 4-Axis Cinema Camera: The Ronin 4D
DJI has announced what it is calling the world's first comprehensive full-frame cinematography camera that features a four-axis stabilization system, LiDAR focusing, and a video transmission and control system integrated into a single unit: the Ronin 4D.
The company says that the camera is built on standards that it created specifically for and with professional filmmakers with the hope that the Ronin 4D can make high-end productions more efficient and impressive camera movements possible and convenient.
The Ronin 4D is touted by DJI as the most powerful cinematic imaging platform it has made to date and uses a flagship proprietary chipset that powers its intelligent image processing system called CineCore 3.0. It is capable of delivering up to an internal 8K RAW codec with precise color reproduction, advanced assistive functions with a high-performance AI engine, multi-link monitoring, and control with low-latency image processing.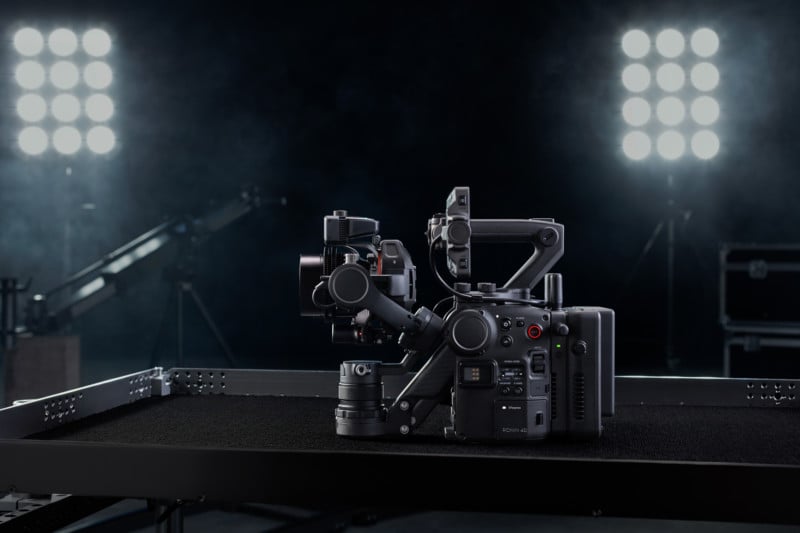 Full-Frame Zenmuse X9
The camera itself is a new full-frame Zenmuse X9 gimbal system that is available in both 6K and 8K configurations. In addition to the commonly used H.264 codec, both X9-8K and X9-6K can internally record Apple ProRes and ProRes RAW. Zenmuse X9-6K supports up to 6K at 60 frames per second (fps) and 4K at 120fps, and Zenmuse X9-8K can capture up to 8K at 75fps.
The sensor itself is capable of dual native ISO of 800 and 5,000 and features what DJI promises is over 14-stops of dynamic range. The company promises richer color grades regardless of lighting condition and even complicated situations are solved by DJI's proprietary Cinema Color System (DCCS) which it claims can deliver natural skin tones and easily matches with different cinema cameras. The camera also features a built-in nine-stop neutral density filter.
The X9 has what DJI describes as an interchangeable lens mount design that allows connection to DJI's proprietary DL mount and Leica M mount, the two that were called out specifically. Below is what the M-mount looks like:
And DL mount:
While DJI's press materials did not specify any mounts other than DL and M, some of the imagery shows additional mounts, such as the below E-mount:
That means that Leica L, Canon RF, and Nikon Z are theoretically possible options as well, though that would depend on DJI to produce those modular mounting options.
Industry First Active-Vertical 4-Axis Stabilization System
DJI says that it has designed the industry's first active Z-axis stabilization system that can effectively eliminate vertical camera shake. The company says that the design, which is akin to how a chicken's neck stabilizes its head, allows operators to shoot while walking, running, or moving "dynamically" with no need to practice pacing or rely on external equipment. Complex spaces like stairways and uneven ground can be captured smoothly, and DJI says that even wide sliding shots can be shot easily without the need for a dolly.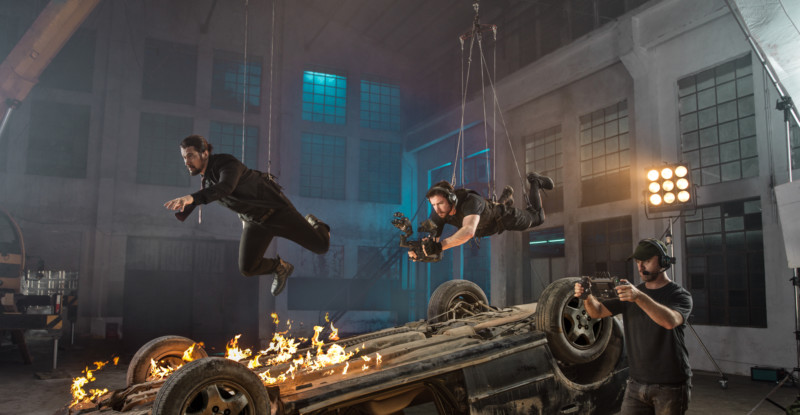 The company says that it has been able to achieve this thanks to a new algorithm that processes inputs from a set of downward-facing time of flight (ToF) sensors, forward and downward dual-visual sensors, a built-in IMU, and a barometer. The design isn't just more performant, but DJI also claims that the Ronin 4D is smaller and lighter than most cinema cameras that are mounted on a professional three-axis stabilizer.
ActiveTrack Pro applies more distinctive DJI technology to get complex, advanced tracking shots easily and efficiently. Based on DJI's existing ActiveTrack system, the Pro version uses DJI Ronin 4D's latest artificial intelligence to track subjects from longer distances while adjusting composition to maintain optimal framing.
DJI did not specify the maximum lens weight that the stabilization system could handle, but did provide the image below that shows the lenses that the system supports. After announcement, DJI uploaded an official list of supported lenses to its website.
LiDAR Focusing
DJI has built what it calls a LiDAR Range Finder that it says continuously generates precise laser measurements to allow filmmakers to have a faster and more reliable focusing experience. It simultaneously casts over 43,200 ranging points reaching as far as 10 meters, locating subjects quickly and accurately, even in low-light environments.
Because LiDAR measures the distance to the subject without relying on surface textures or hunting for edges, DJI claims it obtains a faster focus speed without compromising image quality in any way.
The camera will support three focusing modes: manual focus, autofocus, and DJI's Automated Manual Focus. In manual focus, DJI Ronin 4D provides LiDAR Waveform, an assistive tool that allows cinematographers to locate focus points and pull focus with precision.
Autofocus is as expected and automatically focuses on subjects in situations where manual focus is not feasible. Automated Manual Focus combines the advantages of both and automatically rotate the focus wheel while following the focus point, allowing the operator to intervene manually at any time if needed.
Low-Latency Remote Monitoring
The Ronin 4D uses DJI's new O3 Pro transmission technology that can output a 1080p 60fps feed to remote monitors with a range of up to 20,000 feet. It also includes AES 256-bit encryption that protects the video feed and industry-leading end-to-end low latency.
In addition to 2.4GHz and 5.8GHz, O3 Pro also supports the DFS frequency band which improves stability and anti-interference performance even in crowded signal environments. DJI will also be offering the High-Bright Remote Monitor which integrates the wireless receiver into a 1,500 nit brightness, seven-inch monitor. It includes a built-in gyro sensor that can turn the monitor into a remote motion controller for remote camera control as well.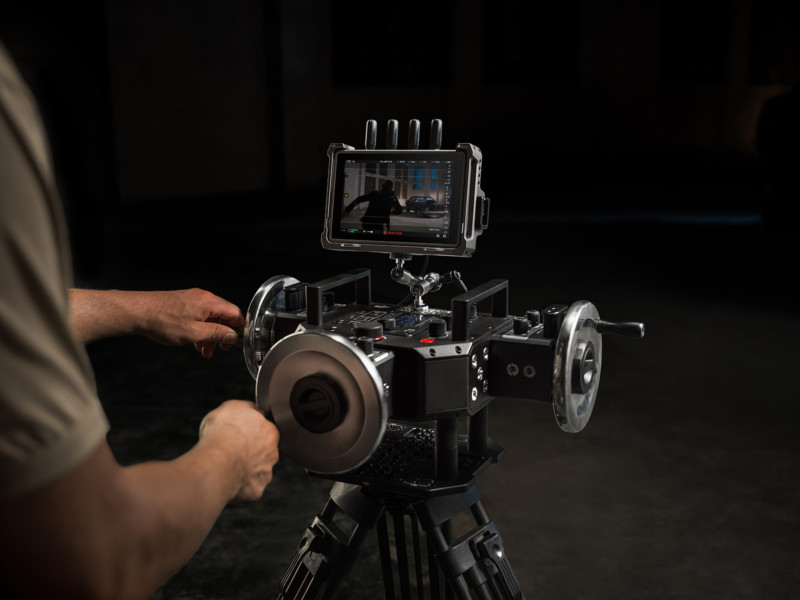 This unit is compatible with Ronin 4D Hand Grips, DJI Master Wheels, DJI Force Pro, or the new DJI Three-Channel Follow Focus. The monitor's built-in microSD card slot supports up to
1080p/60fps proxy footage recording.
Storage, Sound, and Battery
The Ronin 4D can store footage in three different ways. First it offers USB SSD storage that can support 4K projects in what DJI refers to as a "cost effective" manner. It also supports CFexpress Type-B cards. Finally, the best performance can be had with a DJI proprietary PROSSD, which offers performance, stability, and internal recording at maximum resolution and frame rate.
The camera has built-in microphones that support 2-channel 24-bit audio and also includes two 3.5mm headphone jacks on the body as well as two XLR ports on the expansion plate for additional input and output options.
The battery is the same as the one found on the Ronin 2 and the Inspire 2, the TB50 Intelligent Battery which offers up to 2.5 hours of shooting time and is stable even in extreme weather conditions.
The DJI Ronin 4D 6K version features the main camera body, a Zenmuse X9-6K Gimbal Camera, LiDAR Range Finder, High-Bright Main Monitor, Hand Grips, Top Handle, TB50 Intelligent Battery, and Carrying Case for $7,199.
The DJI Ronin 4D 8K features a more powerful Zenmuse X9-8K, Gimbal Camera, and a PROSSD 1TB and will be available for $11,499. The 6K version is expected to come to market in December, while the 8K version will be available at a later unspecified date.