Autographed 1911 Photo of 'Shoeless' Joe Jackson Sells for $1.47 Million
An autographed photograph from 1911 of baseball legend "Shoeless" Joe Jackson has sold at auction for a staggering price of $1.47 million, making it one of the most valuable photos in the world.

The photo was included in a Christie's and Hunt Auctions live auction titled "Extra Innings: A Private Collection of Important Baseball Memorabilia," which closed on October 6th. The
photo's lot
, titled "Exceedingly Scarce and Important 1911 "Shoeless" Joe Jackson Autographed Photograph by Frank W. Smith," had a pre-auction estimate of $200,000 to $400,000.
Joe Jackson started playing baseball at the age of 13 in 1900, and his talent for the game was clear from the get-go. He went from the rural sandlot fields of South Carolina through the major leagues until he eventually joined the Chicago White Sox and won a World Championship in 1917.
"Shoeless" is said to have become Jackson's nickname after he took off his shoes due to blisters during a game in 1908 and then proceeded to hit a home run. It was the only time he was known to have played without shoes.
Jackson's skill with the bat was so exceptional that even Babe Ruth, considered by many to be the greatest baseball player of all time, looked up to Jackson.
"I copied Jackson's style because I thought he was the greatest hitter I had ever seen, the greatest natural hitter I ever saw," Ruth once said. "He's the guy who made me a hitter."
At the end of his 13-year career, Jackson had a .517 slugging percentage and a lifetime batting average of .356, ranking him 3rd in Major League Baseball history.
Jackson was banned from playing baseball after 1920 in the aftermath of the Black Sox Scandal in which eight White Sox players (including Jackson) were implicated in fixing the 1919 World Series.
"Legend has it that as he was leaving the courthouse after giving his testimony and admitting to some form of involvement in the fix, a boy yelled out 'Say it ain't so, Joe! Say it ain't so!'" writes the National Baseball Hall of Fame. "[…] Joe Jackson represented the humble, working-class American and played with tremendous pride while experiencing a great amount of success over the duration of his career. Though Jackson is ineligible for the Hall of Fame, the Museum does honor his excellence by showcasing and preserving a number of his artifacts."
In March of 1911, photographer Frank W. Smith captured Jackson in a throwing pose during spring training in Alexandria, Louisiana. The 8×10-inch photograph was then signed by Jackson, and it is now considered to be the only authentic photo signed by the legend in existence, according to Christie's.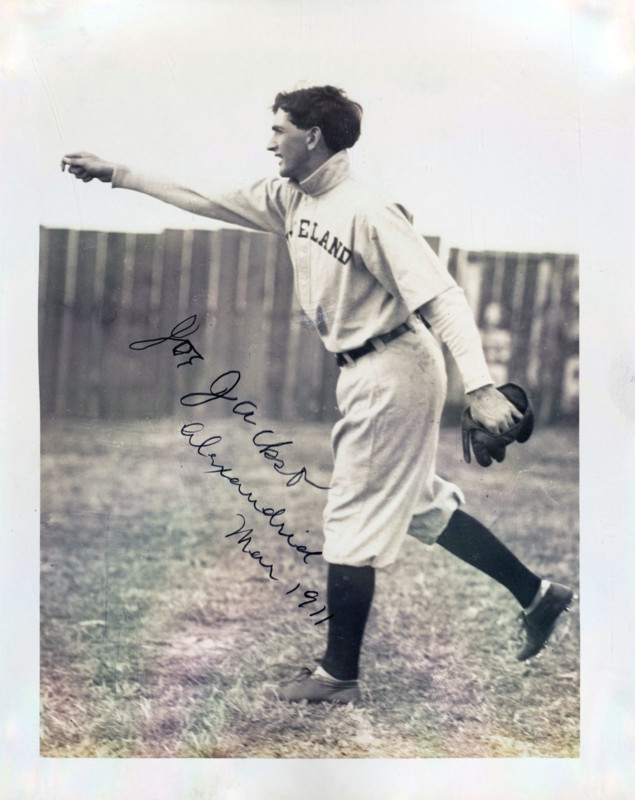 "Image quality is outstanding with minimal surface wear and no mentionable defects," Christie's writes of the photo in the auction lot's essay. "Blank back has four small paper residue spots at the corners from scrapbook adhesion mentioned for accuracy only. Front of the image has been boldy signed by Jackson in black fountain pen rating 9 out of 10.
"'Alexandria Mar 1911' inscription added by Smith, as is seen on several other Cleveland images from the archive. Jackson's labored and primitive signature formation is immediately recognizable due to his inability to formally read or write.
"As a result of Jackson's relative illiteracy there are scant few authentic examples of his autograph known to exist. To date, the offered Jackson signed image is the lone surviving example of any type. Based on the scarcity of signed images from this period, in general, coupled with the minuscule population of original Jackson autographs we cannot overstate the rarity of this offering."
"Just his signature on a slip of paper is worth $50,000 to $100,000," Lelands Auctions President Mike Heffner tells ESPN.
It seems collectors agree with the rarity and value of the photo, as they ended up pushing the final price to over 3.5 times the upper range of the presale estimate.
The photograph previously appeared in an auction by Heritage Auctions back in 2015, and it sold that time for $179,250. Six years later, the photo is now over 700% more valuable.
The latest $1.47 million price is now the new record for a signed sports photo, and it was about $600,000 shy of landing the image on the list of 30 most expensive photographs ever.