Google Pixel 6 Series Accidentally Revealed Ahead of Official Launch
Google hasn't had the best time thus far keeping the Pixel 6 under wraps since it was leaked with dead-on accuracy in May and more last month, but it isn't getting any better: a product listing has fully revealed the smartphone a week before its official launch.
As screen-captured and shared by Evan Blass (known as evleaks on Twitter), CarPhoneWarehouse — a London-based phone retailer — appears to have accidentally published the entire Google Pixel 6 landing page that reveals all the details of the phone that has not officially been announced by Google and isn't scheduled to be for another week.
The product pages for both the Pixel 6 and Pixel 6 Pro were shared by Blass in two screenshots on Twitter, but the image compression makes the details difficult to read:
(for when these inevitably get pulled down) pic.twitter.com/EhETg34Pcn

— E (@evleaks) October 9, 2021
The two pages have since been taken down, but the Internet Archive remembers all, and both the Pixel 6 and Pixel 6 Pro product pages are still available to view through it.
The two pages advertise the new Google Tensor chip that was revealed to be coming to the two devices in a webpage set up by Google earlier this year, so its inclusion here isn't particularly noteworthy. That said, Google is promising that it will allow the phones to provide up to 80% better performance compared to the Pixel 5's Snapdragon 765G chip.
The listing also shows that the Pixel 6 will be getting a 6.4-inch display with a nondescript variable refresh rate while the Pixel 6 Pro will get a slightly larger 6.7-inch screen with a 120Hz variable refresh rate that Gizmodo notes is similar to the one found on the Galaxy S21 Ultra.
Both the Pixel 6 and Pixel 6 Pro sport IP68 water and dust resistance.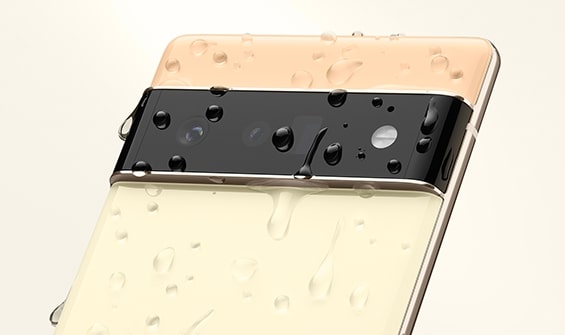 Camera features have always been part of Google's selling point for its Pixel devices, and the listing confirms a lot of what was speculated in previous rumors. The Pixel 6 will pack a 50-megapixel main camera with a backup ultra-wide that doesn't show a specific resolution. The listing does show that Google is touting this new main camera to let in 150% more light than the one on the Pixel 5.
The listing for the Pixel 6 Pro is a lot more descriptive, however. It shows that in addition to a main 50-megapixel main wide camera and 12-megapixel ultra-wide, it will also add a 48-megapixel telephoto camera that features 4x optical zoom and up to 20x hybrid zoom thanks to Google's Super Res Zoom feature. The front-facing camera promises a 94-degree field of view, but specific resolution was not noted.
The Pixel 6 Pro page also shows a graphic that superimposes the Pixel 5 sensor on top of the much larger Pixel 6 sensor, which explains the previous note about 150% more light-gathering capability. While not confirmed, it is likely that the sensor on the 6 and 6 Pro is the same.
While this looks like a set of legitimate product pages, it's all still technically speculative until Google officially announces the phones, an event which is scheduled for next week. But if what is seen here comes to pass, both Apple and Samsung may have a real competitor on their hands.