Canon Unveils the RF 5.2mm f/2.8 L Dual Fisheye Lens For VR Capture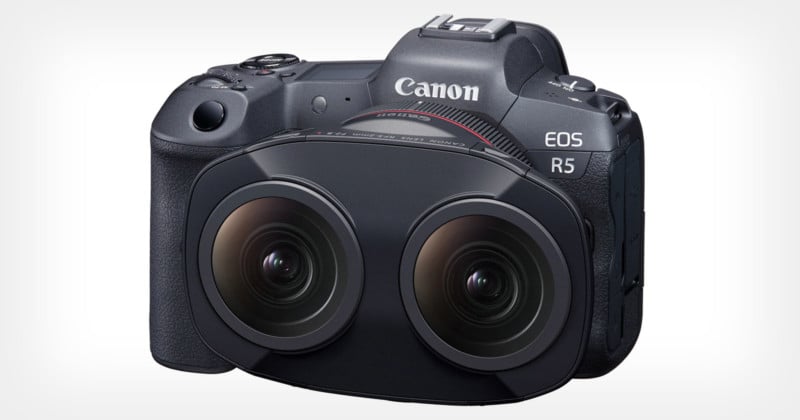 Canon has announced what it describes as its first product for virtual reality capture: the RF 5.2mm f/2.8 L Dual Fisheye Lens. It is capable of enabling stereoscopic 3D 180-degree virtual reality (VR) shooting to a single image sensor.

It appears
the rumors
of the dual fisheye lens were true and Canon is making its foray into the virtual reality hardware space.
The new lens is designed to work on Canon RF camera systems as part of what the company is calling the EOS VR System. It will also come with a firmware update for the EOS R5 camera that will support the new lens along with new VR capture functions. Additionally, the company will release new software that will convert and process the footage for viewing on VR devices. Canon mentions that a compatible VR headset is recommended for use, and specifically calls out the Oculus Quest 2.
Canon says that the lens is the first interchangeable dual fisheye lens capable of capturing stereoscopic 3D 180-degree VR imagery onto a single image sensor and hopes that it will make the complexities of virtual reality production more streamlined for both professionals and newcomers.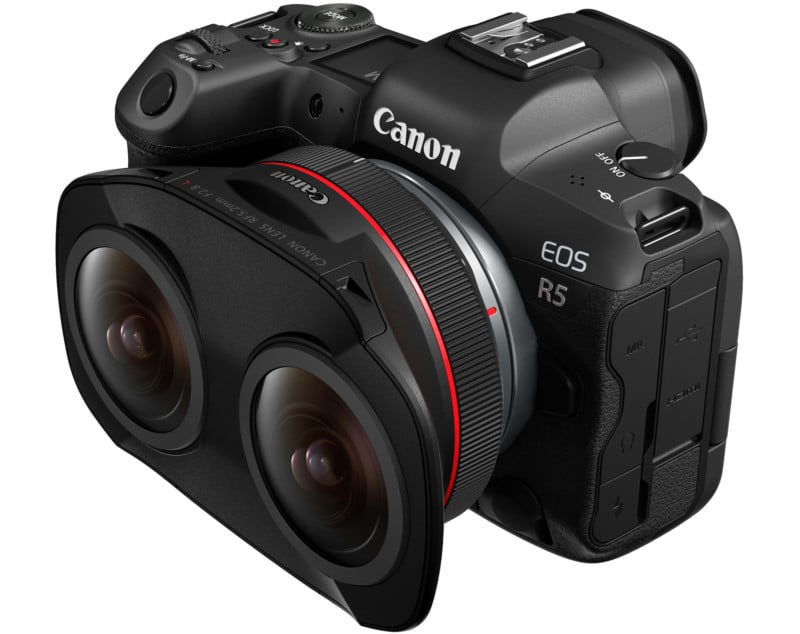 The lens uses Canon's high-quality L-series optics that are engineered with an interpupillary distance — the space between two eyes — of 60mm to deliver 3D imagery in VR with what it calls natural parallax that closely resembles human vision. The lenses are capable of shooting with a 190-degree field of view captured from two separate optical systems, which it says is perfect for finishing 180-degree VR footage.
Canon says that the lens has subwavelength coating technology that offers "impressive" flare control even in backlit conditions which will enable VR creators can have the freedom to shoot regardless of the time of day or position of the sun.
The lens has a set of electronically controlled apertures with a range of f/2.8 through f/16. It also features dust and water-resistant sealing as well as fluorine coating that, when paired with the R5, allows it to operate in even challenging weather conditions. Canon says that from an operation perspective, the dual fisheye lens works just like any other RF lens. Canon's free Camera Connect app and Canon's EOS Utility program both will be updated in the future to offer remote-control live view functionality for monitoring purposes as well.
The lens has a close focusing distance of 7.87-inches/0.2m and a maximum magnification of 0.03x. It also features a built-in Gelatin Filter Holder which allows ND gel filters to be used in bright environments without needing to stop down the lens.
Canon says that the EOS VR System's workflow is particularly impressive and because it can record left and right fisheye images to a single full-frame image sensor and therefore bypasses the common challenges of stitching and synching since the footage is output to a single image file.
Canon is currently developing two paid subscription-based software solutions for completing the post-production process. Canon's EOS VR Utility will offer the ability to convert clips from dual fisheye images to equirectangular and make quick edits, as well as select the resolution and file format before export. With the EOS VR Plug-In for Adobe Premiere Pro, creators will be able to automatically convert the footage to equirectangular and edit as they would normal footage from there.
The Canon RF 5.2mm f/2.8 L Dual Fisheye lens is scheduled to be available in late December 2021 for $1,999. Both of Canon's EOS VR Software solutions (EOS VR Utility and the EOS VR Plug-in for Adobe Premiere Pro) are currently scheduled to be available in late December 2021 with pricing to be revealed later, but they will be, as mentioned, based on a subscription model.