Iranian COVID-19 Patient Photo Wins Nikon Photo Contest 2021
Nikon has announced the winners of its Photo Contest 2020-2021, a competition that has been active for over 50 years. This year's winning image depicts a senior citizen in Iran who was admitted to receive treatment for COVID-19.
Nikon says that the winners of its Grand Prize, Excellence Award, and set of Special Encouragement Awards were selected from a total of 65,062 entries submitted from approximately 26,000 people from over 150 countries. As seen above, the recipient of the Grand Prize for the photo competition was a work titled "Radiance", entered by Amin Nazari (Islamic Republic of Iran) from the Open Category.
The senior citizen pictured above was admitted to Razi Hospital in Ahvaz,Iran, in order to receive treatment for COVID-19.
Due to the coronavirus, the senior citizen was admitted to Razi Hospital in Ahvaz, Iran, for treatment to deal with the virus. The coronavirus spread to humans in December 2019, and entered Iran shortly afterwards. In the peak days of the virus in Iran, about 350 people died every day. The virus has caused serious problems for all social interactions, jobs, universities and schools, etc.
The Excellence Award was given to Ares Jonekson Saragi from Indonesia for his series on the pandemic in his country as seen in his photos below.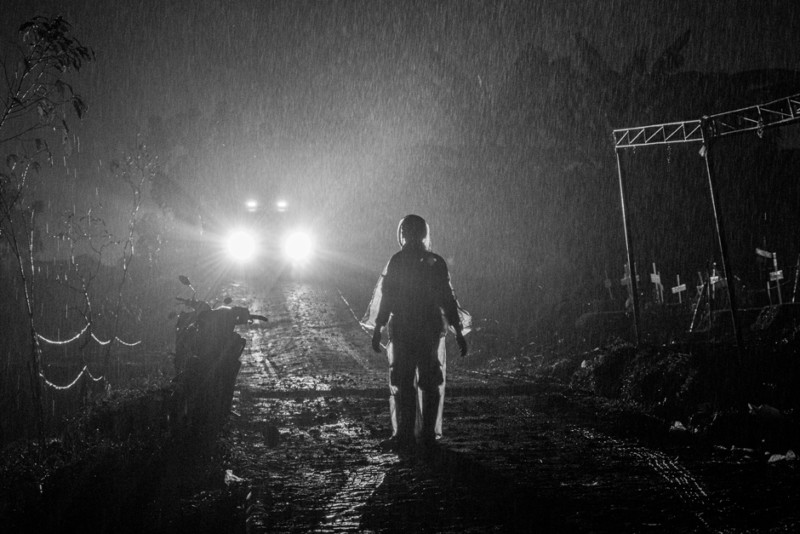 During this pandemic time, the funeral officer have buried at least 30-50 remains of suspects or those who were declared positive for Covid-19 in every day. There is no definite information for them on the number of remains that will be buried every day, they were asked to be always standby at the location most of the times and wait for the arrival of the hearses.
The Nikon Photo Contest also awards a short film, which was presented to Rei Kuroda from Japan for the film below titled "Escaping from Karma."
The plot is about trying to break free from the various constrictions of society, while dealing also with issues of feminism, race, and nationality. The COVID-19 pandemic has forced drastic changes in our lives. What we took for granted can no longer be taken for granted, and what we thought were unshakable have become increasingly uncertain. I created this film based on the notion that perhaps there will be liberation if the colossal systems that have been built up are transformed, or if we can escape from them.
The four Special Encouragement Award winners can be seen on the Nikon Photo Contest website.
---
Image credits: Photos individually credited and provided courtesy of Nikon.