Twitter Tests Full-Width Tweets to Give Photos and Videos More Space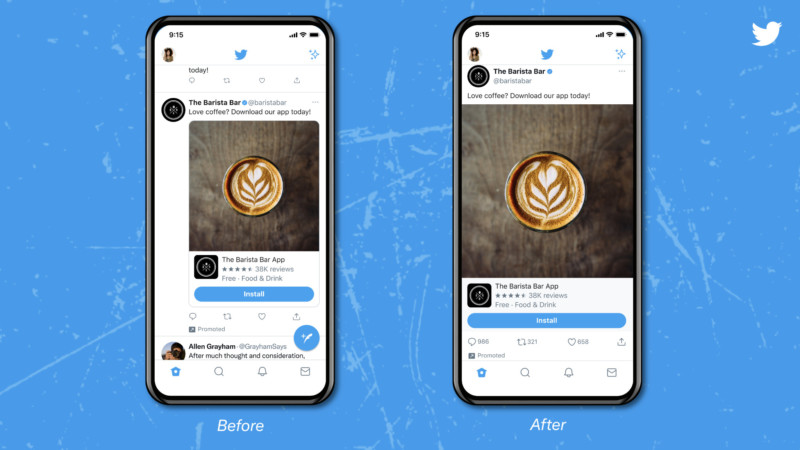 Twitter is testing Tweets that span the full width of the timeline so that photos, videos, and gifs take center stage. The company has announced that the change is designed to make it easier for visual content to shine.
The social media company announced that it is testing the feature on select iOS devices. The visual change makes photos, videos, and gifs appear "edge-to-edge" in Tweets rather than indenting them to the right. The move utilizes blank space that normally only serves as a visual queue to look up and see a user's avatar, and the company appears to be looking into better using that area as it becomes an increasingly more visual platform.
Twitter did not indicate how many people would see the design change, how long the test would run for, and if it would also be coming to Android.
Now testing on iOS:

Edge to edge Tweets that span the width of the timeline so your photos, GIFs, and videos can have more room to shine. pic.twitter.com/luAHoPjjlY

— Twitter Support (@TwitterSupport) September 7, 2021
The test follows two previous image-focused changes: 4K image support and full-size images.
4K image support came in April and increased the resolution of images from 2048 x 2048 pixels to 3840 pixels on the long end. The change made images that appear on iOS and Android devices look even better, a huge benefit as smartphone displays become increasingly higher resolution.
Full-size image support came one month later in May and brought an end to cropped photos on timelines in iOS and Android. Prior to this change, Twitter cropped all non-16:9 images to maintain uniformity on timelines. The increased size of images makes it so that those that are not specifically 16:9 aspect ratio would not have to be tapped in order to reveal them in their entirety. This was especially noticeable for photos in portrait orientation.
With the announcement that it is testing edge-to-edge photo support, Twitter is increasing its chances of becoming a legitimate Instagram competitor. After Instagram admitted that it was no longer focused on being a place for photographers but would instead focus on video and shopping en route to becoming a "metaverse company," Twitter is in an excellent position to pull disgruntled photographers to its platform and away from the Facebook-owned Instagram. Whether or not this comes to pass, it does send a message that Twitter is serious about photos as it continues to interate on ways to make its platform appeal to the visual-focused.
Twitter has not to date made either full-width or edge-to-edge available when accessed through a desktop browser, however. It is unclear if the social network has any plans to either.