Rejoice! Twitter Finally Rolls Out Full-Size Images in Mobile Feeds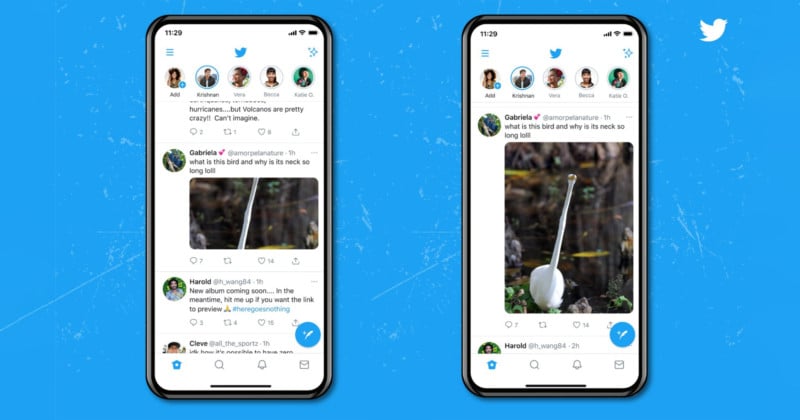 Twitter is finally rolling out bigger images in your feed after almost two months since it began testing the feature. Photographers who want to share their photos on the social network now don't have to worry about Twitter's cropping algorithm, and photos will be shown in all their glory by default.
While it might not show for all users quite yet, Twitter has announced that its "bigger and better images" on both iOS and Android are now available to everyone.
no bird too tall, no crop too short

introducing bigger and better images on iOS and Android, now available to everyone pic.twitter.com/2buHfhfRAx

— Twitter (@Twitter) May 5, 2021
Prior to this change, Twitter cropped all non-16:9 images to maintain uniformity on timelines. This change now makes it so that images that are not specifically 16:9 aspect ratio would not have to be tapped in order to reveal them in their entirety. This may result in a more streamlined browsing experience and will no doubt add greater value to images shared on the platform.
The larger image update should also pair well with 4K image support that Twitter announced in late April. Images are currently compressed by default to at most 2048 x 2048. The increase to 4K would nearly double that, allowing photos to display at up to 3840 pixels on the long end. As smartphone displays are becoming higher resolution, this change will make looking at images a superior experience on mobile. This does have a downside, however, as loading larger photos takes more data, which is why the feature needs to be enabled manually in settings.
For some, Twitter may now be a viable alternative to Instagram, a company that relies heavily on its ability to track you across apps in order to better target its advertising and that recently subtly threatened to charge for its services due to Apple's most recent iOS update.
As noted by The Verge, the one downside of this rollout will be the "open for a surprise" style posts that have become popular on the platform over the years. While fun, it is a small price to pay for larger, prettier images.