Do Mirrorless Camera Bodies Depreciate Faster Than DSLRs?
Is there a difference in depreciation between the two different types of cameras? Let's take a look at depreciation for mirrorless camera bodies, and how it compares to DSLRs.
Previously, we explored topics like what Leica-M gear sells the fastest, which Micro Four Thirds system held up better over time, and which line of Sony's full-frame mirrorless cameras is most popular.
---
This story is part of KEH's Tilt-Shift Report, where the company shares exclusive data and unique insights into the latest trends in camera gear buying, trading, and selling.
---
The Tilt
We often talk about the shift from DSLRs to mirrorless, and how that has been the defining realignment in the industry over the last decade, but it's important to look at the elimination of the reflex mirror as merely a key step in a heated tech race, rather than a single transformative act.
While the switch to mirrorless has no doubt accelerated the pace of innovation and has led to a flourish of advancements over the last decade, the overall growth has gone way beyond the shift from mirrors and pentaprisms to electronics.
Things like subject-aware autofocus, on-sensor phase detection, multi-axis in-body stabilization, 4K (and now 8K) video, and advanced lens design and coatings have all catapulted the gear on which we rely to new heights.
Of course, camera and lens manufacturers have been forced to pick up the pace of innovation or risk getting stranded behind. This has led to shorter production cycles, especially for camera bodies, where most of the new features rest.
So, what does this mean for the depreciation of mirrorless bodies? Does a new body feel less new when you know the next model is as little as 16 months away? Does that make the value of mirrorless bodies akin to driving a brand new car off the dealer's lot?
Let's look at some data and see if it can offer some insights.
The Shift
First, let's look at the average price of mirrorless bodies across brands over the last four years. This is the "buy" price, which is the average price customers pay for these bodies on our site. In order to show the true effect of depreciation, we only included items that were available in both 2018 and 2021—so nothing that has been released since is in our model.
As it's easy to tell by glancing at the graph above that Leica mirrorless bodies, which include the M, SL, CL and TL series of bodies, are up in their own stratosphere—much more expensive than the competition.
But overall, Leica hasn't been immune to a drop in average price over the last four years, starting at $2,390 in 2018, and ending at $2,145 right now in 2021. It's fair to point out that they have slightly rebounded from an average value of only $2,078 in 2020, though.
Now, let's eliminate them, so we can get a closer look at the other brands.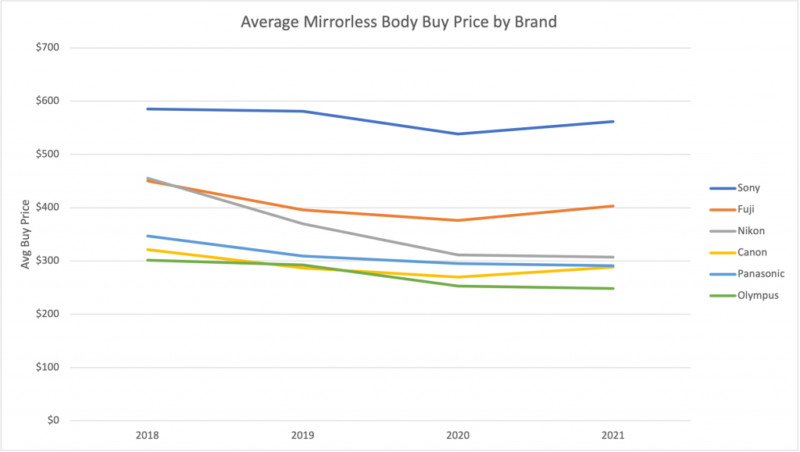 It's a little easier to see some variance between the individual brands without Leica in the mix. Sony mirrorless bodies have seen the least depreciation in average price ($586 in 2018 to $562 in 2021), with Canon ($321 in '18 to $288 in '21) and Fujifilm ($450 in '18 to $403 in '21) close behind.
That average value for Canon may seem low, but keep in mind that only their first full-frame offering, the EOS R (released Q4 of 2018) is included in our model, so its higher price point is brought down when averaged with the more affordable EF-M series of cameras.
Going back to the graph, Panasonic and Olympus experienced a bigger drop in price, but Nikon is the brand that has fared the worst, probably aided in no small part by the near obsolescence of their 1 series of CX-sensor mirrorless bodies.
It's also worth mentioning that, like Leica, three other brands (Sony, Fujifilm, and Canon) have all rebounded well in 2021 from the slide that hit its lowest point in 2020. Meanwhile, Panasonic, Olympus, and Nikon have shown a continued drop.
It's possible, however, that since both Panasonic and Nikon have recently strengthened their full-frame and cropped-frame mirrorless offerings, if we ran this model with data for just the last two years, the story would be slightly different. This should reassure adopters of those systems that they'll still be able to get a good return when it's time to upgrade to new bodies.
Next, let's look at how mirrorless cameras have fared versus DSLRs over the same period.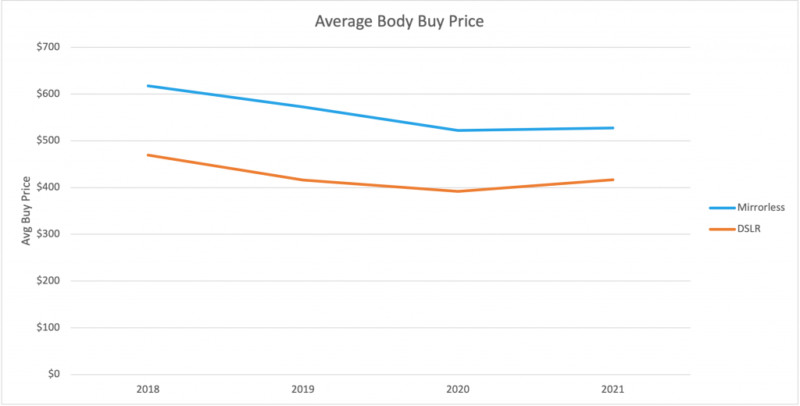 Here, you can see how the pattern of depreciation is similar, but it differs in magnitude. Overall, mirrorless bodies experienced a 14.6% drop in value from 2018 to 2021, while DSLRs only dropped by 11.1%.
But if we look at the average "sell" price — the amount which KEH pays photographers for their gear — the difference is even more striking.
Here, you can see that mirrorless cameras have seen a decrease in value by about 12.6%, compared to just a 2.2% for DSLRs.
So, what does this mean?
Well, it means that demand is still high for DSLRs, so we're willing to keep paying a more constant amount to people who are selling them, hence, DSLRs are definitely hanging on to their value better than mirrorless cameras. Granted, DSLRs fetch for a lower price on average, but they're not dropping by as much as mirrorless.
Ultimately, all this can change pretty quickly over the next couple of years.
Now that mirrorless technology has gotten over the hump of its early years and use is widespread, the market will probably stabilize to look a lot more like the well-established DSLR space. But as competition gets tougher, brands like Olympus might fall by the wayside if they're not innovating in lock-step with their peers.
---
About the author: Luca Eandi is a Brooklyn-based street photographer, creative director for KEH Camera, and a board-certified human person. He recently published "Signs of Japan," a long-term photography project documenting illustrated Japanese street signs in the Tokyo area. He posts his daily street photography work on his Instagram profile. This article was also published here.
---
Image credits: Elements of header photo licensed via Depositphotos.