This Camera Camel Helps Shoot Hard-to-Reach Desert Locations
A group of photographers recently enlisted the help of the world's first remote photographer camel. It wandered inaccessible areas in Saudi Arabia and worked as their photography assistant through the use of a remote shooting rig mounted to her hump.

There are many areas in the world still very inaccessible to even the most adventurous photographers, but innovative methods are often deployed to capture hard-to-reach places — methods such as
high-flying drones
or, as it turns out, camels.
In an interview with Treehugger, Wunderman Thompson Saudi Arabia executive creative director Rayyan Aoun spoke about Sarha, a female camel that took on a photography assistant role to help out 11 photographers reach places in that they couldn't use a remote shooting rig. Known for vast desserts and large uninhabited and untouched areas, Saudi Arabia offers grand scenes that have not been fully explored, but with Sarha's help, the project, shot for Saudi Telecom Company (STC), was made possible.
Sarha was equipped with a solar-powered camera and given free rein to roam daily in remote locations for a week. Aoun explains that the camera rig was custom-made and designed to fit Sarha's measurements with extra layers of cushioning to make sure that it sits comfortably on the hump.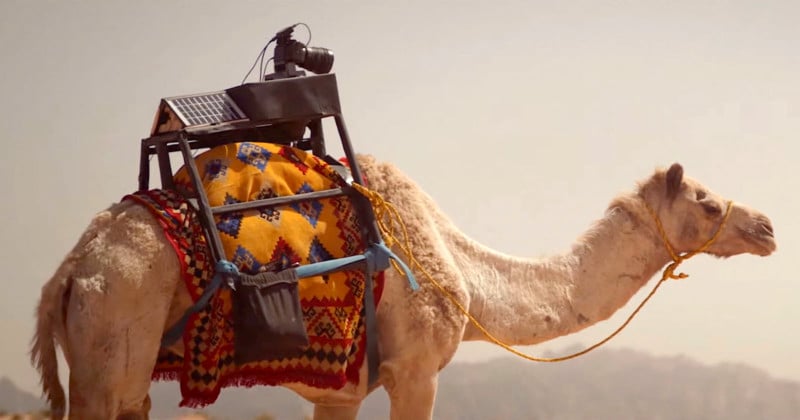 The list of equipment used — such as a military-grade laptop, a camera with the CamRanger, solar power panels, a tracker device, and an STC hotspot router — was kept as minimal as possible. The camel was treated as a photographer's assistant throughout the project and returned back to base camp each night, where she was checked for comfort and safety.
This project is part of "Unveil Saudi," a bigger initiative for STC to demonstrate the power of the company's network coverage through sharing content about the country, and this mission put the company's network to the ultimate test while 11 hand-picked photographers — mostly those into landscape and nature photography — accessed the rig system and were able to shoot and use all the camera settings from their desk at home. The photographers were also given full creative control over post-processing to express their vision.
The final images from the project can be viewed on the "Unveil Saudi" Instagram account.
View this post on Instagram
One of the photographers, Ben Jacks, told Treehugger that he "felt like one of the first astronauts, stepping into Mars — it's just unbelievable," with the rest of the participants echoing this sentiment. After the mission concluded, Sarha was returned home, given a thorough medical check-up, and rewarded with a big treat for her job well done.