The Best Cameras and Lenses of 2021 According to the EISA Awards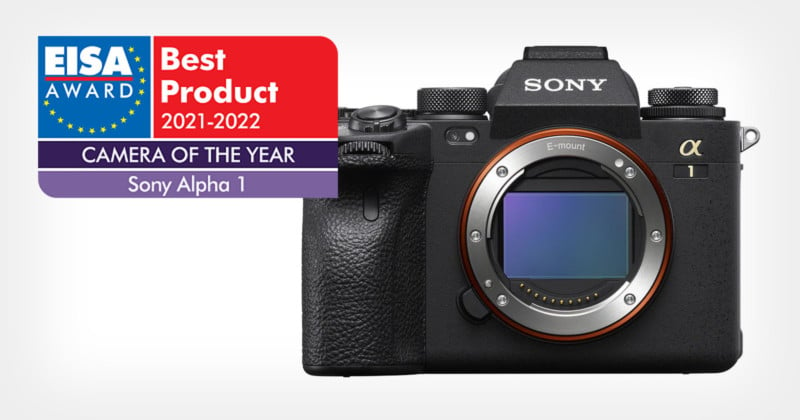 EISA has unveiled its picks for the best products in the photography industry for 2021, and coming out on top as the pick for Best Product overall is the flagship Sony Alpha 1 mirrorless camera.

Established in 1982, the Expert Imaging & Sound Association (EISA) is an international collaboration of technical experts from 60 leading specialist magazines and websites in 29 countries around the world. For the annual
EISA Awards
, those experts come together to democratically vote on the best products across various categories in each of the fields, which include things like photography, Hi-Fi audio, home theater, and more.
"Every year, the EISA Awards celebrate those new products that offer a combination of the most advanced technology, the most desirable features, the most functional ergonomics and – of course – the best performance for the money," EISA states. "In essence, EISA highlights the products most likely to be appreciated by consumers seeking versatility, style, and performance."
Here's EISA's explanation for why the highly-acclaimed Sony Alpha 1 was selected as the best product in photography overall this year:
With the Sony Alpha 1, photographers no longer face a choice between high resolution or high speed. Instead, it delivers 50-million-pixel images at up to 30fps with an uninterrupted blackout-free view in its electronic viewfinder, thanks to its unique full-frame stacked Exmor RS CMOS sensor with integrated memory and a powerful BIONZ XR processor. The fast sensor readout enables accurate focus and exposure tracking during burst shooting, while the dual-driven shutter system allows flash sync up to 1/400sec and electronic shutter flash sync at up to 1/200sec. For videographers, the Alpha 1 offers up to 8K (7680×4320) 30p movie recording. This really is the one camera that does it all.
Cameras named "Best Product" in prior years include the Fujifilm X-T4 (2020), Nikon Z 6 (2019), Sony a7 III (2018), and Sony a9 (2017).
Notable in this year's list of winning products is the fact that there wasn't a single DSLR camera, reflecting the industry's rapid shift toward mirrorless technology.
Sony, Nikon, Canon, and Fujifilm won across the camera categories, with brand like Olympus, Panasonic, and Leica nowhere to be found. While Sony, Nikon, and Canon snagged prizes for lenses, third-party brands such as Sigma, Tamron, and even Venus Optics' Laowa won several categories as well.
Here's a full list of winning products across all the categories (with some of the explanations):
Best Buy Camera (APS-C): Fuji X-S10
The Fujifilm X-S10 is a lightweight and compact mirrorless camera with easy handling and lots of creative settings. Its image sensor delivers 26-million-pixel images, 4K video at 30fps, and a sensitivity range from ISO 160 to 12,800. The fast and sensitive autofocus system is reliable and accurate even in low light. The X-S10 includes in-body image stabilization (IBIS) to ensure sharp images by counteracting camera shake across five axes. In addition, the camera's internal stabilizer can synchronize with optically stabilized X-mount lenses for even better results. All in all, the Fujifilm X-S10 is an excellent camera at an affordable price.
Best Buy Camera (Full-Frame): Nikon Z 5
The Nikon Z 5 is a compact and lightweight camera equipped with a 24.3-million-pixel full-frame sensor mounted on a mechanical stabilization system. It's very pleasant to use thanks to a large grip, a joystick to change options quickly, a touchscreen, and a sharp 3.6-million-dot electronic viewfinder. With a maximum sensitivity of ISO 51,200, the Nikon Z 5 can keep shooting in difficult light. Its 273-point autofocus system is very effective and will automatically identify human eyes and faces, as well as those of some pets. The camera can also shoot 4K video, although with a 1.7x crop. Overall, it's the best-value full-frame camera on the market.
The Nikon Z 6II is a versatile camera with a 24.5-million-pixel BSI-CMOS full-frame sensor that can record video up to 4K Ultra HD at 60fps. Its next-generation autofocus system can work in light levels as low as -4.5EV, while two EXPEED 6 processing engines provide faster image processing and a larger buffer capacity for continuous shooting compared to its predecessor. The Z 6II also gains dual card slots, one for CFexpress/XQD and one for standard SD. It can be powered via its USB-C interface and is fully compatible with a vertical battery grip. It's one of the most accomplished cameras available for serious enthusiast photographers.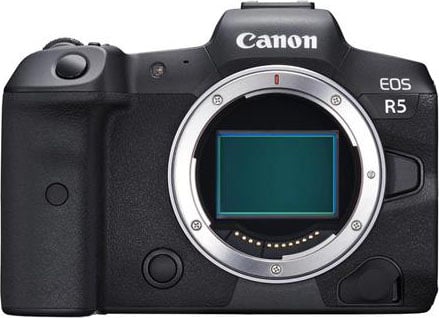 Canon's highly-specified mirrorless all-rounder is feature-filled and built to last. It produces extremely sharp, high-resolution 45-million-pixel images, while being capable of recording both 8K and 4K video. It also boasts a high-speed, high-precision Dual Pixel CMOS AF II autofocus system, up to 8 stops of in-body image stabilization, and high-speed continuous shooting at up to 20fps. The AI-based subject-recognition system is capable of detecting and tracking human eyes, faces, and bodies, as well as those of some animals. Combine these features with its robust build and superb handling, and there is probably no assignment that the R5 cannot take care of.
With the GFX 100S, Fujifilm has packed the groundbreaking features of the GFX 100 into a much more compact and affordable camera. Like its bigger sibling, it employs a 102-million-pixel BSI-CMOS sensor that measures 44x33mm, and which includes phase detection pixels for fast, accurate hybrid autofocus. Its updated sensor-shift in-body image stabilization can now compensate for camera shake by up to 6 stops, which together with the low-vibration shutter, helps photographers get the sharpest possible images when shooting handheld. In Pixel Shift Multi-Shot mode the camera can even generate 400-million-pixel images for the ultimate quality when shooting still life.
The Sony Alpha 7S III delivers 4K video without any compromise. At its heart is a new 12-million-pixel back-illuminated full-frame Exmor R CMOS image sensor that provides outstanding performance at high ISO sensitivities with minimal rolling shutter effects. Its full-pixel readout enables ultra-sharp and clean video without a crop. In 4K/60p mode the camera can record for more than an hour without overheating, while for slow motion, 4K/120p and Full HD/240p are also available. Internally, the camera records 10-bit footage with 4:2:2 color subsampling; it can also output 16-bit RAW data to a compatible recorder over HDMI. Other highlights include an extremely large, high-resolution 9.44-million-dot viewfinder and a fully articulated touchscreen monitor.
For enthusiast photographers who use Sony cameras with APS-C sensors and are in search of a high-quality zoom, this might be the perfect choice. It offers a uniquely useful combination of a large maximum aperture and a broad 26-105mm full-frame equivalent focal length range, without compromising on optical quality. The lens is weather-sealed to match the higher-end Alpha 6000-series models, while its effective optical stabilization allows handheld shooting at slow shutter speeds without blurring due to camera shake. In addition, the autofocus is quiet and accurate while being fully compatible with features such as Eye AF. Overall, it's a great choice for everyday shooting.
This extremely compact wide-aperture ultra-wide-angle prime lens combines Sony's latest optical design achievements and manufacturing techniques into a rectilinear 14mm f/1.8 lens that is as easy to carry in the field as it is to use in studio. The compact size and weight, however, do not compromise high image quality or weather-resistant build quality. Sporting careful optical correction, the Sony FE 14mm F1.8 GM performs impressively well for landscapes, nightscapes, and architecture. The 9-blade aperture and XA lens elements contribute to attractive bokeh, while the linear AF motors provide fast and accurate autofocus.
Designed for use with Sony E-mount cameras, this is the world's first ultra-wide-angle zoom lens for APS-C mirrorless to boast a fast maximum aperture of f/2.8. It is both compact and lightweight yet gives top-quality results. Its closest focusing distance is only 15cm at the shortest focal length, making it ideal for close-up shooting. The RXD autofocus motor is completely silent and focuses precisely and quickly on any subject, which is especially important for video recording. As a result, it's the perfect choice for shooting with extraordinary viewing angles and striking perspectives.
Sony's large-aperture ultra-wide-angle zoom is a truly amazing lens, with remarkable optical performance that's on a par with high-end primes. The sharpness is very impressive from edge to edge, even at maximum aperture. The lens is also astonishingly compact considering its 122° angle of view and bright maximum aperture of f/2.8. The high build quality includes weather-sealing and a water- and oil-repellent fluorine coating on the front element. Quick and accurate autofocus makes this lens a useful tool for both landscape photographers and photojournalists.
This unique standard lens combines outstanding image quality and a very bright aperture with a remarkably compact and lightweight design. Its 11-blade circular diaphragm and XA lens elements together provide pleasing bokeh. In addition, the lens is equipped with an aperture ring that can be switched between clicked and clickless operation, a dust- and moisture-resistant design and four XD linear autofocus motors that deliver fast and precise autofocus and tracking. This lens offers Sony shooters a brilliantly performing tool for portraits, night scenes, and general photography.
Tamron's ultra-telephoto zoom for Sony E-mount provides a focal length range that is ideal for wildlife, sports, and action photography in an impressively compact design. It also offers a minimum focus distance of 60cm at the 150mm position, providing a maximum magnification of 1:3.1 for close-up work. The Broad-Band Anti-Reflection coating suppresses ghosting and flare, while the optics are protected by the moisture-resistant construction along with a fluorine coating on the front element. This is the first Tamron lens for full-frame mirrorless cameras to feature optical image stabilization, enabling sharp handheld ultra-telephoto shooting.
As to be expected of a lens that's made for high-end, professional use, this fast telephoto zoom is as advanced as it gets. Optically it's superb, combining high levels of sharpness with effective suppression of aberrations. Other desirable features include weather-resistant construction, autofocus that's fast, silent, and accurate, and effective optical stabilization. A customizable control ring, two programmable buttons, and a top-plate display panel provide an unmatched level of control. The result is a fantastic lens that's ideal for a wide variety of uses, ranging from wildlife and sports to portrait and wedding photography.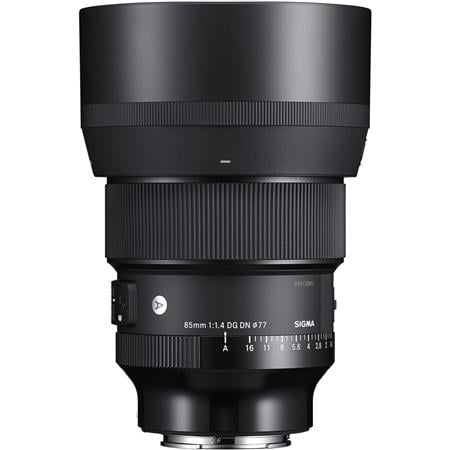 Sigma has created a lens that redefines portrait photography by combining an ideal focal length with technology that ensures top-quality results. Designed specifically for full-frame mirrorless cameras, its lightweight and compact body are distinguished by its excellent quality of construction, including dust and splash resistance. Users will enjoy sharp pictures without any aberrations thanks to the use of five SLD elements and one aspherical element, as well as the latest high-refractive-index glass. Thanks to its f/1.4 maximum aperture, it produces beautiful artistic bokeh that will satisfy both professional and advanced amateur photographers.
The Laowa Argus 33mm f/0.95 CF APO is an exceptionally bright standard lens for mirrorless cameras with APS-C sensors. This ultra-large-aperture lens is perfect for both low-light photography and for obtaining extremely shallow depth of field – especially when combined with its 35cm closest focusing distance. Thanks to its apochromatic design, the color fringing usually associated with fast apertures is unusually well controlled. The long focus throw, low focus breathing, and stepless aperture ring also make it ideal for video use. It's available in Canon RF, Fujifilm X, Nikon Z, and Sony E mounts.
This affordable, compact and lightweight standard macro lens for Nikon Z cameras provides 1:1 reproduction at its minimum focus distance of 16cm. The optical design uses both aspherical and extra-low dispersion glass elements to minimize chromatic aberration. A fluorine coating protects the front lens element, and the barrel is sealed against dust, dirt, and moisture, allowing it to be used in challenging conditions. It features a silent control ring with which you can set the aperture or ISO sensitivity. When used with a DX-format Z-series camera, the lens has an angle of view equivalent to 75mm, making it a great choice for both macro and portraits.
Currently the widest-angle shift lens on the market, this is characterized by its durable steel construction and excellent workmanship. Designed for use with full-frame cameras, both mirrorless and DSLRs, it provides ±11mm shift, which makes it ideal for correcting perspective in architectural and interior photography. Despite its very demanding optical design, it's much more affordable than other ultra-wide-angle shift lenses. All aspects of operation are manual, including focusing and aperture setting, with the shift mechanism using a unique rotary dial that's both precise and easy to use. Thanks to its compact size, low weight, and smooth, reliable operation, the lens is a fine choice for photographing architecture.
While most manufacturers have built up their full-frame mirrorless lens ranges by replicating their most popular SLR designs, Canon has consistently been more imaginative. Its new RF-mount 100mm f/2.8 offers the highest magnification ratio of any autofocus macro lens, at 1.4x, allowing users of its EOS R-system cameras to fill the frame with a subject measuring just 26x17mm. It also gains a new spherical aberration control ring that adjusts the smoothness of blur in either the foreground or background. Together, these two innovations promise to open new avenues of creative expression for close-up photography.
Raising the technological bar to new heights, the OPPO Find X3 Pro impresses with its comprehensive feature set and modern, highly distinctive design. Powered by a Qualcomm 5nm Snapdragon 888 processor, with 12GB of RAM, the Find X3 Pro sports a 6.7in 120Hz LPTO AMOLED display and durable 4500mAh battery with 65W fast charging support. Moreover, OPPO's flagship offers arguably the best smartphone camera setup this season, packing four lenses on its back – a 50-megapixel primary and ultra-wide-angle, a 13-megapixel telephoto and, uniquely, a 3-megapixel microscope snapper, working between 1-3mm distances to deliver 60x magnification. This multi-camera setup delivers on every promise, making OPPO's Find X3 Pro the most advanced smartphone on the market.
Sony's Xperia 1 III introduces the first-ever 120Hz 4K screen on a smartphone, plus a variable focal-length periscope telephoto camera, making this a genuine multimedia hero ideal for anyone who uses their mobile device mostly to create or to consume high-quality video and photo content. These capabilities are supported by Qualcomm's latest 5nm Snapdragon 888 chipset and a full 12GB of RAM, a potent engine that ensures this smartphone also excels at mobile gaming and app multitasking. A high-end handset for demanding users, the Xperia 1 III wraps its pleasing functionality in a fresh design with an impeccable glass finish and IP65/IP68 water/dust-proofing.
This innovative photo software offers a wide range of user-friendly features. Along with being a fully-featured raw converter, it provides easy photo editing with layers and masks, while the retouching brush and faces tool are perfect for enhancing portraits. Zoner Photo Studio X also manages your photo catalog, allowing you to browse by date, shot location, keywords, or folders. The continuous updates and use of artificial intelligence are also very advantageous for users. Zoner Photo Studio X combines features that usually require several programs from other vendors at a very competitive price.
Advanced Photo Software: DxO PureRAW
PureRAW by DxO is a truly unique piece of software. You use it to pre-treat your images before importing them into Adobe Lightroom, Photoshop, or any other photo software that supports the Linear DNG raw format. This allows you to benefit from DxO's superior demosaicing algorithms, lens corrections, noise reduction, and image sharpening, all without sliders or complex adjustments and without any need to master a new interface. You just get better images without changing much of your existing workflow.
Nowadays, most pictures are taken with smartphones. With the CEWE Photoworld app for iOS and Android, it's easy to turn these into beautiful photobooks. With the help of artificial intelligence, the user just has to select which pictures on their phone or tablet should go into the photobook and the app does the rest automatically, including the order, image corrections and which picture details are shown. This is tremendously helpful and speeds up the process enormously, while users can still change everything according to their own taste. The quality of the printed result is just as high as with regular CEWE photobooks.
This A3+ printer allows professional and ambitious amateur photographers to make long-lasting prints of their most-cherished images. Thanks to its UltraChrome Pro 10 ink set, the SC-P700 delivers outstanding print quality in both color and black & white. It handles sheets of photo or fine art paper effortlessly, boasts an integrated roll paper unit, and doesn't require any ink change when switching between matt and glossy media. With its compact footprint and wide range of interfaces (USB 3.0, Wi-Fi, and Ethernet), the SC-P700 can fit into any workspace or studio while providing an easy-to-use, customizable user interface via its 4.3in touchscreen.
Head on over to the EISA website to see a full list of all winning products across all industries and categories.