Teen Finds Entire Leica M Camera Kit at Church Sale for $15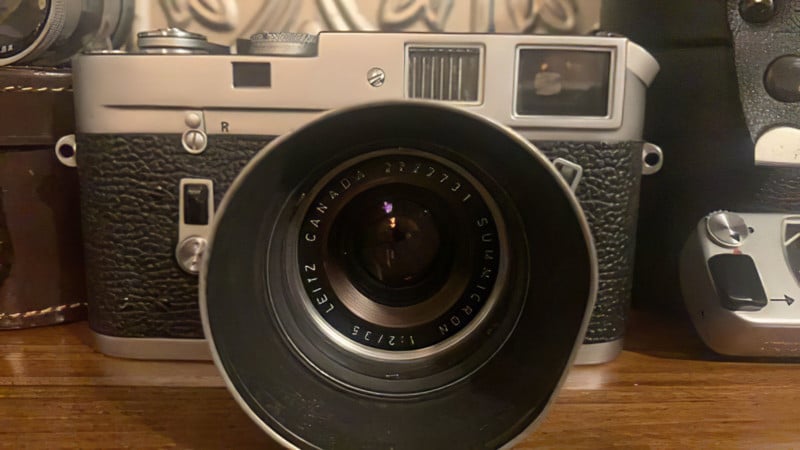 According to his Facebook profile, 16-year-old Tyler B. of Detroit, Michigan is into BMX, snowboarding and tennis. Soon, he may be into photography also. And who wouldn't be, after scoring a complete Leica M outfit, that is considered a dream camera rig, for just $15?

Last Friday, Tyler sauntered around the local church garage sale for about an hour with his friend, casually searching for old watches and cameras.
"I have always wanted to get into photography but never had the right camera and I figured I would try to find one at a garage sale" Tyler says in a conversation on Facebook Messenger.
At one table, Tyler came across "a lot of vintage stuff like old plates and just a bunch of random things that an old person would have."
Among the unremarkable ephemera, he eyed up a Kodak 35. It was just $3 and Tyler had heard of Kodak before so he bought it. Beside the Kodak was another camera he'd never seen or heard of though. It "looked fancy" but he had to leave for vacation in a few minutes so he passed on it.
Tyler caught up with his friend briefly to show him the Kodak and he mentioned the other camera.
"I would have never had gone back to get the Leica if I hadn't stopped and talked to my friend who said that it was a very good camera," Tyler says.
All out of one dollar bills, not really knowing the value of what he was negotiating for, and trying to pick it up before he had to leave, "[Tyler] went back and asked if she would do $15 for the two lenses and the camera with the case and another lens and lens hood."
The deal was made.
"And funny enough, I get home and my mom ends up getting mad that I bought [two] cameras," Tyler says. "She still doesn't believe that it's worth that much."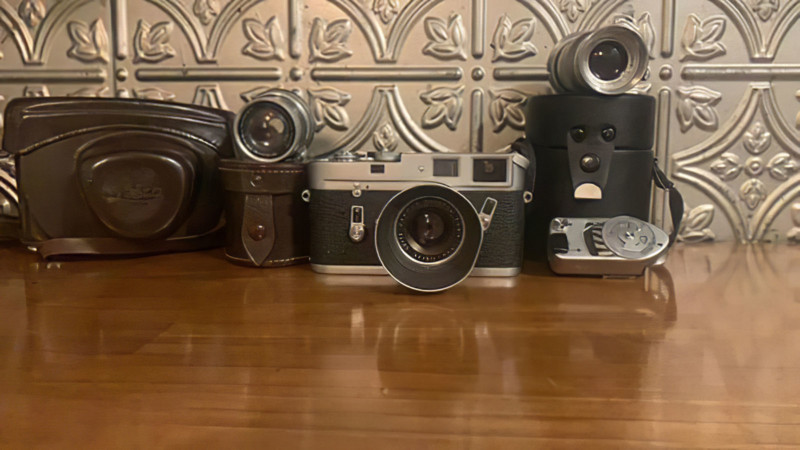 Tyler put the Leica kit aside and went on vacation as planned, still not really knowing what he had purchased.
After the vacation, Tyler joined a popular Leica camera group on Facebook and made his first humble post with a photo of his acquisition.
"Can anyone give me more info on a Leica M4? Sorry if this is the wrong group I just picked one up for $10 at a garage sale and I'm curious as to if it's good? I'm sorry that the photo is taken with an iPhone"
Responders could hardly believe the post. Tyler further astonished them by adding that he got two additional lenses for it for $5. Despite apparent jealousy and incredulousness, people were quick to offer friendly advice.
"That's insane. Snap some photos and check shutter speeds and any light leaks, make sure the rangefinder patch works," one commenter replied.
"Take it to a Leica specialist and have it cleaned, lubricated, and adjusted (CLA)," another one stated. "The lenses, too. That will cost you some serious money, but the camera will outlast you (and the rest of us)."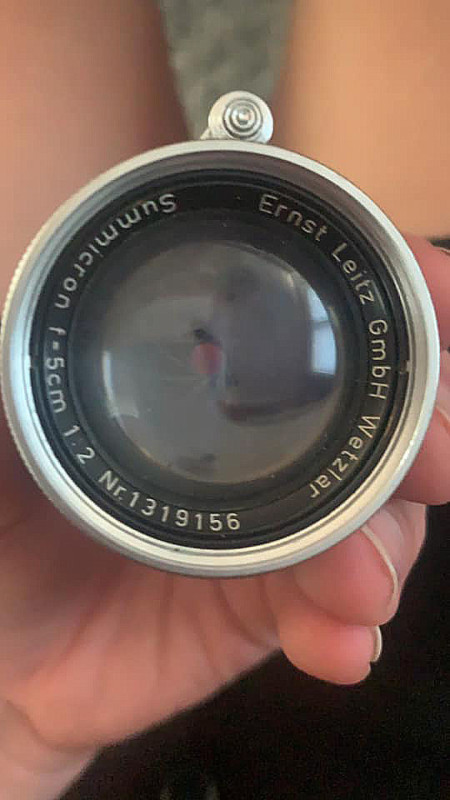 A few folks said he should return and give the seller more money.
To this Tyler replied: "I do honestly want to do that as I really had no clue what it was. I just wanted to get into film photography and my friend said this was a good brand."
As it turns out, Tyler is now the proud owner of a chrome 1968/69 Leica M4, complete with 35mm f/2 Summicron, 50mm f/2 Summicron and 9cm f/4 Elmar lenses, as well as an original Leica ITDOO lens hood, Leica meter, and leather lens and camera cases. The M4 body itself currently sells for as much as about $3,000 on eBay, the 35mm Summicron for $2,500, the 50mm Summicron for $1,500, and about $100 each for the 9cm Elmar and ITDOO hood.
Total value: $7,200+.
And what is Tyler's next move, now that he knows what he has?
"I may get it CLA'd as people have suggested and the [discussion] for Leica's has been a huge help," he says. "They went on video chat with me to help me make sure it's in working order."
And don't think this beautiful Leica outfit is going to an undeserving home.
"I do think I am going to give the church or whoever's it was some more money as that is the ethical thing to do," Tyler says.
---
P.S. Back in 2017, a college student photographer found a Leica M2 and 50mm f/2.8 lens at a thrift store for just $5.
---
About the author: Johnny Martyr is an East Coast film photographer. The opinions expressed in this article are solely those of the author. After an adventurous 20 year photographic journey, he now shoots exclusively on B&W 35mm film that he painstakingly hand-processes and digitizes. Choosing to work with only a select few clients per annum, Martyr's uncommonly personalized process ensures unsurpassed quality as well as stylish, natural & timeless imagery that will endure for decades. You can find more of his work on his website, Flickr, Facebook, and Instagram.