A Hands-On Field Test of the B&W-Only Leica Monochrom M
The Leica Monochrom M won't be hitting store shelves until August 29th, but Chris Niccolls of Canadian camera shop The Camera Store was able to get his hands on a pre-release copy of the camera to play around with. In the hands on field test seen in the video above, he shares some of his thoughts on the camera, and then invites some street photographers to use it and share their thoughts as well.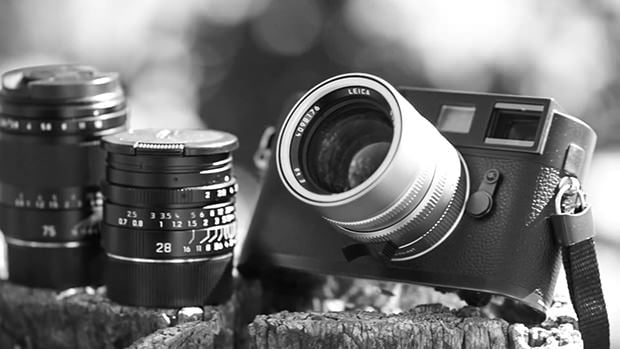 The 18-megapixel sensor inside the Monochrom M is made black and white only by eschewing the standard RGB filter found on traditional digital camera sensors. This omission provides the added benefits of better high ISO performance and sharper photographs.
One of the things Niccolls appreciates about the camera is that it lets him use old fashioned color filters on his lenses — filters that have been largely replaced by digital editing and the likes of Photoshop.
He also reveals an interesting feature offered by the camera that we hadn't heard of before: delayed camera noise for stealthier street photography. The feature holds back the camera's main shutter noise until after you release the shutter button. This allows you to snap a stealthy photo, and then walk a good distance away before allowing your camera to make its audible "click-whirr" sound.
Here are his parting thoughts:
It's the only camera on the market that shoots digital and yet lets us feel like we're shooting a film camera, and all the fun that went along with shooting a film camera: getting to see grain structure, getting to have different contrasts based on the choices you made at the time of shooting.

This is really bringing back an age-old nostalgic kind of photography into the modern age.
Even if you fall in love with camera, you'll need to part with one very pretty penny to own one once it's actually available — it has a hefty MSRP of $7,950.
---
Image credits: Photographs by The Camera Store