Glass is a Subscription-Based Photo Sharing App for Photographers
In the light of Instagram's recent statement that it is no longer a photo-sharing app, a new photography-focused, subscription-based community app has launched to support the art of photography through a distraction-free experience.
Fresh out of its private beta, Glass is live in the App Store, but is currently only available to iOS users. The company's decision to start off as an invite-only app is to ensure a quality experience, with interested users acquiring an invite either from a waiting list or from other Glass members who have invite codes to share.
The comparison to Instagram is inevitable, but the founders don't see themselves or Glass as a replacement for Instagram thanks to how differently the two companies operate and with their divergent goals.
The photographer-focused community and photosharing service primarily focuses on photos and on the art of photography. Glass welcomes both amateur and professional photographers, whether the user takes their photos with an iPhone or with expensive top-of-the-range equipment. The company hopes to build a community that is eager to learn, grow, and "generally nerd out about photography."
And we're live! Our first batch of invites have been sent out and we'll be rolling out more invites all the time. Here are the details. https://t.co/Rt1MLDPy2Q

— Glass (@tryglass) August 10, 2021
Founded by Tom Watson and Stefan Borsje, the company is independent and has not taken venture capital or outside funding. Because of this, Glass charges its users for its product: $5 a month or $50 a year or, at launch, $30 a year with a free 14-day trial available to new users.
Watson has been designing digital products for over 20 years now and was an early Product Designer both at Facebook and Pinterest.
"I saw the tradeoffs firsthand around having to design for engagement versus people using the product," Watson tells Om during an interview. "That experience made me want to build something different."
Having enjoyed the Flickr community in the late 2000s, Watson watched it die out and fracture and similarly, after Facebook's acquisition of Instagram in 2012, saw it shift away from its early photographer community roots.
"Even though we knew it was coming, it still hurt when it happened," he says.
He started early designs for Glass in 2013, but the project only began to materialize in 2019 when Watson and Borsje decided to build it together. The duo wants to focus on photographers and build a community and products specifically for them. This means avoiding advertising, engagement algorithms, video, and other directions that they both feel would compromise the product and the community.
Similarly, the app doesn't feature likes, in contrast to Instagram, and if a "like" feature is to be launched, it will be private, says Watson.
"We've intentionally avoided any public counts. We don't want Glass ever to become a popularity contest. We're not home for influencers. We are a home for photographers."
As it is now, the infrastructure of the app is kept simple to balance new users joining and scaling out as the app grows its userbase, using Borsje's prior experience building the backend that supports the prototype app Framer and working at Amazon Web Services.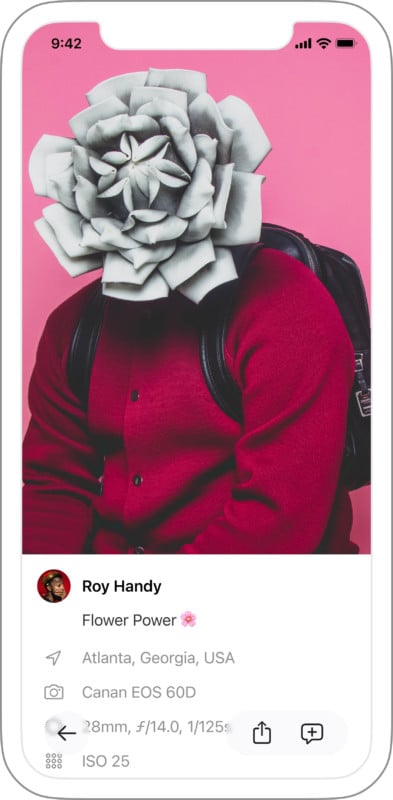 Another way in which Glass differentiates itself from visual content popularity apps is that the photos in Glass are viewed in full-screen and are not confined to a particular orientation or ratio, the app has color profile support, minimal compression, and shows EXIF data for those who are interested to see the image details.
The app is still in its early days and currently hasn't released any information about plans to introduce it to Android users, however, it gives photographers another alternative app to consider for sharing their work and engaging with the photography community.
The full interview with both founders can be found at Om and Glass can currently be downloaded from the App Store, but is currently closed to invite-only.