New Godox Macro Flash MF12 Can Combine Six Times Around a Lens
Godox, distributed under the Flashpoint brand at Adorama, has announced the new MF12 Macro Flash strobe. Up to six can combine together around the associated adapter ring to create a circle of shadow-free light for macro applications.
Individually, the MF12 is a small and lightweight flash designed for use in macro scenarios like with plants, insects, and some jewelry applications. Godox says that it performs this function well individually as it can work both off-camera and attached, but really stands out when combined with up to five others to serve as a multi-flash solution attached to a ring.
"Working as a multiple-flash solution when attached to the mounting ring, the MF12 expands its usage profoundly over the single unit," Godox says. "The combination can handle various scenarios easily depending on the number of flashes and the setup."
Godox shows that starting with two lights, the combination allows for a setup that is bright enough but not too bright to overshine insects or animals. But as more flashes are added, it greatly increases the light power and can illuminate larger spaces and reduce shadows on a subject. When expanded to six total lights, Godox claims the combination can be used as a strong ring flash, which "provides soft and even lighting."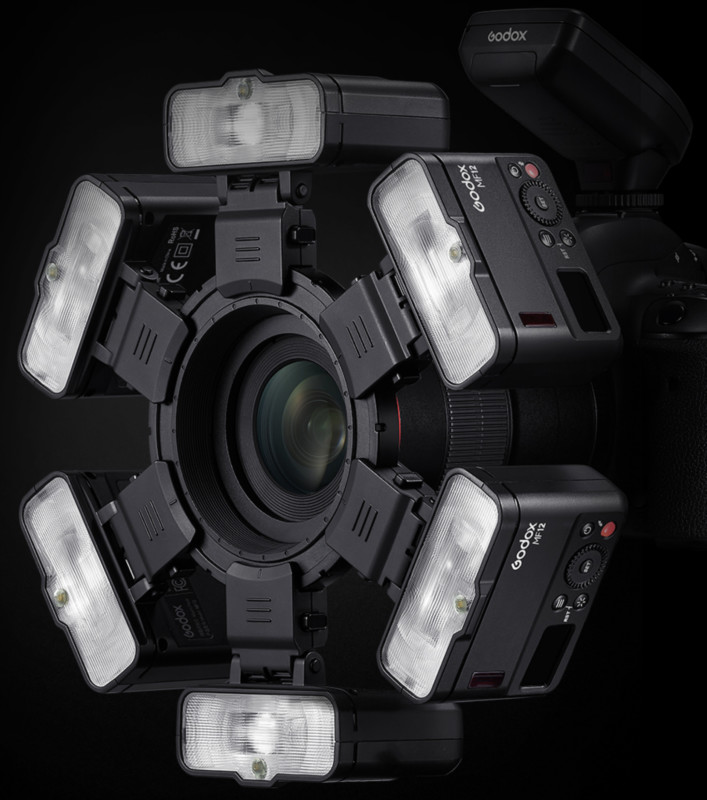 The company says that its ring adapter and multi-flash design features more control than a typical ring flash. Instead of always being forced to point the light in one direction, every flash can rotate to a different angle freely and slide around the mounting ring to different positions.
Each flash has its own built-in rechargeable (via USB-C) lithium-ion battery that has enough power to support 500 full-power flashes. At the low end, the flash will recycle in 0.01 seconds. At full power, recycling takes 1.7 seconds. All of the flashes are individually controlled through the Godox wireless transmitter which is sold separately. The mounting ring and adapter rings for mounting it to the front of a camera are also sold separately.
Each individual MF12 Macro Flash will cost for $109 and are available for pre-order. A full loadout of six macro flashes, the mounting ring, and the adapter ring set will run about $723. The flashes are expected to start shipping in October.