Testing Macro Diffraction and Bokeh of the Nikon Z MC 105mm f/2.8 VR S
Shortly after taking delivery of the new Nikon Z MC 105mm f/2.8 VR S lens, I made a series of photographs to test its diffraction and bokeh characteristics using the 45MP Nikon Z 7II camera in a real-world situation.

After manually focusing the lens, I locked focus and made a series of exposures. All exposures were made in aperture priority with the camera set to ISO 64. The camera was mounted on a
ProMediaGear TR344L
tripod with a
Really Right Stuff BH-55
tripod head.
The 14-bit losslessly compressed NEFs were processed in Capture One Pro 21, and the composite full-frame + full resolution cropped images were created in Adobe Photoshop CC 2021. The cropped views are roughly centered on the part of the flower I focused on.
At normal focusing distances, the f-stop scale runs from f/2.8 to f/32 but with macro-capable lenses at very short camera-to-subject distances, the maximum effective f-stop gets smaller. At the distance I focused for in this series, the maximum effective f-stop decreased (from f/2.8 to f/3.3) as did the minimum effective f-stop (f/32 to f/40.)
The f/stop readings are from the camera settings EXIF data.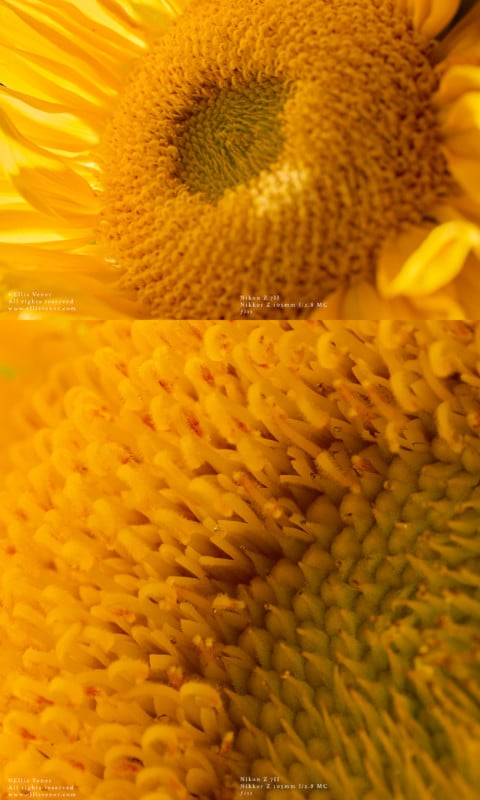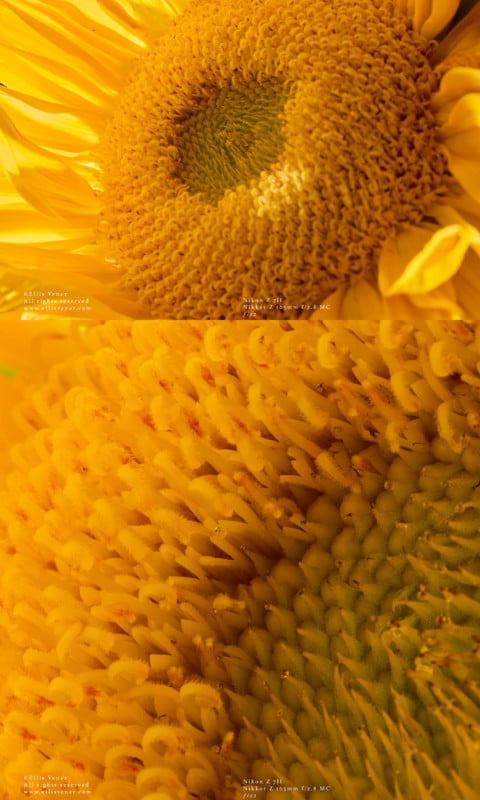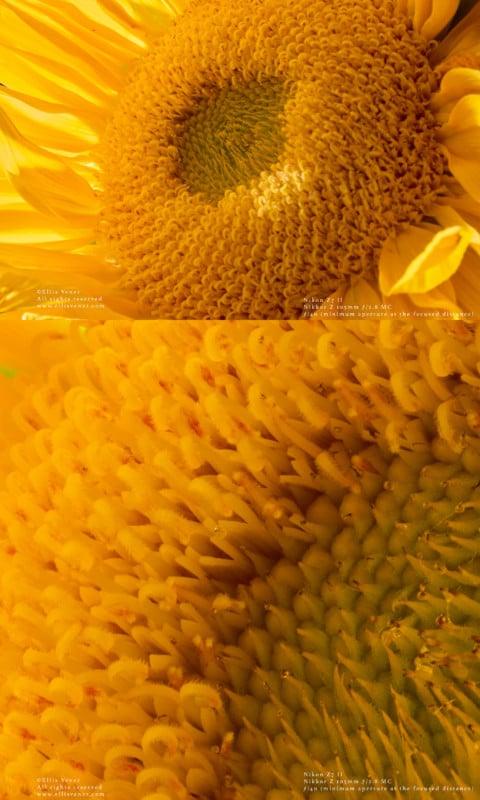 I was pleasantly surprised to see how sharp the lens could render detail down to the effective aperture of f/32, but even at a moderate print size like 10×15, f/40 remains usable. Usually, lens resolution really starts to fall apart by f/16 or f/22, even with other high-quality macro lenses I have used.
Bokeh, the transliteration of the Japanese language term for how a lens renders out of focus areas, remains smooth all the way down to f/32 but starts to get a just little choppy at minimum aperture. But what if you want even greater depth of field? You need to use a computational photography technique called "focus stacking."
---
About the author: Ellis Vener is a professional photographer based in Atlanta, Georgia. The opinions expressed in this article are solely those of the author. You can find more of Vener's work on his website, blog, Facebook, and Instagram. This article was also published here.