VuePoint's Full-Size Travel Tripods Weigh Less Than a Smartphone
New tripod manufacturer VuePoint has launched a travel tripod that it claims is lighter than most smartphones, yet can safely support up to three and a half pounds of gear.
The company's founder Matthew Carver says the new tripod weighs only 255 grams (9 ounces), can extend to 54 inches on the larger of the two models, has a touted three-second setup time, and has just a one-second tear-down time. The travel tripod legs are designed with a carbon fiber taper-lock that VuePoint says enhances the lightweight construction of the unit while also ensuring it will stay securely in place during use.
The system also uses aluminum and titanium bolts to help keep the weight reduced and uses a kevlar weight hook for adding stabilization to the base of the tripod once it is set up. The company says it eliminated the normal center column most tripods have in order to reduce the weight even further and free up space for the upper leg components.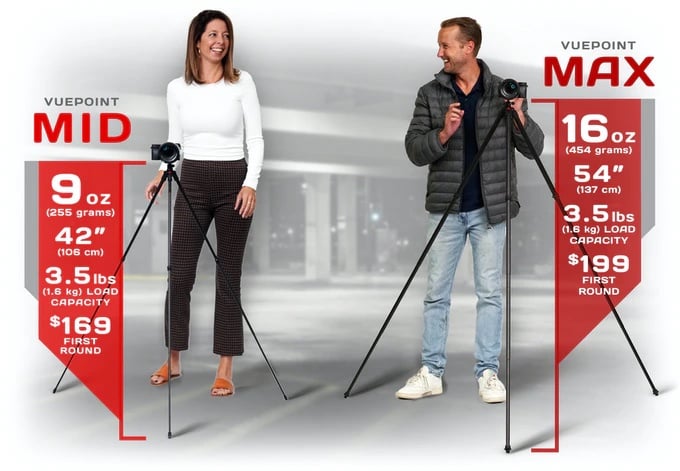 Carver says during development that "there were sacrifices made along the way" as the team deliberated what they absolutely needed in a travel tripod and what they could "throw out." Since the carbon legs lock by a tapered twist section, there is less adjustability than typical tripods, a decision that was made to optimize its weight and size.
The "Mid" version of the tripod has three sections while the "Max" version has four. The VuePoint team also says that the tripod is not meant to be used with heavy gear or in high wind conditions as it will not be as stable as bulkier systems. While not being able to make micro-adjustments to individual leg lengths is not ideal, the company argues that this is worth it for those who are hyper-conscious about size and weight savings.
It is worth reiterating that the company is very clear about the types of cameras that this tripod should be used with and the limits of its carry capacity. It is not intended to be used with large camera systems or heavy telephoto lenses, but instead with any combination of systems that weighs no more than 3.5 pounds, and even the higher end of that weight might be somewhat inconsistent.
A tripod that can't carry much weight and lacks many of the "standard" features might be a dealbreaker for serious photographers, but VuePoint is targeting mainly climbers and backpackers who are photographers on the side. For this audience, it's more important to reduce weight as much as possible at the cost of features and usability. As long as it will work in most circumstances for specific small cameras and lenses — the only options for backpackers who are serious about weight anyway — it will do the job.
The VuePoint tripod is available to back on Kickstarter starting at $169 for the Mid 42-inch tripod that includes a lightweight ball head and can grow as expensive as $219 for the VuePoint Max which includes the 54-inch tripod and a lightweight ball head.
All versions ordered through Kickstarter also include additional bonus phone and action camera mounts. Shipping of the first round of tripods are expected to start arriving this September.
---
Disclaimer: Make sure you do your own research into any crowdfunding project you're considering backing. While we aim to only share legitimate and trustworthy campaigns, there's always a real chance that you can lose your money when backing any crowdfunded project.