The Wonderful Widelux Panoramic Camera: Jeff Bridge's Love Affair
It is rare that one brand of camera becomes seriously associated with a single celebrity as Academy Award-winning actor Jeff Bridges is with his Widelux panoramic camera.

Jeff has been a master of the Widelux for years and has
created an iconic, behind-the-scenes, super-wide, and inside look at the world of movie making
. The Widelux has been the perfect format to photograph movie sets like
The Big Lebowski
,
True Grit
, and the
Tron
movies as the Widelux aspect ratio so closely mirrors our widescreen movie experience.
Here is some background from the introduction to his book, Pictures by Jeff Bridges.
For more than twenty years, on dozens of film sets, Bridges has perfected his own photography, shooting between takes and behind-the-scenes with a Widelux F8 camera. This fascinating, surprisingly candid body of work began as a personal project, as he recorded the arduous, emotionally intense, evanescent work of the film shoot in books that were privately printed and given as gifts to cast and crew. These are not traditional "Hollywood" pictures, but rather—despite the costumes and lighting, the crowds of extras, the stardom of the subjects—pictures of friends at work. Taken together, the pictures act as Bridges' personal and professional diary, with actors, directors, and crew appearing as coworkers, all equal participants in the job at hand.
Jeff and Me
I have been shooting with the Widelux F7 model since the 1970s. Like Bridges, I saw the camera as a unique people and portrait camera. A camera that gives a very broad sense of space and, importantly, the environment to the personal portrait. A camera whose visual field of view closely mirrors how we physically see our world.
I became aware of Bridge's work because of how rare it is to see people using this camera for portraiture. If you scan the history of Widelux photography, you will see the camera used primarily as a landscape tool. I always found this use unfortunate since the usual landscape-only approach felt very limited.
On a personal note, a few years ago I wrote Jeff to give him some kudos and sent along a couple of my Widelux portraits. To my surprise, I heard back from his assistant who asked me, then living in Oregon, if I ever made it down to L.A., as Jeff would like to meet me to talk about the camera. Wide guy to wide guy. The idea of going down to L.A. to meet Jeff thrilled my teenage daughter who was a mega-fan of "The Big Lebowski". As fate would have it, whenever I was in L.A. on business, Jeff was on a remote set somewhere else in the world.
Going further down the filmmaker trivia road, Stanley Kubrick, the director of 2001: A Space Odyssey, was also a fan of the 35mm Widelux. It is notable that this highly spacial movie was made for the very wide screen and was filmed using 65mm film with a frame size of 70mm.
The Camera
The Widelux was introduced by Japan's Panon Camera Shoko in 1958 and ended production in 2000. It has been produced both as a 35mm and a 120mm camera.
It is a mechanical film camera that uses a unique fixed focus 26mm swing lens with a slit that pivots and acts as the shutter. It has a 126-degree field of view (not the listed 140 degrees) with an image size of 24x59mm. The negatives are 2 times the width of a standard 35mm frame.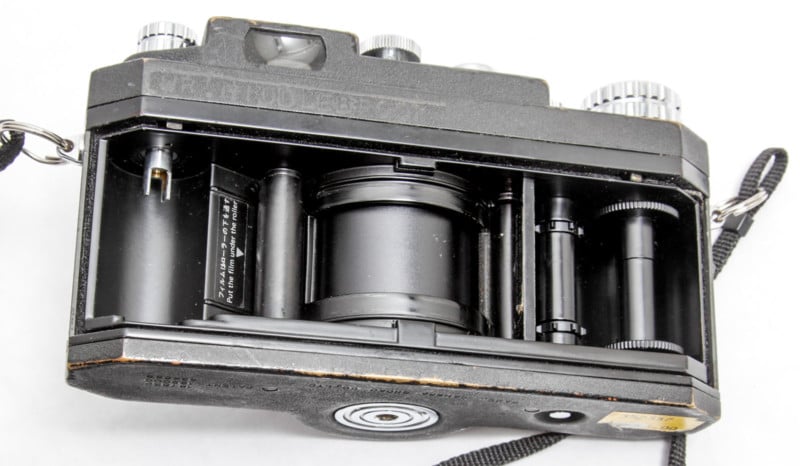 The Widelux is a very simple viewfinder camera as it has only three shutter speeds: 1/15, 1/125, and 1/250 plus f-numbers from 2.8, 4, 5.6, 8, to 11. There is no exposure meter, focus system, or flash. In fact, the viewfinder is virtually useless. It is better to use your own field of vision and occasionally the arrows on top of the camera to shoot.
I bought my Widelux F7 new in the mid-1970s. It is one of a series of 8,000 that was produced between 1975 and 1988. In total, Panon produced approximately 21,000 units.
Today, a used Widelux in good to excellent condition costs approximately $1,000 to $1,500.
My Widelux F7
I immediately realized that a Widelux was a camera that could make a photographer stand out from the pack. While my friends were running around with Nikons and Leicas, I had a camera that often made people stare at me and ask, "What the hell is that?" Without question, this interest has helped me get to a more personal connection with my subjects.
In recent years, I have used the camera primarily in trips to Asia including capturing the tiny world of small retail shops in Japan, a series on the squatters who lived in Phnom Penh's The White Building (where outdoor stairways framed every image), Muay Thai boxing in Bangkok, people on Hanoi's railroad tracks and bridges where the industrial geometry framed every image. I also shot a magazine series at an indoor rodeo in Oregon where I could fill the frame with a bull and rider. The camera works well in tight spaces where every inch can be controlled.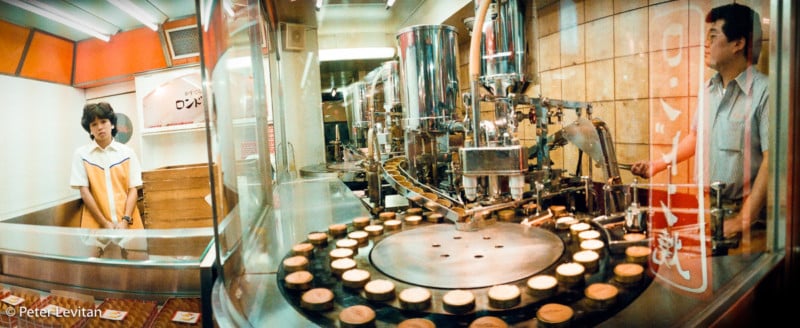 The Pros and Cons of The Widelux
The pros far outweigh the cons for this special camera. However, this is not a whip-it-out camera like an iPhone. Using this mechanical camera takes some thinking.
Pros
The Widelux is seriously unique. Carry it and you will look like a pro.
It is gloriously simple to shoot. No menus of dozens of digital options that you will never use. You will usually need a light meter however.
It is virtually distortion free considering how wide it shoots.
It is a film camera, so it gives you sweet images.
You can look like a Dude just like Jeff Bridges.
Cons
The camera isn't inexpensive. And film and processing can add up.
It has aperture and shutter speed exposure limitations. Shooting in low-light conditions is difficult, if not impossible. The only way to shoot outside of the camera's exposure range is to use an LED light source.
The camera requires occasional service as it can show some banding if the slit does not rotate smoothly. This requires professional repairs and can get expensive.
The Widelux is a film camera. Despite film's aesthetic benefits, film takes more time, and effort at that higher cost. Of course, if you are a movie star, you can just hand the film over to your assistant.
Back to Jeff Bridges.
I suggest you visit his website and watch his video on The New York Times Lens blog.
---
About the author: Peter Levitan began life as a professional photographer in San Francisco. He moved into a global advertising and Internet start-up career. Peter photographs people around the world using a portable studio and his Widelux. This is his excuse to travel and meet people.
---
Image credits: Widelux camera photographs by Kenneth C. Zirkel and licensed under CC BY-SA 4.0