Drop-In Filters for Canon RF Adapter Add Swirly Bokeh to Any EF Lens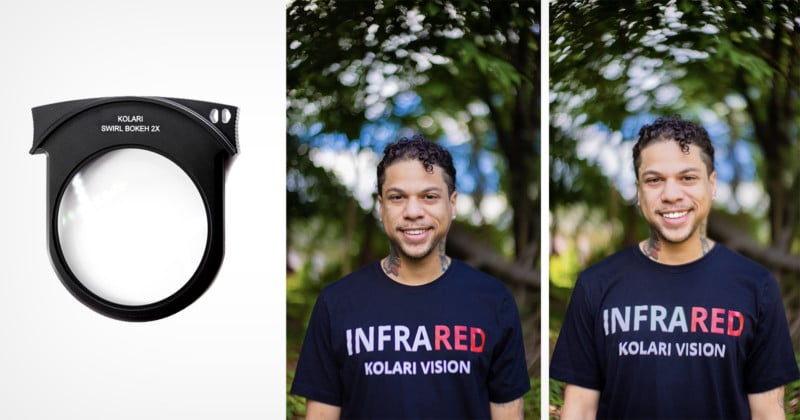 Kolari Vision has developed a filter that works with Canon's EF to RF adapter with support for drop-in filters that can add a swirly bokeh effect to any EF lens. This would theoretically let those who enjoy the unique bokeh of lenses like the Petzval 80.5mm or 55mm achieve that effect with any EF lens.
Kolari Vision says that its new Swirl Bokeh filter is capable of producing "dreamy blurred backgrounds" for photos where the photographer is trying to create a different look to a portrait or just wants the subject to stand out more prominently from the background. The filters are designed to be used specifically with the Canon EF-EOS R Drop-In Filter Lens Mount Adapter and would give the swirl bokeh effect to theoretically the entire lineup of EF lenses when combined with an RF-mount camera.
According to Kolari Vision, the term bokeh comes from the Japanese word "bokeru," which means blur or haziness.
"In modern photography, it directly refers to the way the out-of-focus areas of an image are rendered by a lens. The 'swirl' bokeh effect is usually the result of a defect and poor focusing on a specific lens. Modern professional lenses are not affected by these defects and will never produce the rare 'swirl' bokeh effect," the company writes.
Modern photographers who want an unusual out of focus area now either seek vintage lenses that can be adapted to modern cameras, or they have to purchase standalone new optics that have been specifically designed to grant the unusual bokeh swirl. As mentioned, Lomography has recently released two Petzval lenses that were made to mimic the swirl effect for modern cameras: the Petzval 55mm f/1.7 Mark II Bokeh Control Art Lens and the Petzval 80.5mm f/1.9 MKII Bokeh Control Art Lens. Neither is particularly expensive, but both do limit the photographer to one specific focal length.
"Many photographers chase the rare classic swirl bokeh effect by purchasing older, vintage lenses but there is now no need to purchase additional lenses as long as you have Canon's RF to EF Drop-in Adapter and our Swirly Bokeh Drop-in Filter," Kolari Vision writes.
The Swirl Bokeh Filter is currently available in two variations that offer two levels of swirl "strength." The company says that the 1x variation will produce a "great" swirly bokeh while the 2x produces "a more dramatic iteration of the effect."
Below is an example of a photo taken with the Canon EF50mm f/1.4 USM adapted to the EOS R5 with the drop-in filter adapter, but with no filter in place:
The image below uses the 1x filter:
And this last photo uses the 2x filter:
Below is a side-by-side with all three to better show the difference in swirl intensity. There does appear to be a tradeoff of sharpness for a more intense bokeh swirl: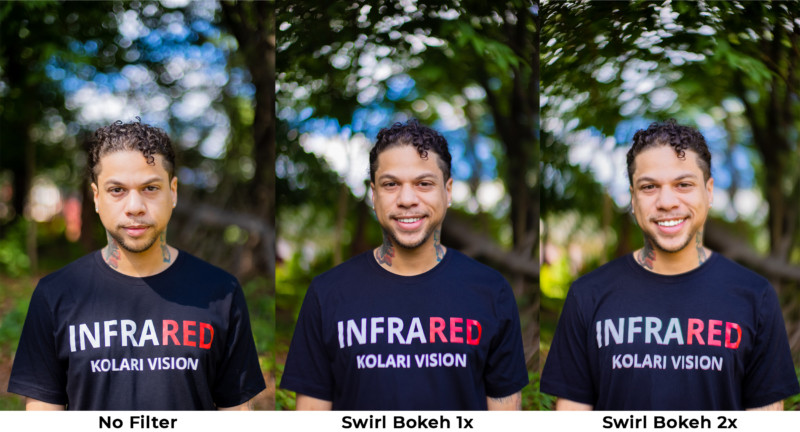 The 1x and 2x filters can each be purchased for $100 or both can be purchased together for $150 on the Kolari Vision website.