Photobook Collective is An Online Marketplace for Photo Book Enthusiasts
Photobook Collective is a new website for photo book enthusiasts, where they can browse, buy, and sell in a community that is specifically designed to tailor to the niche needs of collectors.
According to one of the founders, Harry Bisel, the website is a member-based community that provides a number of unique and valuable benefits while addressing some of the pain points collectors currently encounter on larger general-purpose marketplaces and auctions sites.
While many creatives will buy photobooks from artists simply because they are inspired by them, these collections of printed art have become a hot commodity in recent years. Photobooks are expensive to produce and often the demand for them is rather low at the time of publication, which means the number of any given book in circulation is quite small. Add in the further reduction of inventory due to damage or loss, and the scarce works of art can quickly become collector items that can suddenly increase in value.
As reported by The Guardian, these books can double or triple in price quite rapidly, and if the photographer happens to gain notoriety after a limited publication run, the value of the book may increase even more. For collectors, that means finding a specific book is often quite difficult, or even if they can be located, expensive. When seeking some of these older books on sites such as Amazon or eBay, the listings may only include stock photos (if any images at all), poor descriptions, the books may be in poor condition or are shipped improperly, and often times can be wildly overpriced due to the platform on which they are listed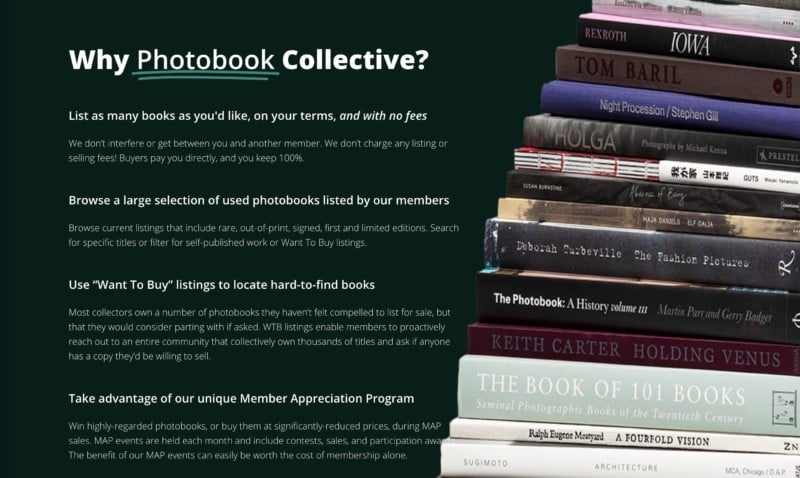 According to Bisel, since this site is dedicated exclusively to photo books, it provides a much more robust experience for collectors. He also says that members of Photobook Collective can buy, sell, and trade photobooks directly with each other, on their own terms, and with no listing or selling fees which eliminates the cost of selling and the risk of buying on some of the larger marketplaces. The service also includes the ability to receive payment directly from the buyer for any book sold and keep 100 percent of the proceeds.
The listings will supposedly show information designed specifically for photo books with details and information standards most collectors will be familiar with including multiple images of the actual book listed and the ability to communicate directly with the seller should the buyer have additional questions.
"This project has been a real labor of love for me. More than three decades ago I discovered photo books and began to consume the work of so many great photographers," Bisel says. "I was offered my first job as a studio photographer, not because I had any experience or formal education, but because of all I was able to learn from those books. For the past several years though, I've had a growing concern that many people won't have the same access – especially to newer work that I did. Shorter print runs and an increasing awareness of the collectible status of photobooks have impacted the availability and affordability of many great new releases."
Additional features include the ability to create a "want to buy" or wishlist so that other members in the community may be able to help locate these hard-to-find titles, regularly held sales, contests, and even rewards that include rare or very collectible titles. Members can even list their own self-published photobooks and zines through the site.
Membership to the site costs $5 per month (or $50 per year) that helps cover the costs of maintaining and improving Photobook Collective and sourcing new photobooks for the giveaways or member discounts.
"One purchase of a book from the Photobook Collective library can easily result in saving more than the cost of an annual membership, and for most collectors, the Member Appreciation Program alone should be of much greater value than the small fee we charge to be a member," Bisel says.
At the time of publication, the collective has approximately 120 photo books listed, with more being added as new members register on the site. The company says they will also put a selection of books on sale at significantly reduced prices each month so that more people can afford to purchase them.
---
Image credits: Header photo licensed via Depositphotos.