Some New Apple M1 iMacs Are Arriving Crooked: Report
Some new M1 iMac owners are reporting that their computers arrived from Apple with crooked mounts. The amount that the monitors are off-kilter varies, but some are rather extreme. One YouTuber, Faruk from iPhonedo, shows that in his case it was particularly bad.
Faruk notes that his iMac mounting was so crooked that he returned it and will have to wait until the end of July for his replacement unit. On one side of the monitor, the base of the iconic "chin" was seven centimeters above his desk. On the other side, it was eight centimeters. While the difference of one centimeter may not sound like a lot, it is very obvious when looking at the computer straight on.
The crooked mount of the stand became obvious to Faruk after he unboxed it and set it up for his set of beauty shots that he planned to use for his review. Below is an image straight out of Faruk's YouTube video, which shows the monitor set up on a desk.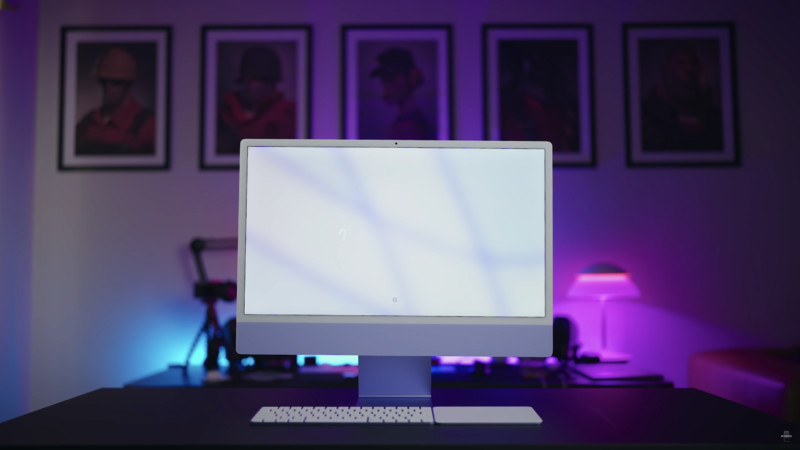 The image below has a series of lines added in order to illustrate the tilt. The red lines are aligned with the top and bottom of the monitor. The blue lines are perfectly perpendicular to the image. The green line is aligned with the keyboard and desk and is also perpendicular to the image, added to illustrate that the issue is not due to lens or perspective distortion. Faruk shows additional examples in his video to back up his case.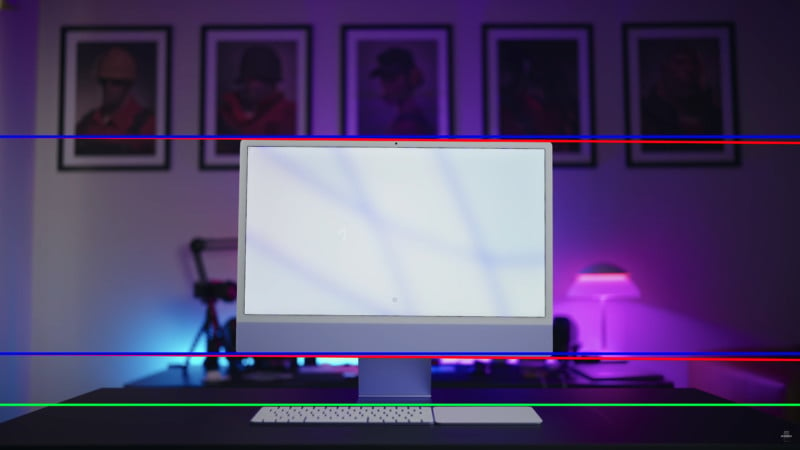 In the Apple subreddit, at least one user reports that after seeing Faruk's video, they too have noticed the tilt.
"Checked mine after watching this and it's also crooked," Reddit user synchronicityVII writes. "Not to the degree of his, but not completely level either. I'm outside of my return window and I can't take the time hit of not having a machine to work on for a month. It's super disappointing that Apple of all companies is shipping units with such a basic oversight."
As noted by FrontPageTech, a user on Apple's official forums has reported the same issue.
"Hi, I got the new iMac M1 24 Inch today and I was feeling the screen was crooked in the right bottom," user pierreokivier writes. "1mm is not much but enough to feel it, anybody else got the same problem?"
While the problem does not seem widespread at the time of publication, Faruk's issue does not seem to be a one-off to him. The mounting system on the back of the iMac uses seven screws to hold it in place which could theoretically be adjusted by the user. As noted, Apple will replace affected units if the issue is noted within the return window and the company's product warranty likely covers repairs beyond that. Still, it is unfortunate that this is an issue for some at all.