Google Pixel Devices Get 'Night Sight' Support for Videos… Kind Of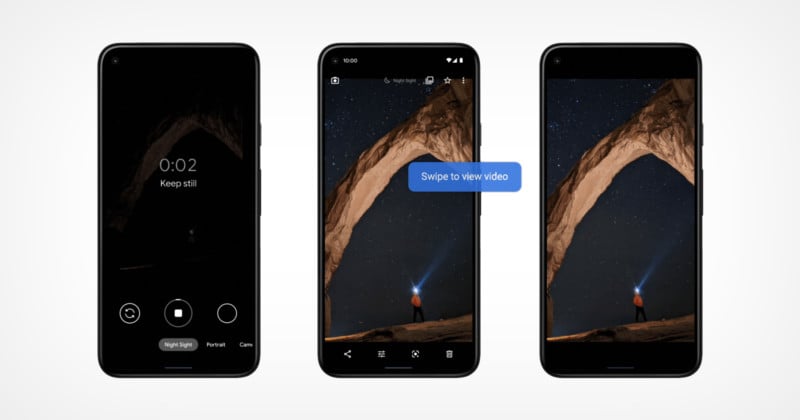 Google has announced that Night Sight, its low-light photography feature that is commonly used for astrophotography applications, is getting video support. While it is technically a video, more accurately it is a stitched animation that is generated from a burst of still photos.
Pixel Owners can now create videos of the stars moving across the sky all during the same exposure as they capture photos. Google says that once a photo is taken using Night Sight, both the photo and video will be saved in the camera roll. In the gif below that illustrates how the feature work, the "video" support is more akin to an Apple Live Photo, and just shows a bit of motion that is captured over the course of the photo exposure.
It's not likely considered to be a groundbreaking addition, but it's a nice touch that allows users to get more out of a Night Sight photo opportunity without any additional effort.
Google also announced that the Locked Folder in Google Photos that it announced as part of Google I/O last month is rolling out to all Pixel users. Designed to be used with photos that "need a little extra privacy," a new Locked Folder can be created where they can be securely stored. What constitutes a photo that would need this level of privacy was described as photos of receipts or images of gifts. Whatever they might be, photos can be stored in a Locked Folder directly from the camera.
"They're saved on your device and won't show up in shared albums, Memories or any other apps on your device, and can only be accessed using your device passcode or fingerprint," Google says.
In the gif below, Google demonstrates how to use the Locked Folders feature.
Google also unveiled a few other enhancements to the Pixel ecosystem such as new wallpapers and ringtones designed to celebrate Pride and improvements to Google Assistant. Google Assistant can now answer or reject a call with voice alone and gets smarter copy and paste tools thanks to an enhanced clipboar. Google also announced that call screening is a feature coming to Japan and Recorder — an app that transcribes audio into text — is available in several additional English dialects Singaporean, Australian, Irish and British English and will roll out to all Pixel 3 or newer devices by the end of July.