Macro Photos of Freezer Ice Accumulations Reveal Beautiful Shapes
After a series of experiments, an art director has created a macro photo series of ice crystals after he happened to notice the interesting way they formed on the inside of his freezer.
Montreal-based Christopher Dormoy has previously shared his ice-based photography and video work with PetaPixel. In 2020, during the pandemic, Dormoy created "Black Ice," a visually soothing timelapse that combined ink, ice, and flowers.
During a break Dormoy took from a separate, ongoing project, he was cleaning out his freezer when he noticed the ice crystals that had formed on the interior walls, which he says spurred him to set up his camera to photograph them. As the project progressed, he used a small freezer that he dedicated to these experiments, which he says required "a lot of hours of exploration" using a mixture of time, ice, nature, and light.
Dormoy tells PetaPixel that he is always inspired by the saying "finding extraordinary into the ordinary is never easy," which is part of what attracts him to motion timelapses that "bring a completely new way to see the things around us." His fascination working with ice stems from it being a natural element that can evolve and morph "in a very organic and unpredictable way."
Using a Nikon Z7 with Laowa 24mm f/14 2x Macro Probe and a simple LED flashlight, the art director created a series of close-up images that he never planned to capture. As the freezer was in a warm area, the ice melted faster than he had anticipated, which meant that the shoot had to be quick.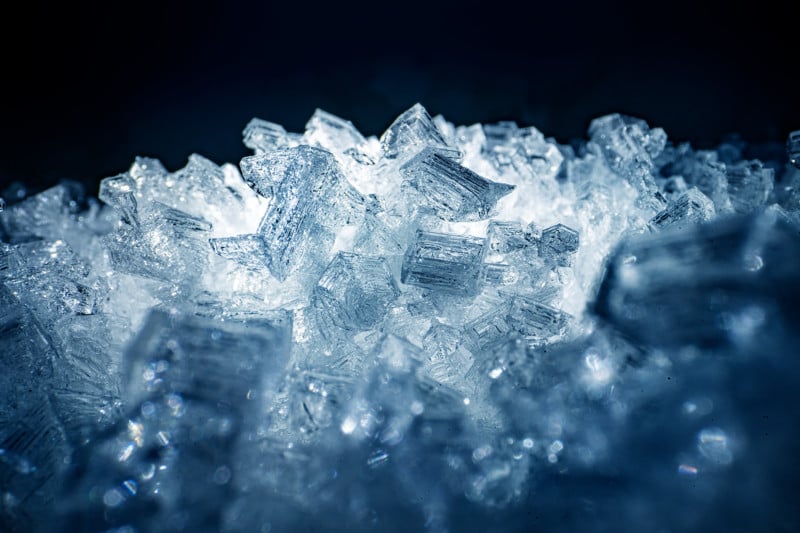 The resulting images show ice crystals up close in their various shapes as they are on the edge of breaking down, illuminated by light which reveals the fine details.
Although Dormoy has gathered experience working with macro projects, he tells PetaPixel that he is still refining his way to "reveal the ice," especially after he received comments from his first ice project that he shared. Combined with the ongoing development of technology and equipment, the art director is always looking for originality as he explores various subjects and learns along the way.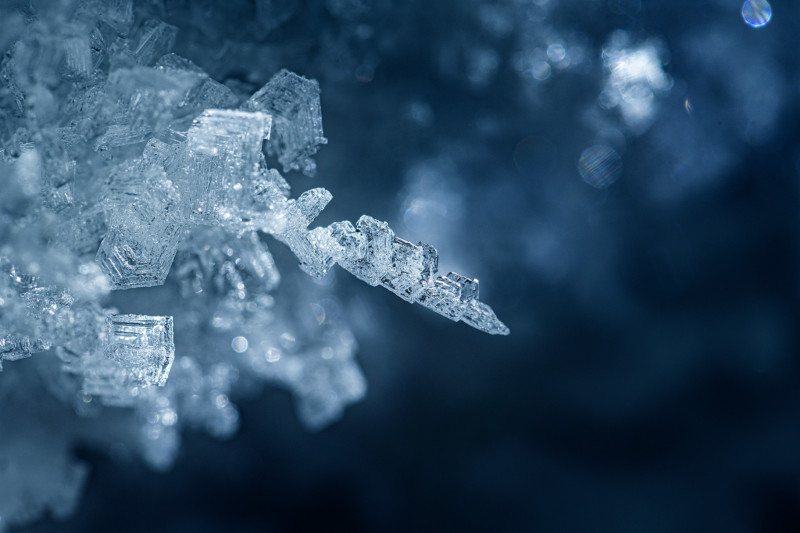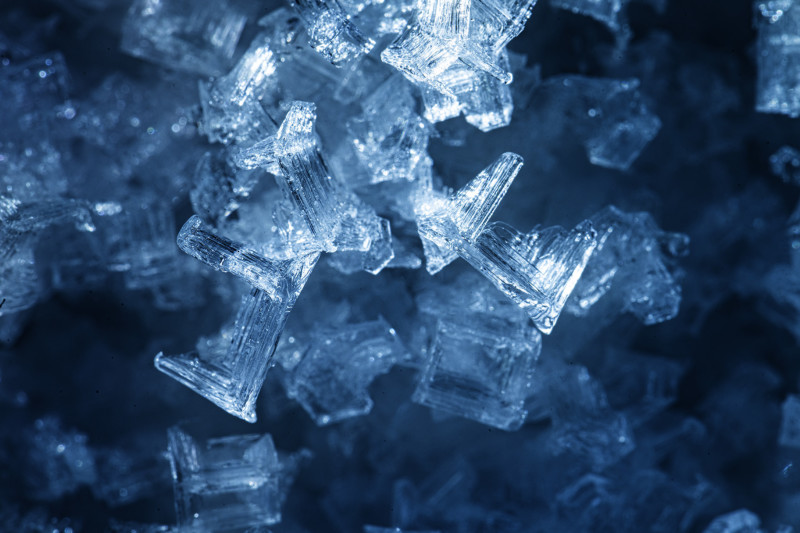 For other photographers looking to work with macro subjects, Dormoy recommends investing in a good lens first and foremost.
"To capture the maximum of light and details, don't hesitate to spend money," he says, specifically referencing optics.
Similarly, the camera should have a good sensor that is sensitive to the light because "in macro photography, light and aperture are key elements to realize sharp and vibrant shots." While in regards to video work, working with light can be more difficult because it can be less powerful than shooting stills with speedlights.
Dormoy uses a Nikon Z7 for his photographic work and a Z6 for video. The latter he also combined with Atomos Ninja V, which allows shooting in ProRes RAW video format for additional post-processing flexibility.
Depending on the type of shoot, he uses small and medium-sized LED panels with softboxes, as well as LED tubes which allow creating different reflection effects on ice. He recommends having a powerful light source with adjustable light temperature.
As for now, Dormoy is exploring new ways to experiment with ice and tells PetaPixel that he also has a documentary channel interested in his ice exploration work, and is sure to showcase his projects in the future.
More of Dormoy's photo and video work can be found on his website, Instagram, and Vimeo.
---
Image credits: All images by Christopher Dormoy and used with permission.