Photographer Snaps Bird Catching a Ride on Bigger Bird's Stick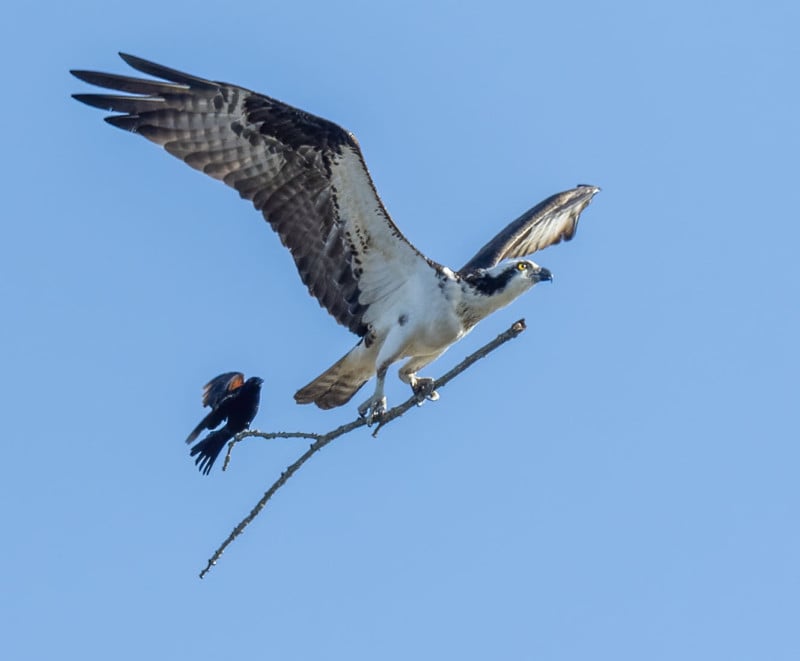 A wildlife photographer in Michigan has captured a strange once-in-a-lifetime shot of a small bird catching a free ride on a larger bird's stick.

Photographer
Jocelyn Anderson
was recently photographing an osprey (AKA sea hawk) at a pond when the curious encounter occurred.
"I'm a wildlife photographer in southeastern Michigan that is a big fan of birds," Anderson tells PetaPixel. "I recently watched an osprey flying along the far edge of a pond and noticed that the osprey had picked up a follower, the red-winged blackbird.
As Anderson kept her lens focused on the two birds, she watched the smaller bird go on the offensive against the larger one.
"Red-winged blackbirds are fiercely defensive of their nests and will attack much larger birds in order to keep their young ones safe," the photographer says. "The osprey was carrying a large stick for nest renovations, and as the pair flew closer I could see the blackbird weaving and calling at the osprey.
"At one point the Blackbird looked like it landed on the large stick, taking a rest from all its maneuvers. I was surprised at how far the blackbird followed the osprey from its original nesting location — maybe it was enjoying the free ride!"
Perhaps this was the beginnings of a new bird ridesharing service, or maybe the birds were doing their best to reenact a scene from the movie Kiki's Delivery Service:
Wildlife photographs are often the result of a mix of skill, knowledge, preparation, and luck. Back in 2018, a Florida wildlife photographer captured a remarkable shot of an osprey carrying a shark that was carrying a fish.
"I try to get out as often as I can to take pictures; you never know what will happen on that day," Anderson stated in a 2018 interview with GlaszArt. "I'm always looking to learn more about nature as I find my photos improve the more I learn about my subject."
You can find more of Anderson's work on her website, Facebook, Twitter, and Instagram.