Photographer Highlights Interconnectedness Through Mixed Media Project
Documentary photographer Jody MacDonald collaborated with six other artists across the globe to create a piece of visual work that challenged their creativity. The finished mixed media piece was designed to show the interconnectedness of the world despite the global pandemic.
Jody MacDonald, who is an experienced and published documentary photographer and has traveled to over 90 countries, remotely collaborated with six other artists of different abilities and perspectives to create "The Living System," above, a visual piece that explores art, nature, and technology.
All seven artists are ambassadors for Z by HP, which is a series of professional workstation solutions developed by the computing company, and collaboratively came to conclude that, especially during the pandemic, nature has played an ever-growing role in our lives and, subsequently, we all contribute to taking part in what MacDonald refers to as "the bigger living system."
This idea of interconnectivity is what brought all seven creatives together to work on something that not only expresses their vision and ideas but also challenges them to use methods and skills they haven't used before.
Besides MacDonald, this creative team was made up by Alex Trochut, a digital creator, Bradley "Gmunk" Munkowitz, a visual design director, Nidia Dias, a freelance art director and designer, Orlando Arocena, an artist and designer, Rik Oostenbroek, also an artist and designer, Shane Griffin, a visual artist and director.
"This past year we were asked to work on a project that would push against our artistic boundaries and explore our crafts but in a collaborative way," MacDonald explained to PetaPixel, which in this case meant remote teamwork due to the pandemic.
Each project participant undertook individual tasks within the larger project that required them to learn something new or challenged what they already knew. For example. MacDonald had never flown a drone before, let alone used one to capture footage for a project.
The ideas of what the group was going to make arose from initial brainstorming sessions, vision boards, and abstract concepts, and were slowly narrowed down until they began to come together as one coherent piece. The team communicated and gave each other feedback each step of the way to ensure that everyone's chosen medium links in with the rest of the team's work.
The photographer explains that as the work progressed, each creative added images to the initial moodboard of what each of their sections could look like and, during Zoom meetings, the team would go over it to see how all the ideas could work together.
"We also had an amazing producer that helped each of us think beyond our own limitations, which was really important, especially when so many people involved all work so differently," MacDonald says.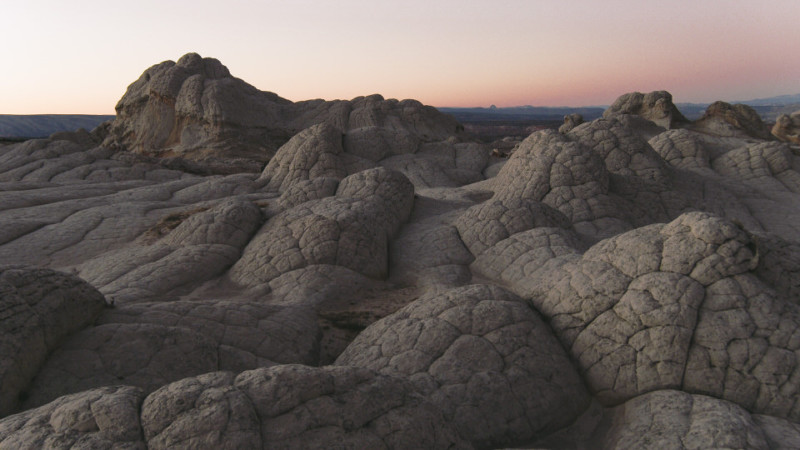 Although the final piece was a combination of everyone's work, each artist was responsible for "pursuing their creative freedom within their own section of the film," with MacDonald's role being responsible for filming an "otherworldly landscape with textures and colors that could be transformed into a digital space that the other artists could work with."
Usually, MacDonald documents people, places, and adventures in the natural world but through this project, she turned her lens to the local landscape and created video footage filmed with a drone. Adding to the challenge of using a tool she had never used before, her footage had to be combined with other digital mediums that were created by the rest of the team. MacDonald says that this was also the first time she used Adobe Premiere Pro in a project.
Detailed info on all of the artists involved and the project can be found on Z by HP website, while MacDonald's photographic work can be seen on her website or Instagram.