This is How a War Photographer Transmitted Photos from Afghanistan in 2008
Want to see how a New York Times war photographer transmitted photos from Afghanistan back in 2008? Here's an interesting 14-minute documentary that shows the workflow photojournalist Tyler Hicks used while covering the war in Afghanistan, where he had to prepare and transmit digital photos from one of the most unforgiving places on Earth to a Times photo desk in New York.
Hicks is a senior photographer for the Times who went on to win the Pulitzer Prize in breaking news photography in 2014.

The footage was recorded by journalist
Bill Gentile
, who was embedded with the 24th Marine Expeditionary Unit (24thMEU). At the time, Gentile was working on a piece in Afghanistan's Helmand River Valley, along the border with Pakistan, for NOW on PBS. Titled, "Afghanistan: The Forgotten War," the piece was nominated for a national Emmy Award.
"The video of Tyler Hicks illustrates the technology that has revolutionized the craft of visual journalism," Gentile tells PetaPixel. "More importantly, it gives viewers a sense of how professional, articulate and dedicated some of the practitioners of our craft can be."
"Tyler Hicks is an extraordinarily talented photojournalist and a role model for all who want to devote themselves to the craft."
If you ever get frustrated with shoddy Internet connectivity while tethering with your phone, wait till you see what Hicks had to work through. Battery life is always a concern (transmitting photos saps a huge percentage of the laptops battery), and that's made trickier with the fact that you need to find a good line-of-sight connection to a satellite with a special Internet device for the field.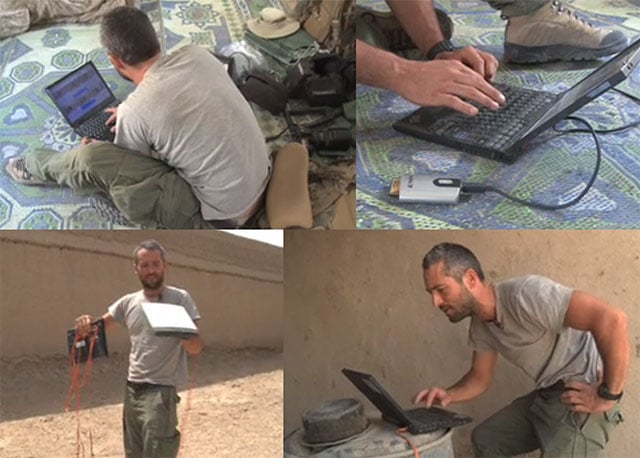 Bill Gentile is an independent journalist and documentary filmmaker teaching at American University in Washington, DC. His career spans four decades, five continents and nearly every facet of journalism and mass communication, most especially visual communication, or visual storytelling.
He is the founder and director of American University's Backpack Journalism Project, and author of the "Essential Video Journalism Field Manual." In 2015, he engineered the School of Communication's partnership with the Pulitzer Center on Crisis Reporting and is the driving force behind that initiative.
(via Backpack Journalist via ISO 1200)