Great Reads in Photography: April 25, 2021
Every Sunday, we bring together a collection of easy-reading articles from analytical to how-to to photo-features in no particular order that did not make our regular daily coverage. Enjoy!
---
Into the Wild with India's Snow Leopard Man – The Vibe
Ismail Shariff is a wildlife and nature photographer from India specifically interested and even obsessed with the elusive snow leopard.
5-Minute Sunday Interview:
Phil Mistry: What is the secret to successful snow leopard photography?
Ismail Shariff: It's knowing and studying them in the field, which means you must spend hours in harsh temperatures. It's easier to spot them in the winter because of the ease of seeing and following their pugmarks (footprints). Once you see the pugmarks, you can ascertain whether it's male or female and possibly from which direction it can come out. Snow leopards take their time navigating through the snow and looking for gorges, crevices, and small cave-like areas in the mountains to hide from the cold and to take naps. Once you know their behavior and patterns, it isn't that difficult to see them in the wild but definitely not in just 4-5 days.
PM: What advice would you give any US wildlife photographers coming to India to photograph snow leopards?
IS: Please do not come for a week or ten days! Considering that you will be traveling so far, and living in extreme conditions, and possibly and hopefully carrying some serious gear with super telephoto lenses, my recommendation would be a minimum of 15 days. This increases not only your chances of snow leopard sightings but also the possibility of perhaps seeing them in action, like a possible hunt or mating, or maybe even cubs interacting with parents and siblings.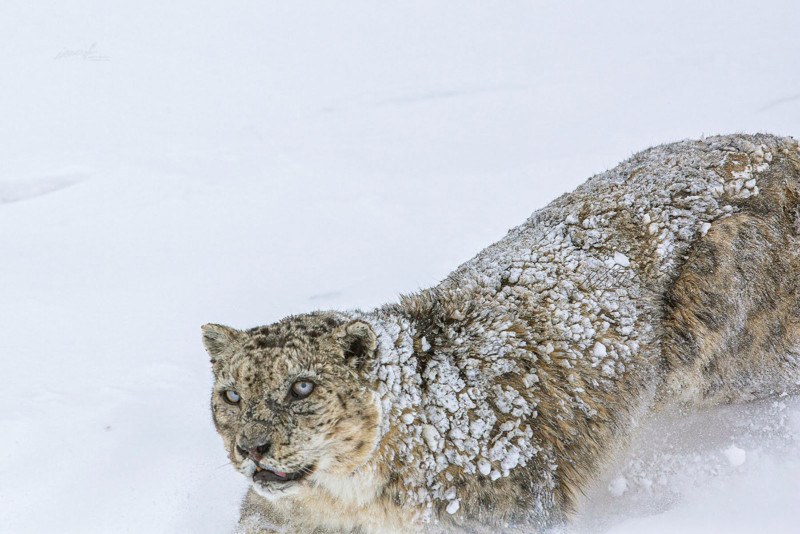 PM: Which are the three good places for snow leopard photography, and in which months?
IS: For good sightings, and possibly 80% chance in 15 days, I would list the following
Spiti Valley, India (could have better sightings, but just a little over basic homestays)
Ladakh, India (better stay and accessibility)
Altai Mountains, Mongolia (camping out in the field in Yurts)
The other places where we can try are Nepal and Kyrgyzstan.
I recommend you watch BBC Earth Snow Leopards: Ghosts in the Snow, which was released just this Wednesday.
The [best] season is winter and, more categorically, during their mating time between December to March. Here is another reason you need a local expert, because then, based on that specific region, they will tell you the tentative peak times and the slack times of sightings, which might help in picking and choosing the right dates.
PM: What gear did you use in these photos?
IS: Canon EOS 5D Mark III
Canon EF 600mm f/4L IS II USM
Gitzo Series 5 GT5542LS tripod
Manfrotto 502HD video head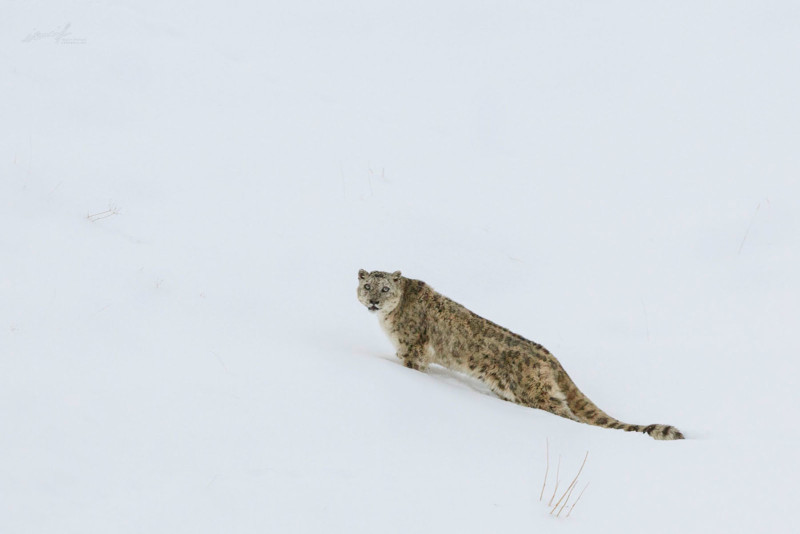 PM:  Any other advice?
IS: I would say when you plan a trip for snow leopards, go on an expedition [workshop] and enjoy being there in the field. Take in everything that comes with such extreme expeditions — adventure, pain, fatigue, joy, excitement, and then also a hopeful sighting.
Also, research them and get in touch with the people [who know snow leopards.] This way, you will understand which season, the best time to go, what kind of clothing gear you might need in these parts of the mountains, what camera equipment is best suited and what's the physical endurance required?
The most important thing when it comes to physical endurance is to prepare well at least for 2-3 months before the trip and your medication if needed. Altitude sickness. Please read about it as much as you can and consult your doctor for the right medication.
Get insurance which has the option to be air-lifted by helicopter. It might be a tad expensive but could just end up being the best thing [in the case of an emergency], especially if you are going to Spiti [India] or Mongolia. It's a 2-day drive from Spiti to a modern hospital.
---
Photographers Reflect on Single Shot of Pandemic – AP News
View this post on Instagram
In the ABOVE PHOTO Agustina Canamero, 81, and Pascual Pérez, 84, hug and kiss through a plastic film screen to avoid contracting the new coronavirus at a nursing home in Barcelona, Spain, June 22, 2020. Associated Press photographer Emilio Morenatti says this of the image: "I couldn't help feeling emotional myself while I was shooting, and I realized that such an eternal moment symbolized something more than a simple meeting. The plastic kept the virus but not the love away." (AP Photo/Emilio Morenatti)
The Associated Press wanted to mark the milestone of 3 million coronavirus deaths worldwide. AP knew that their photographers were affected by the pain and suffering they were documenting. So, they asked 15 photographers in 13 countries to select a single photograph that impacted them the most and explain their selection.
Just like their subjects, the AP photographers were terrified they might get infected and bring the virus home. Just like their subjects, they remain haunted by what they saw. Just like their subjects, they found moments of hope. – Associated Press
---
Does the Past Look Better in Black and White? — Apollo

View this post on Instagram
The Brazilian artist Marina Amaral has colorized the above Hine.
Amaral has created a revised portrait of extraordinary visual sensitivity…and while Hine may not have approved, the picture is being seen, considered, and enjoyed by new audiences. This, after all, is surely the whole point of art." — Phillip Prodger, former Head of Photographs at the National Portrait Gallery, London, in the article above.
Filmmaker Orson Welles vehemently objected to his Citizen Kane being colorized by Ted Turner of Turner Broadcasting Systems. But that was in the early 1980s.
Today more and more historical photos are being colorized to find new audiences. Photoshop has undoubtedly helped in their easy digital conversion by numerous artists as well as software using Artificial Intelligence (AI) and websites like Hotpot.ai
---
The Royal Family's Photographer Revealed his Favorite Photo of Queen Elizabeth and Prince Philip – Insider
Embed from Getty Images
"Hands-down still my favorite picture of HM The Queen, The Duke of Edinburgh and The Prince of Wales at an event they clearly enjoy and were so relaxed at, The Braemar Highland Gathering," Chris Jackson, royal and Getty photographer, wrote on Instagram April 12.
---
12 Steps to Becoming a Wedding Photographer in One Year — SLR Lounge
Christopher Lin, the co-founder of SLR Lounge, along with Pye Jirsa, brings you 12 tips for success and that too in one year!
1.) Start with Assisting
2.) Practice with Friends and Do Test Shoots
3.) Become a Second Shooter
Check the links above for 9 more tips and complete details.
---
Photographer Creates His Own 78-Card Tarot Deck Inspired by His Sleep Paralysis – My Modern Met
Photographer Nicolas Bruno has been interested in tarot cards ever since as a kid he discovered a pack hiding in his grandmother's basement.
Bruno has created The Somnia Tarot, (prints available) where he has visualized and shot 78 scenes depicting the entire 78-card deck used to predict the future.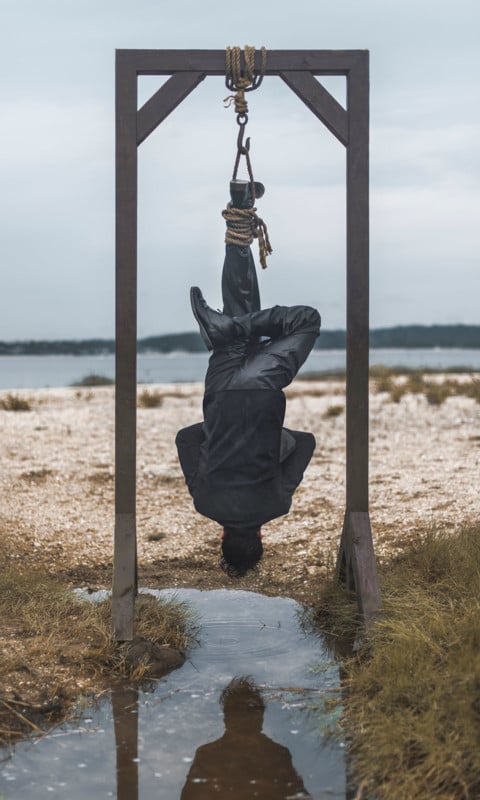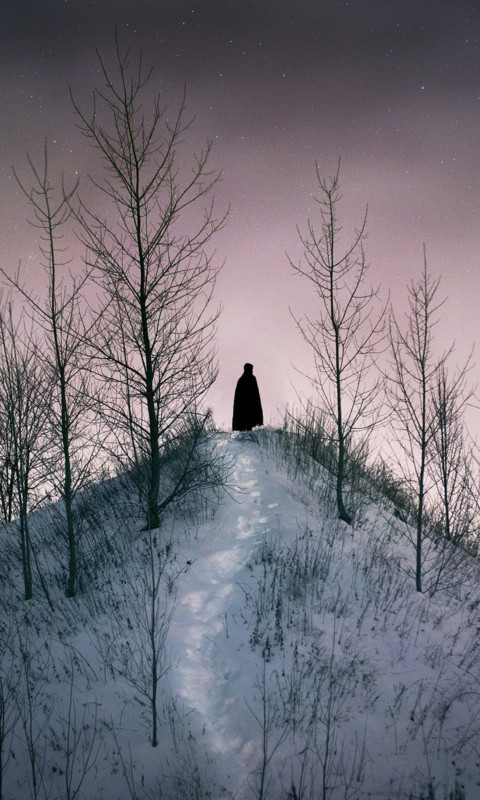 When the quarantine began last year, Bruno decided to take on this project to keep on creating. Initially published in 1909, the Rider-Waite tarot deck is widely considered the most popular tarot deck for a tarot card reading. And he has created all the tarot cards using conceptual photography.
---
The Ethics of Wildlife Photography – Outside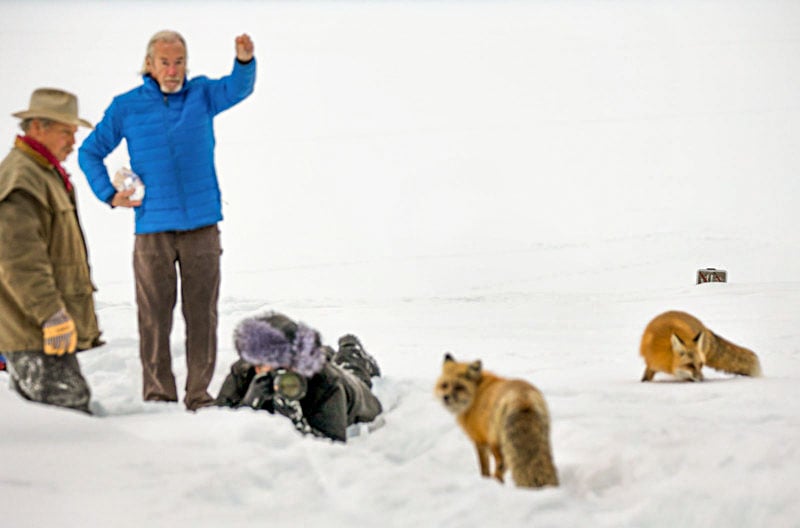 A recent incident involving a renowned wildlife photographer allegedly baiting foxes at Grand Teton sheds light on a more significant issue
It's one thing to try and educate casual visitors on how to behave around wildlife and responsibly photograph it, says Dave Navratil, president of the Teton Photography Club to Outside magazine. "It's another to try and manage the behavior of professionals who should know better but push ethical boundaries to get the shot."
---
19 Famous Self Portrait Photographers Before the Selfie was Born – Photography Course
Embed from Getty Images
A woman visits the exhibition of US photographer Cindy Sherman at the Louis Vuitton Fondation in Paris, on September 17, 2020. – Louis Vuitton Fondation reopens with Cindy Sherman exhibition, one of the most admired contemporary artists on the art market, famous for her elaborately staged self-portraits. (Photo by MARTIN BUREAU/AFP via Getty Images)
Painters have practiced the self-portrait since the earliest times. Although self-portraits have been made for a long time, it is not until the Early Renaissance in the mid-15th century that artists can be frequently identified depicting themselves.
When photography was born, the same practice of the self-portrait continued. The selfie is also a self-portrait but is generally shot with a smartphone. Here are 19 classic self-portraits, some shot on digital but most on film.
---
The Fascinating Winning Images of "Shadows" – All About Photo
AAP Magazine #16: Shadows has revealed the 25 talented photographers from 12 different countries and 3 continents. Check out the link above for the mysterious and magical mastering of shadows in photography from the winners and the merit gallery.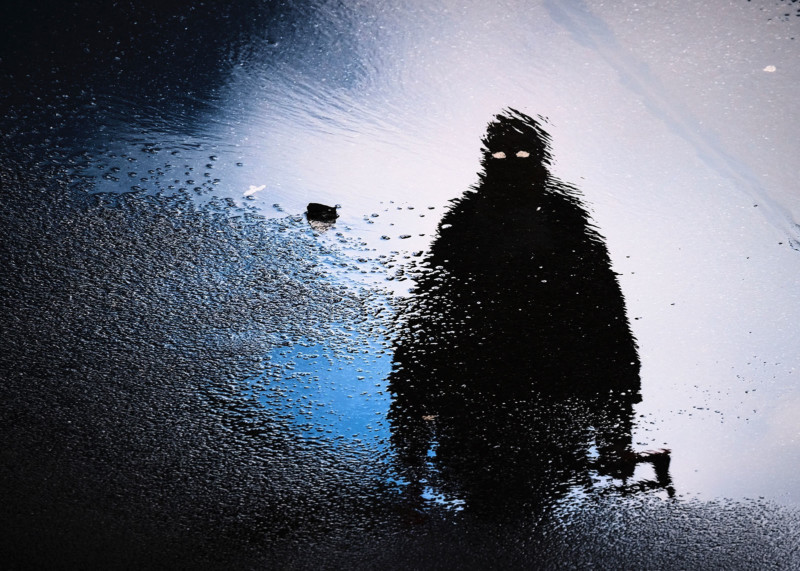 ---
MoMA Receives Donation of 100 Photos by Women Artists Spanning a Century – Hyperallergic
The Museum of Modern Art has received a major gift of 100 photographs from the Helen Kornblum Collection, adding significant examples of women artists' pioneering achievements across the field. This collection covers 76 artists over 100 years of photographic history, including avant-garde experimentation, photojournalism, social documentary, commercial studio photography, and advertising.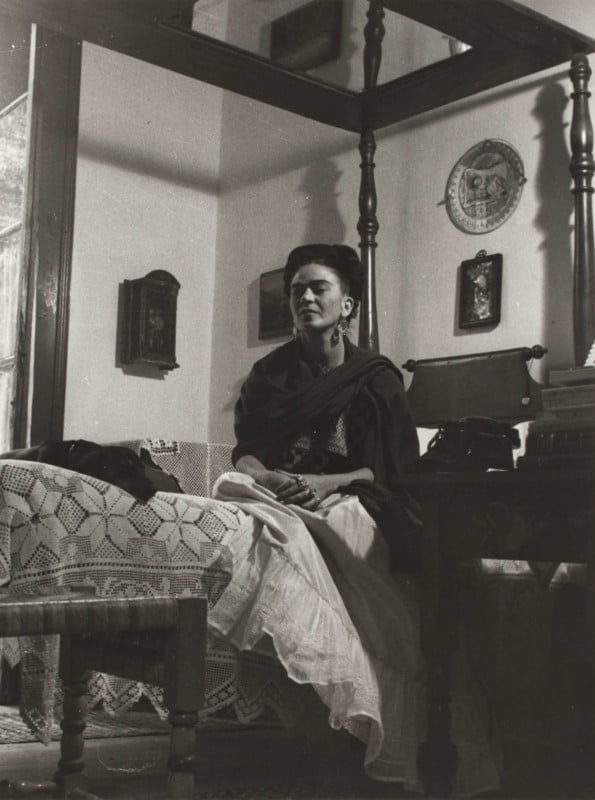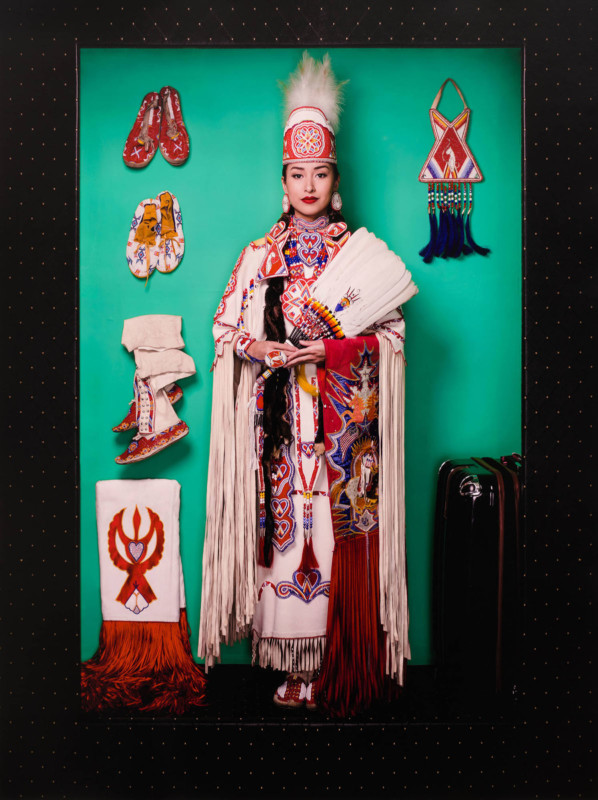 The gift features iconic images from the early modernist period to today by such luminaries as Gertrud Arndt, Lola Alvarez Bravo, Claude Cahun, Laura Gilpin, Kati Horna, Germaine Krull, Dora Maar, and Lucia Moholi, and contemporaries including Flor Garduño, Louise Lawler, Sharon Lockhart, Susan Meiselas, Catherine Opie, Tatiana Parcero, Lorna Simpson, Hulleah Tsinhnahjinnie, and Carrie Mae Weems.
---
Photographing the "Endless Diversity" of America by Streetlight – BBC
British photographer Daniel Freeman is interested in night photography. He has traveled more than 25,000 miles across the US to photograph small towns lit only by streetlights, shop fronts and moonlight.
"I developed my love of America from watching old road trip movies and reading books about American travels," Freeman tells PetaPixel. "By the time I got round to taking my own road trip, I had become quite obsessed with night photography, and so combining the two came naturally to me.
"While out there, I developed a real fascination with small-town America, and it became the focus of my work. From there, each trip I took after was about visiting small towns at night.
"I use a Canon 5D Mk III, and either a 35mm L series or a 17-40mm L series lens, depending on circumstances and space. I find the setup to be reliable and practical.
"I am drawn to the silence and the peace in these places, many of which are lively and active during the daylight hours. I enjoy photographing at night because, without people, I can work slowly and methodically without distractions."
Freeman prefers not to disclose the location of each photograph. In that way, it represents a generic vision of small-town America.
---
The Name Behind the Camera: Victor Hasselblad ­– Digital Camera World
Landmarks:
Fritz Hasselblad starts a company trading in textiles and clothing in 1841 Gothenburg, Sweden.
Arvid Hasselblad, his son, gets the company appointed as Eastman Kodak distributors for Sweden in 1888.
Arvid's grandson Victor is interested in photography from an early age, especially bird photography.
In 1926 Victor worked at Kodak in Rochester, NY, where he developed a close acquaintance with founder George Eastman.
After returning to Sweden, he continued his bird photography with a 3×4″ Graflex, which he had brought back from the USA but realized the difficulties of using a bulky camera in the field.
Victor has a falling-out with his father and starts a camera repair workshop in one of Gothenburg's main city squares to support himself.
In early 1940 the Second World War started. Victor had become well known for his camera repair skills and was contacted by the Royal Swedish Air Force. They had captured a German aerial camera from a downed Luftwaffe reconnaissance aircraft and wanted Victor to replicate it.
Victor responded that he would not replicate it but would make something better.
Did he deliver on his bold statement? Read the answer at the link above and how Victor ended up designing and perfecting the most iconic camera of all, the Hasselblad 500 C/M – a version of which even went to the moon.
Notable: Hasselblad's corporate website quotes the founder's son, Arvid Viktor Hasselblad, as saying, "I certainly don't think that we will earn much money on this [when they started the distributorship for Kodak in Sweden], but at least it will allow us to take pictures for free."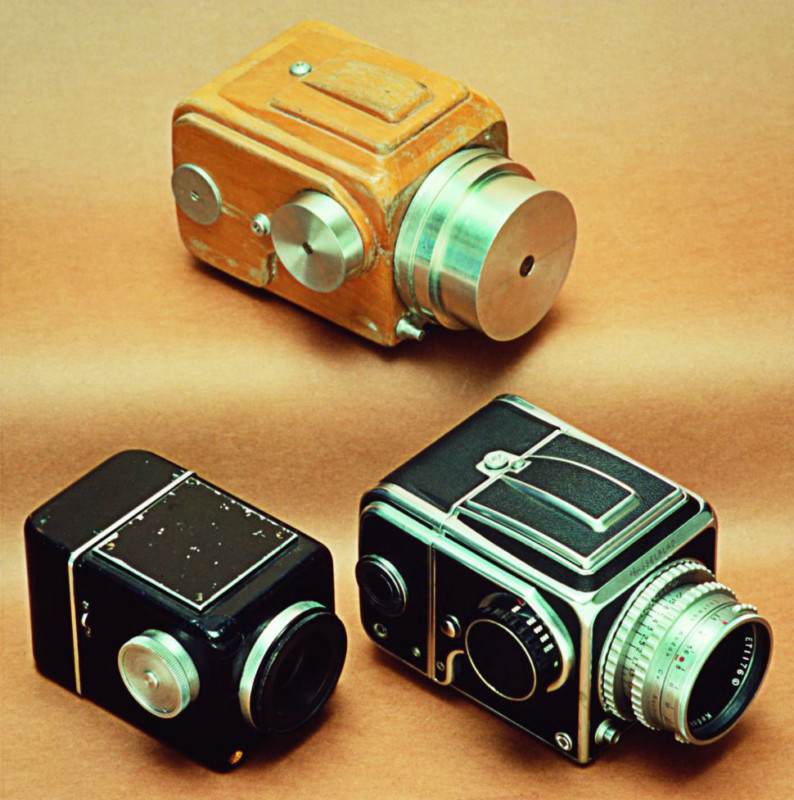 Quiz: There is a photo above of Victor Hasselblad using a Graflex camera. Where was it made?
Answer: The company started in New York City in 1887 but was acquired by George Eastman in 1909 and moved to Rochester, NY, till 1928, when Kodak was forced to divest itself of this division.
---
Why I Like This Photo – Celia Topping
Editor's Note: The Guardian featured this photo in Travel through a lens — Hamburg's giant cranes create a beach scene like no other
I like this photo as my favorite thing to photograph is people. People off-guard, relaxed, just doing their thing in their natural environment.
So, on a sweltering day in August, the natural thing for me to do was explore the urban beaches on the west side [along the River Elbe, Hamburg, Germany]. It was a beach scene like no other – a strip of sand teeming with sunseekers, and those colossal industrial cranes, like giant metal beasts, surveying the sun-drenched spectacle.
I'd seen this merry group of friends from afar and was mesmerized by that superb backdrop of the industrial cranes, so I plopped myself down a few meters away on the sand.
I like there to be a separation between subjects in a photo, so I had to move around a little to ensure the players maintained some distance from each other through my lens. And I wanted to catch the ball while it was high in the sky to separate it from the scene behind.
When the play started, I put the camera on fast burst and took a series of shots to capture the ball at the right point. It took a few attempts to get the right moment. Canon EOS 5D Mark IV with Canon EF 24-70mm f/2.8L II USM Lens set at 27mm, f/13, 1/250, ISO 250.
The best photography comes when you shoot what you love.
Celia Topping is based in Berlin and London. She frequently flies (before COVID) around the world on travel commissions and also fulfills portrait, interiors, food, event, and documentary photography. Topping holds a Masters in Photojournalism and Documentary Photography from the University of Arts in London in 2010. Having started her career as a Photo Editor in the UK, she moved to the Middle East to become Group Picture Editor for Time Out.
---
Quote of the Week (or a previous week):
I am the camera.* – Victor Hasselblad
* The story is told about a customs officer who looked at Hasselblad's passport, then looked up at its owner and said, "You have the same name as the famous camera."
To which Victor is said to have replied, "Yes, I am the camera."
---
To see an archive of past issues of Great Reads in Photography, click here.
---
We welcome comments as well as suggestions. As we cannot possibly cover each and every source, if you see something interesting in your reading or local newspaper anywhere in the world, kindly forward the link to us here. ALL messages will be personally acknowledged.
---
About the author: Phil Mistry is a photographer and teacher based in Atlanta, GA. He started one of the first digital camera classes in New York City at The International Center of Photography in the 90s. He was the director and teacher for Sony/Popular Photography magazine's Digital Days Workshops. You can reach him via email here.
---
Image credits: All photographs as credited and used with permission from the photographers or agencies.