Angelo Pelle M-Etropolis Review: $275 Sneakers for Street Photographers
For over six years, I have closely followed the progress of Angelo Pelle, an independent Italian camera accessories and leather goods company that offers what I already considered to be some of the very best handmade leather camera straps and camera cases I have had a chance to use.

Angelo Pelle's most interesting recent direction is the addition of handmade limited-edition sneakers, to its existing accessories collection, aimed directly at street photographers but also more widely at the creative crowd.
When Angelo Pelle suggested that, as a street photographer, I should try these M-Etropolis sneakers they designed especially for us photographers (and which I never thought I needed), I said "why not?"
The shoes arrived and as soon as I opened the box, I let out a "wow" that replaced my earlier lack of particular expectations.
Of course, as a photographer and one who has focused on street photography for over a decade, it never crossed my mind that I'd need a dedicated pair of shoes. But I soon realized that these shoes aren't quite about that — they're not about making you a better photographer but about more simply celebrating one's love for photography.
I was struck by the bright green color of the suede. It's quite a statement but in fact a fairly tasteful one and for those wanting more discreet footwear, the shoes are available in multiple types of leather and colors.
But I'm not afraid of color, so the green suede ticks my boxes.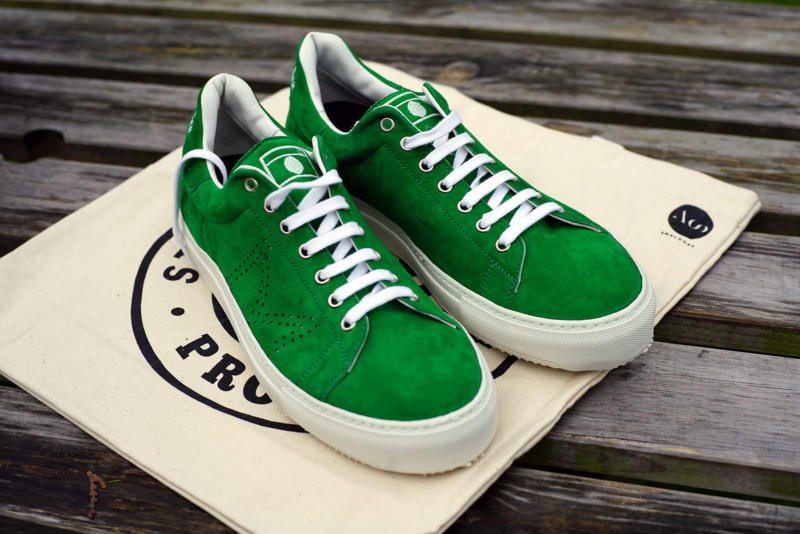 In terms of look, these are reminiscent of the Puma "Classic Suede" that I once owned, but they feel far better on the foot and I'm not sure Angelo Pelle would appreciate the comparison.
Not all suede is created equal and the exterior suede Angello Pelle sourced is nothing short of stunning to look at and to the touch.
Inside, the shoe is lined with very cushy comfortable soft white leather, not synthetic material.
One may at this stage wonder what makes this a shoe for the street photographer? I asked myself the question before I received the shoes. While it is true photographers often walk long distances, could any shoe not be a street photography shoe?
Well of course.
However, I think these are without doubt an attractive option for the street photographer if anything for the utmost comfort they provide when walking.
Small details also set this product apart:
The sole is embossed with the words "Street" and "Photographer" on each shoe.
The tongue features an embroidered camera.
The back reads Street Photographer, again embroidered.
If you'd asked me before I'd seen them if I'd ever buy shoes designed for street photographers, I'd have had some reservations thinking this is just another marketing scheme from a camera company who has spotted the popularity of street photography.
But in truth, now I've seen and used the product, I'm quite taken by them and think these could also make a great gift.
I trust the quality Angelo Pelle produces, be it camera straps or camera cases. I've personally used an Angelo Pelle strap for over 5 years and it is not degrading, rather it is improving with age. Only the best leather is ever used and I've actually discovered I knew nothing about good leather.
This consistency in delivering quality reassures me that the shoes must be of similar high standards.
What makes these shoes extra special is that Angelo Pelle doesn't send out thousands or even hundreds of each. No, instead they may only produce 20 in each color/type of leather and move to another color/leather scheme. So you know you won't find anyone wearing the same shoes as you.
That and the attention to detail that goes into anything Angelo Pelle produces makes it a very attractive footwear option for photographers.
Are There alternatives?
Are there alternatives? Perhaps, but I've not come across other shoes created with the photographer in mind.
Should you buy it?
Would I buy these? Absolutely yes, for the simple fact they are high-quality, great-looking handmade limited-edition shoes.
Why buy a mass-produced shoe anyone can own with no soul instead of one I know is designed and handmade by an outfit passionate about photography and understanding the photographers' needs?
Especially during these trying times for smaller businesses, I prefer to support independence as well as quality and passion, which are evident when handling Angelo Pelle products.
---
The M-Etropolis by Angelo Pelle is available for €230 to US customers directly from the Angelo Pelle website with a 2 days FedEx delivery.
---
Full disclosure: As stated in the article, the pair of shoes in this review were provided to me by Angelo Pelle.
---
About the author: Nicholas Goodden is a professional urban photographer and photography tutor based in London. The opinions expressed in this article are solely those of the author. You can find more of Goodden's work on his website, Facebook, Twitter, Instagram, and YouTube.